Halloween 4: The Return of Michael Myers
You can't keep a good serial killer down. Just ask Freddy Krueger. Just ask Jason Vorhees. Just ask Michael Myers. Michael Myers, the scourge of Haddonfield, a small, picturesque town where "Halloween" will never be the same. Locked away in a mental institution when he was a child, Michael grew up to become something more than evil. He became a monster, and as everyone knows, "Halloween" is when the monsters come out to play. Michael Myers really is unstoppable.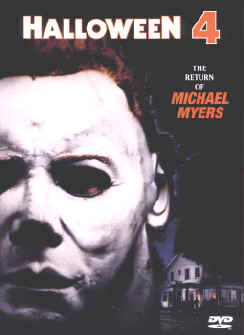 After two successful films co-starring Jamie Lee Curtis and Donald Pleasance, Myers disappeared from the "Halloween" franchise when the producers decided to take a different approach with "Halloween 3: Season of the Witch." Released in 1983, "Season of the Witch" had nothing to do with the "Halloween" story except use of the title. It wasn't until 1988 that Michael returned to the screen in "Halloween 4: The Return of Michael Myers." Michael was back with a vengeance, this time stalking the daughter of his half-sister, played in the first two films (and in "Halloween H20") by Curtis. Perky Danielle Harris plays young Jamie, whose parents have died in a car crash. When Jamie goes off to live with a foster family, she brings along with her the nightmares that haunted her mother. The kids at school taunt and tease her, claiming that her uncle is the boogeyman. They're right. When Myers learns of his niece during a routine transfer, he breaks loose and returns to Haddonfield in order to put an end to his lineage. Hot on his trail is Dr. Loomis, once again played by Donald Pleasance. Scarred from his last encounter with Myers, Loomis immediately rallies the local authorities in order to save little Jamie from certain death. The screenplay by Alan B. McElroy is functional without being insulting, but it does rely on certain horror film cliches in order to advance the plot. Director Dwight H. Little manages to make all of this matter, and creates a great deal of suspense and chills as Myers goes through one victim after another in his search for family. The performances are decent, including Ellie Cornell as Jamie's new sister whose survival instincts come in handy as they flee the boogeyman. The bottom line is that "Halloween 4" is more of the same, which isn't necessarily a bad thing. I like the "Halloween" franchise, and even gave high marks to the latest chapter "Halloween H20."
COMPLETE CHECK-UP
VISION: [ X ] 20/20 [ ] Good [ ] Cataracts [ ] Blind
Gorgeous 1.85:1 widescreen transfer. The colors are strong and impressive, with excellent saturation with no fading or bleeding. Flesh tones are exceptional, while blacks are industrial strength. The transfer benefits from a clean negative, which allows for pure whites and shadows. Depth of field is excellent, with really nice attention to detail. No compression artifacts or noise. The colors are especially vibrant, while contrast is so definitive you can make out details in the shadows.
HEARING: [ ] Excellent [ X ] Minor Hearing Loss [ ] Needs Hearing Aid [ ] Deaf
The 5.1 Dolby Digital Surround soundtrack is okay but lacks real definition. The creepy music pours out of all of the speakers with authority, and the dialogue mix is strong. Ambient noise is also a plus, but there is hardly any real stereo effects or rear speaker manipulation beyond the normal music and ambient noise cues. Basses are there but not overpowering, while middle and high ends sound pure. No real separation from left to right. The soundtrack sounds clean with no audible hiss or distortion.
ORAL: [ ] Excellent [ ] Good [ X ] Poor
No closed captions or subtitles.
COORDINATION: [ ] Excellent [ ] Good [ X ] Clumsy [ ] Weak
Standard issue main and scene access menus, plus theatrical trailers for "Halloween" and "Halloween 4."
PROGNOSIS: [ ] Excellent [ X ] Fit [ ] Will Live [ ] Resuscitate [ ] Terminal
Michael Myers returns and looks terrific on DVD.
VITALS: $24.98/Rated R/92 Minutes/Color/24 Chapter Stops/Keepcase/#DV10537
ATTENDING RESIDENT: John Larsen
PATIENT: HALLOWEEN 4: THE RETURN OF MICHAEL MYERS
BIRTH DATE: 1988
HMO: Anchor Bay Entertainment