From Dusk Till Dawn 2: Texas Blood Money DVD
"From Dusk Till Dawn" was the perfect example of what happens when all the right talent comes together to make an explosive film. "Texas Blood Money," the direct-to-video sequel, is the perfect example of what happens when lesser talent tries to duplicate that formula.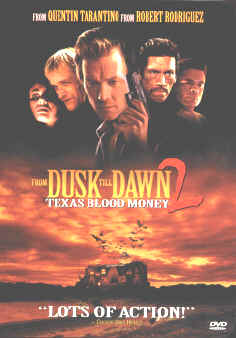 "From Dusk Till Dawn 2: Texas Blood Money" isn't a bad film, it's just not as interesting nor as arresting as "From Dusk Till Dawn." Everything seems like a pale imitation. Gone are director Robert Rodriguez, whose frenetic camera work made the first film such a dizzying delight. Gone are writer-co/star Quentin Tarantino, whose clever words and fresh take on the vampire genre made "From Dusk To Dawn" such an unexpected delight.
Also missing-in-action is George Clooney, the star of the first film, whose Seth Gecko was both charming and deadly. That combination of star, director and writer made "From Dusk Till Dawn" a much better movie than it had any right to be. "Texas Blood Money" begins with a bang, literally. Two attorneys (Bruce Campbell of "Evil Dead," Tiffani-Amber Thiessen of "Beverly Hills 90210) are attacked in an elevator by a horde of bats, who have enough smarts to chew through the elevator cable and send the couple plummeting 20 floors. That's got to hurt. The focus this outing in on a retired bank robber named Buck (Robert Patrick, the futuristic killer in "Terminator 2"), who at the beginning of the film is being harassed by Sheriff Lawson (Bo Hopkins).
Lawson suspects that Buck is linked to escaped bank robber Luther (Duane Whitaker, who co-wrote the screenplay), and he's right. Buck and Luther are planning a $5 million bank heist in Mexico. With Luther on the run from the law, it's Buck's responsibility to round up a team. Buck recruits rodeo rider C.W. (Muse Watson), pit bull trainer Jesus (Raymond Cruz) and flunky security guard Ray Bob (Brett Harrelson, brother of Woody). En route to Mexico, Luther plows into a bat, which disables his vehicle. He's forced to walk to the nearest place, which turns out to be the "Titty Twister" bar from the first film. There Luther meets Razor Eddie (Danny Trejo, the only holdover from the first film), who offers to give him a lift. It's only a matter of moments before Luther discovers the truth about his host, and is given the "fangs for the memory" treatment. Back at the El Coyote Motel, the rest of the team waits patiently, with Jesus wandering off to service a lovely local woman (Maria Checa).
In yet another "Psycho" shower scene rip-off, the woman is attacked by Luther, who then sinks his fangs into Jesus. Hey, it isn't a party unless everyone gets a drink. It takes screenwriter's Scott Spiegel (who also directed) and Whitaker forty minutes to reach this story arch. Then the film begins to show some promise. Until this moment, "Texas Blood Money" seems flat. The character's are only marginally interesting. The fun comes when the team hits the bank, with the other three members totally oblivious to the fact that Luther and Jesus are vampires. The discovery process helps the film maker's deliver the goods during the final act, which is filled with splashy special effects and outrageous stunts.
Director of photography Philip Lee tries to replicate Rodriguez's trademark cinematography, but his efforts are amateurish and cloying. Instead of incorporating clever shots into the story, Lee shoves them down our throat. They're painstakingly obvious, like twisting the camera to duplicate the turn of a vault lock. Almost everything about "Texas Blood Money" is familiar to the point of being a rip-off. The script borrows heavily from numerous sources ("Psycho," "Precinct 13"), while the musical score by Joseph Stanley Williams is peppered with more of those "hip" Dick Dale guitar licks that Tarantino revitalized in "Pulp Fiction."
The cast isn't bad, especially Robert Patrick as Buck. While he's not nearly as charismatic as Clooney, Patrick does have his charm. The role is rather thin, so there's no much Patrick can do with it but roll with the punches. Co-writer Whitaker has some fine moments as Luther, whose primal blood lust sets the horror into motion. Muse Watson's C.W. shows great wisdom, while Raymond Cruz's Jesus proves that brains and brawn don't always go hand in hand. Harrelson's Ray Bob is the most likeable of the quintet. For kicks, Bo Hopkins' Sheriff Lawson is accompanied by Deputy McGraw, whose father was killed by the Gecko Brothers in the first film. The kick comes in knowing that Deputy McGraw is played by James Parks, son of Michael Parks, who appeared as Sheriff McGraw in the first film. If "From Dusk Till Dawn" never existed, "Texas Blood Money" wouldn't be the disappointment that it is.
The sequel is sturdily made, with incredible stunts and decent special effects. Director Spiegel doesn't embarrass himself with "Texas Blood Money." He manages to create intermittent suspense and thrills, and gets better-than-average performances from the cast. I'm a big fan of the first film, so my expectations are probably higher than the average viewing audience, who will probably find "Texas Blood Money" a moderately entertaining distraction.
COMPLETE CHECK-UP
VISION: [ X ] 20/20 [ ] Good [ ] Cataracts [ ] Blind
Handsome 1.85:1 widescreen transfer features excellent color saturation, nice attention to detail with good depth of field, plus strong, impenetrable blacks. Clean negative allows for clean whites and shadows. Images are sharp and vivid, while the colors are warm. Flesh tones are natural. No noticeable compression artifacts although there is a minute amount of flecking.
HEARING: [ X ] Excellent [ ] Minor Hearing Loss [ ] Needs Hearing Aid [ ] Deaf
Impressive Dolby Digital Stereo soundtrack fills the sound field with a strong dialogue mix, effective stereo effects and crystal clear musical cues.
ORAL: [ ] Excellent [ X ] Good [ ] Poor
Closed captions for the hard of hearing in English.
COORDINATION: [ ] Excellent [ ] Good [ X ] Clumsy [ ] Weak
Main and scene access menus, plus some Reel Recommendations.
PROGNOSIS: [ ] Excellent [ X ] Fit [ ] Will Live [ ] Resuscitate [ ] Terminal
While it doesn't have the bite as its predecessor, the sequel should drive fans batty.
VITALS: $29.98/Rated R/88 Minutes/Color/22 Chapter Stops/Keepcase/#17497
ATTENDING RESIDENT: John Larsen
PATIENT: FROM DUSK TILL DAWN 2: TEXAS BLOOD MONEY
BIRTH DATE: 1999
HMO: Dimension Home Video