The Flintstones
While on it's rocky road to the big screen, director Steven Spielberg made it clear that the only way his company was going to make a live-action version of the popular animated series "The Flintstones" was if actor John Goodman played Fred Flintstones.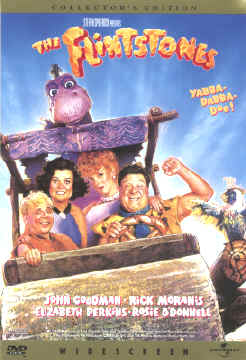 It took several years for Amblin Entertainment to get all of the logistics right, but once you've seen the film "The Flintstones," there's no denying that Goodman "is" Fred Flintstone. It would be hard to imagine "The Flintstones" without Goodman (although thanks to a "prequel" now shooting called "Viva Rock Vegas" we'll find out). He's the consummate Fred, a big, loveable oaf who does whatever it takes to make life comfortable for his wife Wilma (Elizabeth Perkins) and daughter Pebbles.
That's a tall order considering that Fred works in a rock quarry, and when he's not busy hauling rocks from point "A" to point "B," he's dodging massive Pterodactyl poop and trying to get a promotion. You would have to have lived in a cave for the past thirty years to not heard of "The Flintstones," television's first prime time animated series aimed at both adults and their children. An animated version of "The Honeymooners," "The Flintstones" was a big hit in the 1960's, and thanks to the film, an even bigger hit in the 1990's.
Thanks to a wonderful cast, a script that was pieced together by more than 30 writers, excellent production design and lively direction by Brian Levant ("Beethoven"), "The Flintstones" is a stone age comedy with modern sensibilities. There are so many visual and verbal jokes in "The Flintstones" that one viewing is not enough to fully appreciate all of the effort that went into the film.
If this is your first viewing, just watch the film for it's entertainment value. Then watch it again with director Brian Levant's running audio commentary and discover some fabulous in-jokes and sight gags that slip by. The story is okay, with Barney Rubble (Rick Moranis) substituting his work aptitude test with Fred's so that his buddy will get the promotion he so desperately needs. Of course his new found power and fame goes to Fred's head, turning him into a turncoat. It's not long before Barney is out of a job, forcing him, Betty (Rosie O'Donnell) and their adopted some Bam-Bam to move in with the Flintstones when they can no longer afford their own place.
Eventually animosity sets in, putting a strain on the long-lasting Flintstone-Rubble friendship. How Fred sets out to correct the situation and trip up his corrupt supervisor (Kyle MacLachlan) takes the film into its frenzied third act, where the physical gags become larger than life. The plot is just a mechanism for the writers and Levant to share in their favorite "Flintstone's" moments, including the dead-on live-action opening that mimics the animated series with accuracy. The special effects, including the computer generated images, are outstanding. Even though you know it's just a movie, you completely buy into the premise. Goodman is sensational as Fred, looking quite dapper in his leopard skin garb.
Perkins is perky as Wilma, while O'Donnell is a blast as Betty. Moranis is sweet as Barney, and shares in some of the film's best moments. Then there's Elizabeth Taylor as Fred's mother-in-law. Taylor shines as bright as a star in her last real film role. I thoroughly enjoyed "The Flintstones." You will too.
COMPLETE CHECK-UP
VISION: [ X ] 20/20 [ ] Good [ ] Cataracts [ ] Blind
Stunning, vibrant eye candy delivered in a crisp, tight 1.85:1 widescreen transfer that's been enhanced at 16:9 for widescreen televisions. Hardly a trace of compression artifacts is evident, while the colors and saturation are absolutely breathtaking. The blacks are as tight as they get, with excellent use of shadows and grays. The color scheme, bright, animated hues against an earthy landscape, looks healthy and honest, including flattering flesh tones. The depth of field is sharp with nice attention to detail, with even small patterns holding up under scrutiny. Handsome transfer on an RSDL disc.
HEARING: [ X ] Excellent [ ] Minor Hearing Loss [ ] Needs Hearing Aid [ ] Deaf
The soundtrack is just as animated as the live-action cartoon, and the 5.1 Dolby Digital Surround track respects the hard work that went into the superb mix. The dialogue mix is strong, while the stereo effects are superb. The left-to-right and front-to-rear spatial separation is precise, while the ambient noise is natural. David Newman's bright and bouncy score fills the room with decisive high ends and strong low ends. The basses are noticeable without being overpowering. There's also a 5.1 Dolby Digital Surround track in French.
ORAL: [ ] Excellent [ X ] Good [ ] Poor
Closed Captions in English and subtitles in Spanish.
COORDINATION: [ X ] Excellent [ ] Good [ ] Clumsy [ ] Weak
This Collector's Edition of "The Flintstones" comes with all of the extras one has come to expect from Universal Studios Home Video:

First up is the lively alternate running commentary courtesy of director Brian Levant, whose enthusiasm regarding the "Flintstones" is unwavering. This guy is a ball of energy, and his every word is filled with the bright-eyed, gee-whiz attitude of someone who can't believe he's directing a big-budget, live-action version of his favorite animated television show. Levant doesn't hold anything back, not only revealing tricks of the trade (and "The Flintstones" is filled with tricks) but his sincere opinion of his talented cast and executive director.

"Discovering Bedrock: The Making of The Flintstones" is a lengthy, informative and ultimately entertaining and engaging behind-the-scenes documentary that follows the path of the film from it's early beginnings, to the casting and production design. Most of the cast members and the production team clock in with their insights and gossip, and even though making the film was a tremendous task, you can tell that everyone had a good time making it. Especially impressive are the "B" camera shots and rehearsal footage that let us get a close look at the filmmaking process. There's also a healthy dose of special effects footage and how it was achieved.

One of my favorite extras is the opening sequence comparison that puts the original animated series opening on the top of the frame, and the live-action version on the bottom so you can compare how close the two match. You'll be surprised at how close the two images really are.

There's a wonderful MCA Soundtrack presentation that also includes the original BC-52's music video of "The Flintstone's" original theme, featuring the cast members.

For production and art design fans, there's enough art department concept sketches and production photographs to give you a complete overview of the film.

Not only do you get the original theatrical and teaser trailer (my favorite), but hidden in the cast and crew bios are four more theatrical trailers: John Goodman in "Sea of Love," Rick Moranis in "Parenthood," Halle Berry in "Jungle Fever" and Kyle MacLachlan in "Dune."

The DVD comes with impressive main and scene access menus, plus an informative booklet with background details on the making of "The Flintstones."
PROGNOSIS: [ X ] Excellent [ ] Fit [ ] Will Live [ ] Resuscitate [ ] Terminal
You'll have a Yabba-Dabba-Doo time.
VITALS: $34.95/Rated PG/91 Minutes/Color/47 Chapter Stops/Keepcase/#20274
ATTENDING RESIDENT: John Larsen
PATIENT: THE FLINTSTONES: COLLECTOR'S EDITION
BIRTH DATE: 1994
HMO: Universal Studios Home Video