Flight of the Phoenix
I'm not sure which is worse: surviving a plane crash in the middle of the Gobi Desert with Giovanni Ribisi; experiencing a renegade propeller enema; or sitting through the remake of Flight of the Phoenix. All equate into a pain in the ass.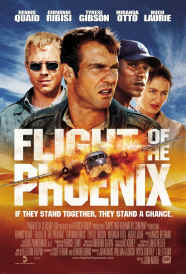 Pretty to look at, awesome in scope, with enough sand to make wearing a thong a risky proposition, Flight of the Phoenix is dry, badly written and performed, and directed with the finesse of a quadriplegic break-dancer. Director John Moore (Behind Enemy Lines) makes a lot of noise, but when the sand storm clears, it's the acting and writing that are deafening.
Flight of the Phoenix is another movie by committee, a package of generic ideas and characters guaranteed to capture the imagination of anyone suffering from decapitation. Those fortunate enough to keep their heads will wonder what all the fuss is about. There are numerous reasons to remake a film, and aside from updated visual effects, Flight of the Phoenix avoids everyone of them. If the filmmaker's decision was to take a moderately engaging tale of survival and turn it into a predictable and stunningly tiresome film, then they have succeeded.
The original 1965 film starred Jimmy Stewart, Edward Borgnine, George Kennedy and Peter Finch. The 2004 remake stars the durable Dennis Quaid, Hugh Laurie, Giovanni Ribisi, Miranda Otto and Tyrese Gibson. I had a tough time hanging with these folks for two hours, imagine being trapped with them in the middle of the Gobi Desert for a month? That propeller enema is looking better all the time.
Quaid plays hotshot pilot Frank Towns, hired by an oil company to evacuate their employees from Mongolia. When their plane hits a nasty computer-generated sandstorm left over from The Mummy, the occupants crash land in the desert, thousands of miles from help. Since this Flight of the Phoenix is about survival, the characters have been reduced to types in order to move the story along.
The snake in this pit is Elliott (Ribisi), an annoying outcast and engineer who is also the only person who can save their collective butts. Played with all the subtlety of a nervous tick, Ribisi is actually the best thing about this plane wreck. Unlike the rest of the cast, who almost seem ashamed to regurgitate their lame lines, Ribisi isn't afraid to whip his out and wave them around.
There are so many good films out there right now, the only reason to sit through a remake of Flight of the Phoenix is because everything else is sold out.
Ashes To Ashes
Phoenix Crashes and Burns
FLIGHT OF THE PHOENIX
Dennis Quaid, Hugh Laurie, Giovanni Ribisi, Miranda Otto, Tyrese Gibson, Tony Curran, Jacob Vargas. Directed by John Moore. Rated PG-13. 113 Minutes.
LARSEN RATING: $2.00