The Fisher King
Brilliant is a word that I don't use very often. It's over used, especially if it's used to describe someone like director Terrence Malick. He's good, but he's not brilliant. Every now and then, actors can be brilliant, or at least deliver a brilliant performance. It doesn't happen very often, but when it does, you instantly know you're in the company of brilliance.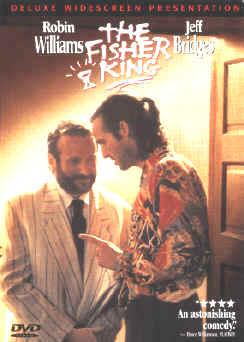 There's a scene in director Terry Gilliam's "The Fisher King" (Chapter 20 on the DVD) in which Robin Williams, playing a homeless man out on his first date since his wife was murdered, goes from giddy to reserved, then from elated to total devastation. The scene only lasts a couple of minutes, yet during that brief span of time Robin Williams is absolutely brilliant. You so desperately want for Parry (Williams) to connect with the shy and reserved Lydia (Amanda Plummer) that you are swept up into his happiness, and ultimately his nervous breakdown.
It's a moment that stays with you long after the film has ended. There are many moments like that in Gilliam's wondrous film, based on Richard LaGravenese's sharply etched screenplay. Jeff Bridges is on his game as New York radio shock jock Jack Lucas, whose popular show allows him to sit comfortably above the reality of the city below. Lucas doesn't think twice about who he offends, and when an offhanded, flippant remark sends a listener into a murderous shooting spree, his life and career come crashing down. Several years later, Jack is still nursing his mental wounds, living in an apartment over a video store owned by his girlfriend Anne (Mercedes Ruehl). He spends his time wallowing in self pity and the bottom of a bottle of booze.
One night, after walking out on Anne after another argument, Jack stumbles into a homeless enclave, where he is attacked by two punks setting the homeless on fire. Before one of the punks can strike a match, they are overtaken by street person Parry (Williams) and his homeless friends. Parry takes Jack back to his basement abode, where he nurses him back to health and befriends him. Parry explains that Jack is the man he has been searching for, the only person who can help him find the lost Holy Grail, an act Parry believes will redeem him.
Down but not out, Jack finds the whole situation a little freaky, but changes his tune when he learns that Parry was once a brilliant college professor whose lovely wife was killed during that fateful shooting spree years earlier. Feeling responsible for Parry's situation in life, Jack makes up his mind to help Parry. He starts hanging out with him (much to Anne's dismay, who suspects that Jack is seeing another woman), and even helps Parry land a date with the shy yet lovely Lydia (Plummer), a bookish woman who works at a publishing firm. Parry is so smitten with Lydia that he follows her every day.
Jack uses Anne and the video store to help bring Parry and Lydia together, and after a wonderful evening of talk and Chinese food, it looks like Parry and Lydia have come out of their shells. It's a wonderful love story, but there's much more at stake here. LaGravenese's screenplay has a lot to say about the human condition, and how we summarily dismiss people in our lives who might otherwise play an important role in our growth and understanding. Thanks to Gilliam's straight forward direction that mixes human elements and mythology to good effect, "The Fisher King" is both entertaining and heartbreaking. The characters are so well defined that it's easy to connect with them, and the actors never miss a beat in bringing them to life.
Bridges perfectly embodies the spirit of a man who has been broken and is in desperate need of a fix. Williams has the toughest role, a man on the edge who actually makes more sense than those around him. It's a bold, daring performance (Williams strips down for a little "Cloud busting" exposing Mr. Happy more than once) that takes Williams up an down the emotional ladder. He never misses a rung, and makes each scene a revelation. Mercedes Ruehl won an Oscar as Best Supporting Actress for playing Anne, and it's easy to see why the Academy chose her performance. Anne is the backbone of the film, the voice of reason, and Ruehl never disappoints.
Amanda Plummer is so exquisite as Lydia, you want to hold her in your arms and never let her go. Plummer makes us feel that Lydia has been hurt once too often, and when she reads Parry the riot act about coming up for a cup of coffee, you know where she's coming from. It's a delicate performance that grows stronger with each scene. Michael Jeter rounds out the top flight cast as a former musical stage actor who has seen better times. There isn't a false note in "The Fisher King," which continues Gilliam's fascination with the Holy Grail. Gilliam's mythic imagery and ability to mix reality and fantasy (the Grand Central Station waltz is one of those most magical moments I've ever seen on film) make "The Fisher King" a unique, life affirming film.
COMPLETE CHECK-UP
VISION: [ ] 20/20 [ X ] Good [ ] Cataracts [ ] Blind
Except for the occasional compression artifact and some minor strobing, the digital transfer is superb. Working from a clean but not pristine original negative, the 1.85:1 widescreen transfer (enhanced at 16:9) is filled with striking colors, honest flesh tones and industrial strength blacks. There were a couple of low lit interior scenes that seemed to have a faint strobing in them, but overall, the color saturation is excellent, with calming blues, striking greens, sharp reds, and warm Earth tones. Gilliam uses a number of lighting techniques in "The Fisher King," and the transfer keeps them honest. Excellent definition and detail. Look at the "Cloud Busting" scene in chapter 12 and see how vivid the grass looks, you can almost see every blade.
HEARING: [ X ] Excellent [ ] Minor Hearing Loss [ ] Needs Hearing Aid [ ] Deaf
Expressive 2.0 Dolby Digital Surround soundtrack puts you right in the middle of the action. While not definitive, there is good use of ambient noise, while the dialogue mix is succinct. The majestic musical score sounds so clean and clear that you'd swear it was live. The stereo separation is effective without being complex, while the soundtrack makes good use of the sound system. The basses are decent, while the high ends show great clarity.
ORAL: [ ] Excellent [ X ] Good [ ] Poor
Subtitles in English.
COORDINATION: [ ] Excellent [ X ] Good [ ] Clumsy [ ] Weak
Handsome, easy-to-navigate main and scene access menus, plus four theatrical trailers ("Starman," "Jumanji," "The Mirror Has Two Faces," and "Awakenings." There's also an insert with some behind- the-scenes information on the making of the film and it's journey to the screen.
PROGNOSIS: [ X ] Excellent [ ] Fit [ ] Will Live [ ] Resuscitate [ ] Terminal
"The Fisher King" is just the cure for erasing the memory of sitting through Gilliam's ill-fated "Fear and Loathing in Las Vegas."
VITALS: $29.99/Rated R/138 Minutes/Color/28 Chapter Stops/Keepcase/#70619
ATTENDING RESIDENT: John Larsen
PATIENT: THE FISHER KING
BIRTH DATE: 1991
HMO: Columbia-TriStar Home Video