Finding Nemo
Generally speaking, with the exception of "The Incredible Mr. Limpet" and those battery- operated singing bass wall plaques, fish are not funny. Maybe it's because they spend so much time in school. Or maybe it's because we just don't understand fish humor.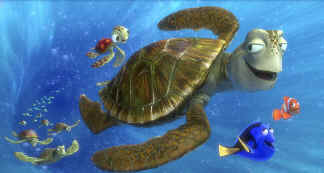 "Finding Nemo," the latest collaboration between Pixar and Walt Disney Pictures ("Monsters, Inc." "Toy Story"), sets out to change all of that. Anyone who has experienced the sport of SCUBA diving knows beneath the surface of the ocean exists a totally different world. That world is captured in all its beauty and unrest in "Finding Nemo."
Unlike live action underwater films, "Finding Nemo" provides us with a fish's eye view of that world, a fresh perspective filled with incredible detail and breathtaking imagery. And lots of laughs. After a brief, dark opening that echoes the sense of loss "Bambi" experienced, "Finding Nemo" rides a current of hope, heroics and hilarity that is impossible to resist.
The computer-generated animated film, directed by Andrew Stanton and Lee Unkrich, is so vivid in its detail and character development that we are instantly swept into the adventure of Clown fish Marlin (voice of Albert Brooks), whose young son Nemo (Alexander Gould) has been plucked from the waters off the coast of Australia and deposited in the fish tank of a dentist. Desperate to rescue his son, the timid Marlin abandons his fears and apprehensions and sets off to find Nemo.
With the assistance of Dory (Ellen Degeneres), a free spirited blue fish with short term memory, and Crusher (Andrew Stanton), a laid back sea turtle, Marlin crosses the Great Barrier Reef, facing one obstacle after another. Meanwhile, Nemo befriends the other occupants of the tank, including a wise Angel Fish named Gill (Willem Dafoe), a Puffer Fish named Bloat (Brad Garrett), and a Starfish named Peach (Allison Janney), who join together to help Nemo escape the clutches of the dentist's evil niece.
The screenplay by Bob Reynolds and David Reynolds touches on an ocean of emotion, everything from loss and grief, to self-discovery and perseverance. The animators and vocal talent have done such a brilliant job that each and every character comes vividly to life, easily involving us in their adventure. Brooks projects just the right amount of parental concern and determination, while Degeneres is appropriately loopy as the forgetful yet sincere Dory.
The animated environments are remarkable, including the underwater World War II submarine graveyard that is the setting for one of the film's funniest moments, where Marlin and Dory find themselves reluctant guests at a 12-step program for sharks who have pledged not to eat their fellow fish. When Dory accidentally gets a bloody nose, Bruce (Barry Humphries), a Great White, gets a whiff and resorts to his old feeding habits, leading to a thrilling and suspenseful chase through the graveyard dotted with active underwater mines. This scene if just one example of how the filmmakers are capable of shifting gears at a moments notice, going from pleasure to peril without skipping a beat.
The wonderful thing about "Finding Nemo" is how it seamlessly introduces life lessons into the mix without feeling like a sermon. We understand Marlin's insecurities and his projection of those feelings on Nemo, and Nemo's disappointment in his father. Nemo's abduction serves as a catalyst for the two to overcome that barrier. Along with Dory, Marlin and Nemo not only grow, but grow closer.
Filled with playful reminders that fish are people too, "Finding Nemo" deftly creates a fantasy world that takes on a reality all its own. Scenes in the dentist's office will leave you gritting your teeth, while the film answers the question of what those annoying Seagulls are actually saying.
Voice talents of Albert Brooks, Ellen Degeneres, Alexander Gould, Willem Dafoe, Brad Garrett, Allison Janney, Austin Pendleton, Stephen Root, Geoffrey Rush. Directed by Andrew Stanton, Lee Unkrich. Rated G. 101 Minutes.
LARSEN RATING: $8.00