Fade to Black
Desperate to shed the nice boy image that catapulted him to stardom in "Breaking Away," actor Dennis Christopher turned to director Vernon Zimmermann's quirky black comedy "Fade to Black." Indeed, "Fade to Black" was as far from the sunny outlook of "Breaking Away" that Christopher could get without doing snuff or porno.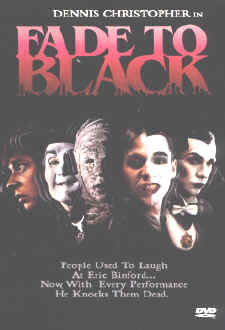 A dark and at times disturbing comedy, "Fade to Black" featured Christopher as horror movie fan Eric Binford, who lives with his domineering Aunt Stella (Eve Brent) when he's not working as a deliveryman for a film warehouse. Eric loves the movies, so much so that his room looks like the lobby of an old film palace. He also watches his favorite films over and over again until he finds himself drawn into their celluloid world. Eric is one step away from becoming a mental case when he meets a Marilyn Monroe look alike (Linda Kerridge) who pushes him over the edge.
Now Eric has become part of the films he watches, and starts dispatching those who have teased or taunted him over the years. Christopher seems to have fun with the role of Eric, which allows him to dress up as numerous film legends. It's also convenient that Aunt Stella is in a wheelchair, so Eric can push her down a flight of stairs. Hot on Eric's trail is a police psychologist (Tim Thomerson), who wants to get inside Eric's head before the SWAT team blows it off. The film is more of a hoot than a hurrah, but it is fun to watch.
COMPLETE CHECK-UP
VISION: [ ] 20/20 [ X ] Good [ ] Cataracts [ ] Blind
Delivered in the film's original 1.85:1 widescreen ratio, the digital transfer is good but not great. Some of the dark scenes have a tendency to wash out, but not to the point of embarrassment. Colors are strong with good saturation, while blacks for the most part are strong. The original negative has some wear and tear issues, and there is some noticeable flecking. Depth of field is good, but attention to detail isn't as strong as it could be. No compression artifacts or noise.
HEARING: [ X ] Excellent [ ] Minor Hearing Loss [ ] Needs Hearing Aid [ ] Deaf
Functional Dolby Digital Mono soundtrack duplicates the film's original theatrical presentation. Strong dialogue mix, with clean high and low ends. No noticeable hiss or distortion.
ORAL: [ ] Excellent [ ] Good [ X ] Poor
No Closed Captions or Subtitles.
COORDINATION: [ ] Excellent [ ] Good [ X ] Clumsy [ ] Weak
The film's original theatrical trailer, main and scene access menus.
PROGNOSIS: [ ] Excellent [ ] Fit [ X ] Will Live [ ] Resuscitate [ ] Terminal
Quirky film gets less than perfect transfer on DVD, making it a rental at best.
VITALS: $24.98/Rated R/102 Minutes/Color/28 Chapter Stops/Keepcase/#DV10864
ATTENDING RESIDENT: John Larsen
PATIENT: FADE TO BLACK
BIRTH DATE: 1980
HMO: Anchor Bay Entertainment