The Exterminator
A lot of water has passed underneath the bridge since Vietnam, but for John Eastland, the war never ends. He suffers from horrific nightmares (I guess watching your buddy get his head chopped off would do the trick), but tries to get on with his life working at a meat packing plant in New York.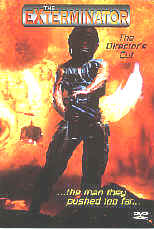 When his best friend gets brutally mugged by a vicious street gang, Eastland realizes that there's a new war with a new enemy to be won. First Eastland revenges his friends attack, and then starts going after other living scum that walk the streets. He proclaims war on them, and turns himself in to "The Exterminator." Like "Death Wish," "The Exterminator" deals with a one-man crusade to clean up the streets and one detectives vow to bring him down.
While we understand that Det. James Dalton (Christopher George) is just doing his job, it's easy to root for Eastland. He's not out there mowing down common street prostitutes and dealers. He's going after the real scum, like a mob boss who has a stranglehold on the loading docks, and pedophiles running chicken hawk parlors for sleazy State Senators.
"The Exterminator" was writer-director James Glickenhaus' first film, and he piles on the pathos and pummeling. When his characters aren't wallowing in self pity, they're doing something about their situation in life. Robert Ginty does just fine as Eastland, a simple man who just wants to live a simple life. All that changes when his friend, Michael Jefferson (Steve James) is ambushed and left for dead by street punks. With Michael clinging to life in the hospital (and paralyzed from the neck down), Eastland opens up his special forces box of goodies and takes to the streets.
It's here where Glickenhaus punches all the right buttons. Oh sure, vigilantism is wrong, but it's always fun to root for someone who takes the law into their own hands. Especially when the police admit they have a problem and are helpless to do anything about it. Plus Eastland isn't just killing the bad guys, he's giving them a taste of their own medicine. Like the mob boss, who learns the difference between ground hamburger and ground mob boss the hard way. For it's time, "The Exterminator" was pretty graphic (I remember sitting in a movie theater when the soldier got his head chopped off, wondering how they did it). The DVD revives the director's cut, which is a tad more graphic.
COMPLETE CHECK-UP
VISION: [ ] EXCELLENT [ X ] GOOD [ ] RESUSCITATE [ ] D.O.A.
Generally pleasing digital transfer in the film's original 1.85:1 aspect ratio is marred by a less- than-pristine original print. There's a horrendous example of this early in the film, somewhere in chapter 3 or 4. It looks like someone scrubbed the original film through grains of sand. Minute scratches also create a raining effect in some scenes. Otherwise, the colors are strong, and the blacks hold up reasonably well. The flesh tones look great.
HEARING: [ ] EXCELLENT [ X ] GOOD [ ] RESUSCITATE [ ] D.O.A.
Effective use of the Dolby Digital Mono gets the job done, but you won't feel like you're part of the experience. There are some noticeable sound drop outs in chapters 7 and 17. Must be a "7" thing.
ORAL: [ ] EXCELLENT [ ] GOOD [ ] RESUSCITATE [ X ] D.O.A.
No closed-captions or subtitles.
COORDINATION: [ ] EXCELLENT [ ] GOOD [ ] RESUSCITATE [ X ] D.O.A.
There's a nice color insert with the chapter stops.
PROGNOSIS: [ ] EXCELLENT [ X ] GOOD [ ] RESUSCITATE [ ] D.O.A.
Technical glitches aside, "The Exterminator" is vigilante wet dream. It's always fun to watch someone else live or vigilante dreams. Rent rather than buy.
VITALS: $29.99/Unrated/104 Min./Color/18 Chapter Stops/Keepcase/#DV10336
ATTENDING RESIDENT: John Larsen
PATIENT: THE EXTERMINATOR
BIRTH DATE: 1980
HMO: Anchor Bay Entertainment