Erin Brockovich
She has hair that would make Paul Mitchell cry and a wardrobe so tacky even Madonna would cringe. She has two ex-husbands, three kids, $17,000 in debt and $73 in the bank. She drives a piece of junk on four wheels, and is out of work. She was once a beauty queen, but the only court she could reside over right now has trailers parked in it.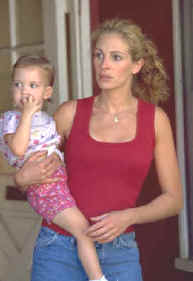 She's Erin Brockovich, a thirty-something woman who desperately needs a break. Erin gets more than that when her car is sideswiped in an accident. Clearly the victim, Erin seeks out an attorney to present her case. Under recommendation, she arrives at the office of Ed Masry, who has built up a modest practice representing people just like Erin.
In movie terms, it was the beginning of a beautiful friendship. Even though Masry didn't win Erin's case, he eventually offered her an entry level clerk job. Desperate to prove that there's some brains under her beauty, Erin dives into a pro bono case pitting some small desert town residents against their local utility company. At first it looks like a minor real estate dispute, but the deeper she goes, the more sinister it becomes.
What Erin learns about the case and herself is at the heart of "Erin Brockovich," an appealing, old fashioned Hollywood movie. Like "Norma Rae" and all that came before it, "Erin Brockovich" addresses important issues without compromising its entertainment value.
Julia Roberts absolutely shines as Erin, a real life heroine who took the lemons that life gave her and made lemonade. Roberts goes the distance to make Erin so appealing. Audiences usually have a hard time warming up to crass, foul-mouthed characters, yet Roberts digs deep to expose the humanity hiding underneath. There is so much sincerity in her performance we instantly like her.
When we first meet Erin, she's at the end of her rope. She does the best she can for her kids, but she's used up all of her lifelines. After two failed marriages and a disastrous court date, the last thing Erin needs in her life is a man or an attorney. I like the way writer Susannah Grant opens the door for both to enter Erin's life without threatening her independence. Instead of being the knights who ride in and rescue the damsel in distress, they become her accomplices.
Hopefully the Academy will remember Albert Finney's performance as Erin's lawyer and boss. Finney is delightful as a man who doesn't know what hit him. It's fun watching Finney's character fall under Erin's spell. Finney perfectly conveys the spirit of a man who is both smitten and flustered.
Writer Grant provides some delicious exchanges between Erin and Masry, and both actors revel in the moment. Like their characters, the film is frisky and alive. Director Steven Soderbergh ("Out of Sight") exposes the films strengths and eliminates the weakness to deliver a film that is solid entertainment. He provides restraint and common sense to moments that could have easily slipped into melodrama.
One of those moments deals with a subplot involving a budding romance between Erin and her biker neighbor George. As played by a rugged looking Aaron Eckhart, George is a nice guy who understands that Erin deserves more in life, and is willing to give it to her. When Erin's job begins to consume her personal life, George feels ignored. Their arguments over this could have been soapy, yet as written by Grant and delivered by Roberts and Eckhart, these moments sound like real life.
Director Soderbergh and writer Grant do an excellent job of creating suspense, always a difficult task for a film based on a true story. Even though we know the outcome, the filmmakers make the character's journey so involved and involving that we have no choice but to come along for the ride.
There isn't a bad performance in the film. Marg Helgenberger and Cherry Jones (so excellent in "Cradle Will Rock") stand out as two victims of the utility company cover-up, while Peter Coyote eats crow as a high priced attorney who mistakenly crosses Erin.
Even though "Erin Brockovich" deals in old fashioned Hollywood values, its message is extremely timely. Audiences will appreciate how deftly Soderbergh balances the films drama, comedy and romance. This easily could have been a chick flick. Instead, "Erin Brockovich" emerges as a spirited tale of one woman's fight to uncover the truth. Her fight is universal, and hopefully the film will be as well.
ROBERTS COURTS A GREAT ROLE
ERIN BROCKOVICH
Julia Roberts, Albert Finney, Aaron Eckhart, Marg Helgenberger, Cherry Jones, Peter Coyote in a film directed by Steven Soderbergh. Rated R. 131 Minutes.
LARSEN RATING: $8