The End of the Affair DVD
Of all of life's romantic pleasures, to me the most erotic is passion. A lot of people mistake lust for passion. Real passion goes beyond superficial sex. It totally inhabits the individual, rendering them helpless. Real passion creates a heat wave that sears through everything else.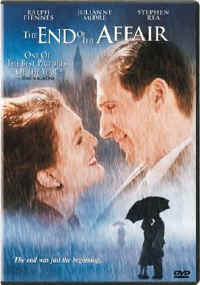 It's extremely difficult to capture honest passion on film, and that extends to the world of adult movies. More often than not passion is part of the act. It must be difficult, if not impossible, for an actor to create something so raw and personal. Especially in front of a camera.
Director Neil Jordan comes extremely close in his remake of "The End of the Affair," based on one of writer Graham Greene's most personal novels. Greene's tale of a writer in wartime London struggling through an affair with his best friend's wife has been told before, but never with as much passion.
Unlike director Edward Dmytryk, who had to settle for knowing glances in his 1955 film starring Deborah Kerr and Van Johnson, Jordan is free to explore the affair once it reaches the bedroom. The bedroom scenes between Ralph Fiennes, who plays writer Maurice Bendrix, and love starved wife Sarah Miles, played by Julianne Moore, are some of the most intense and personal I have seen in some time.
Jordan does an exceptional job of dissecting their romance, but it's the heat generated by the couple that makes "The End of the Affair" so powerful. You totally understand their plight, even when it goes against everything they believe in. These two don't just carry a torch, they consume each other in the flames of passion so intense they almost melt the film.
From the first time she sees him, Sarah Miles knows Maurice Bendrix is going to be her White Knight in shining armor. He's a novelist who can claim that the local cinema is showing an adaptation of one of his books. She's the bored wife of civil servant Henry (Stephen Rea), a man more adept at making deals than love.
Even though Henry is a good man and good provider, Sarah yearns for more. She gets it when she begins an illicit affair with Maurice. As their affair becomes more intense, so does the situation around them. When Maurice is almost killed by a bomb blast during the London Blitz, Sarah mysteriously breaks off the affair and disappears out of his life.
Jordan shifts the story back and forth, slicing the tale of their affair into little bits of pockets of time. The story begins in 1946, but quickly flashes back to 1939. This cinematic doctoring allows Jordan to expose us to all sides of the situation while keeping us guessing where the characters will lead us. Their journey is filled with emotional pot holes that make for a bumpy yet exhilarating ride.
Adult romantic dramas are always difficult to execute. Either the dialogue sounds tinny, or you never feel the chemistry between the players. Jordan's words ring true, while the chemistry between Fiennes and Moore is so strong you wonder if they are intimately involved off screen. Some directors use nudity and sex scenes to titillate. Jordan doesn't just expose his actors, he exposes their passion.
Rea hits just the right note as a man who understands he can't be all his wife wants him to be, and yet is man enough to allow her to find those qualities elsewhere. He's sad and lonely, but never pathetic. Ian Hart and Samuel Bould also find favor as the private detective and his son who end up working for both Henry and Maurice.
Jordan is a visually arresting filmmaker, and he manages to recreate the period with jaw dropping realism. Director of photography Roger Pratt captures a drab London with just a glimmer of hope, while production designer Anthony Pratt makes it easy for us to slip back in time without much effort.
Lush and sumptuous, "The End of the Affair" proves that with intelligent writing, direction and acting, passion can be ignited on the silver screen. The film probably won't make much, but it has so much to give.
COMPLETE CHECK-UP
VISION: 20/20

1.85:1 Widescreen

16×9 Enhanced

Full-frame

RSDL
Breathtaking digital transfer is a mirror image of the original film. The dark, somber interiors and exteriors remain sharp and vital on the DVD, with amazing attention to detail that never wavers, especially in some of the darker portions of the film. The film's warm production design looks smashing, with warm earth tones and natural elements that look natural. Flesh tones are honest, while the reds and blues are striking. Shadows and grays are prevalent, and stay true. Blacks are strong, while whites are clean. No digital compression artifacts or noise. Depth of field is okay, but it's the nature of the beast and not a digital issue.
HEARING: Excellent

Dolby Digital 5.1 Surround

Isolated Musical Score
Natural, well balanced 5.1 Dolby Digital Surround soundtrack. Dialogue mix is outstanding, allowing even the lightest whisper to punctuate the track. Stereo separation is effective, especially the front-to-rear mix that allows for numerous surround effects. Rear speakers find just the right amount of activity, including ambient noise and musical cues that are cleverly layered on the soundtrack. Basses are strong and powerful when needed, while high ends are pure. No noticeable hiss or distortion.
ORAL: Good

Closed Captions in English for the Hard of Hearing.
COORDINATION: Excellent

Two full-length audio commentaries, one featuring director Neil Jordan, the other actress Julianne Moore. I picked the commentary featuring Moore, who is absolutely stunning in the film. I've heard Moore being interviewed before, and her concise ideas and presentation made her track a natural for me. She provides just enough insight into the filmmaking process and herself to keep anyone interested in her or acting in general mesmerized.

Behind-the-scene featurette: Standard P.R. machine, with enough movie magic and stars to keep the viewer interested.

Isolated Musical Score: Always a plus, especially when the score is as lush and romantic as this.

Two theatrical trailers, including "The End of the Affair" and "Remains of the Day."

Handsome, theme main and scene access menus that take full advantage of the film's theme.

Cast & Crew Bios.
PROGNOSIS: Excellent
Just because it's the "End of the Affair" doesn't mean the experience has to. The DVD is a keeper.
VITALS: $27.98/Rated R/101m/Color/28 Chapter Stops/Keepcase
ATTENDING RESIDENT: John Larsen
PATIENT: THE END OF THE AFFAIR (1999)
BIRTH DATE: 1999
HMO: Columbia-TriStar Home Video