Elf
"Elf" may not be a modern classic holiday movie like "The Santa Clause" or "The Grinch That Stole Christmas," but as my mother said when the doctor yanked me from her loins, "It's a keeper."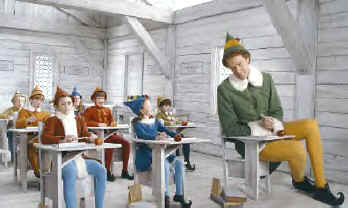 The sign of a good Christmas movie is that you can watch it any time of the year and still feel like decorating cookies and trees. "Elf" rises to the challenge, delivering an unexpectedly delightful seasonal treat that keeps on giving. It gives star Will Ferrell, who specializes in man-child characters, the propulsion he needs to send his career into the stratosphere. After stealing several films from his co-stars, Ferrell is given the opportunity to shine, and sitting atop this Christmas tree of a film, glows like a child getting his first glimpse of Santa Claus at the mall.
Most surprising about "Elf" is that it comes from occasional director Jon Favreau ("Made"), an actor mostly known for his edgy characters ("Swingers") rather than his ability to create likeable characters with a heart and plenty of soul. First time screenwriter David Berenbaum obviously has an affection for films like "Miracle on 34th Street" and "It's a Wonderful Life."
Berenbaum, with a major assist from Ferrell, creates a landscape filled with grumpy businessmen, disbelieving children, disillusioned coworkers, and a spirited Elf named Buddy (Ferrell), actually a human orphan who accidentally crawled inside Santa's bag all those years ago. Berenbaum's fish out of water story gets plenty of mileage from Ferrell and company, who treat the situation at hand with complete conviction.
His wide eyed innocence goes a long way into making "Elf" a winner instead of a gimmicky comedy about a man way too big to be an "Elf." That premise, played out against the wonderful Bob Newhart as Buddy's adopted elf father, is just the springboard for a thoughtful comedy that truly brings the spirit of the holidays to life. When Buddy meets his birth father, a book publisher played by James Caan, he's initially seen as an intruder by the publisher's wife (Mary Steenburgen, always the diplomat), and ten-year-old son Michael (Daniel Tay).
It doesn't take long for Buddy to work his magic on those around him, including a fabulous Zooey Deschanel as a department store worker who is bored with her life. Like "Miracle on 34th Street," which derived a lot of its gentle humor by placing a real Santa in a fake North Pole setting, "Elf" also uses the premise to good advantage. In the end everyone gets what they want for Christmas, and the audience gets to go home feeling like they've been touched by the holiday spirit.
ELF APPRECIATION
Where there's a Will, there's a Sleigh
ELF
Will Ferrell, James Caan, Bob Newhart, Mary Steenburgen, Ed Asner, Zooey Deschanel. Directed by Jon Favreau. Rated PG. 90 Minutes.
LARSEN RATING: $6.00