Dressed to Kill
Filled with the same sexually-charged suspense as his previous efforts, "Dressed to Kill" took writer- director Brian De Palma to new heights.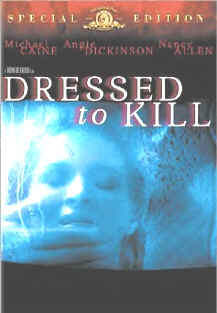 After striking gold at the box office with "Carrie," De Palma turned his interests to a suspenseful murder- mystery that would once again push the envelope. "Dressed to Kill" continued De Palma's fascination with Alfred Hitchcock that began with "Sisters."
Using "Psycho" as a springboard, De Palma delivered a thriller that was unlike anything we had seen at that time. Using frank, adult dialogue and mixing sex and violence, De Palma gleefully escorted us down a dark and winding road of suspense.
Like the best illusionists, he is a master of misdirection. He wants us to believe "Dressed to Kill" is a story about a 40-something woman on a journey of sexual awakening. That's what he wants us to believe. So when we first meet Kate Miller (Angie Dickinson), we're eager to learn more about her.
We know that she has a son named Peter (Keith Gordon), a high school techno-geek who is into the latest computer happenings (remember, the film was made in 1980), and a boyfriend who likes the old in and out without much passion. Poor Kate. All she wants is a little romance, which she finds when she allows a stranger to pick her up in an art museum.
After an afternoon erotic romp, Kate meets an unexpected and vicious end. Remember, the rule in thrillers and horror films is that anyone having sex has to die. Just ask any of the horny teens from "Friday the 13th". At that moment, it becomes apparent that "Dressed to Kill" isn't about Kate, but about the high- priced call girl who stumbles across her body in an elevator.
The hooker is Liz Blake (Nancy Allen), who is immediately thrust into a never-ending nightmare of murder and mistrust. Hounded by the police, who believe she knows something, Liz teams up with Kate's son Peter to find out who killed his mother.
That involved getting up close and personal with Kate's psychiatrist Dr. Robert Elliott (Michael Caine), who may be hiding something. Filled with De Palma's usual camera trickery, "Dressed to Kill" is a brilliant exploration of mystery, suspense, and split personalities. As a writer, De Palma cleverly draws us into the proceedings, and then never lets go. He piles on one gripping moment after another until the suspense is almost unbearable.
He's blessed with a terrific cast, including the delightful Nancy Allen (Mrs. Brian De Palma), who really knows how to turn up the heat as the high priced call girl Liz Blake. There's a lot of spirit and attitude in her performance, a must when she plays off Michael Caine's delicious Dr. Elliott. Caine is so good as Elliott that he gives us the creeps. You never know what the dude is up to, and when we finally learn his secret, we're anxious to watch the film again.
Dickinson, the subject of a lot of press when the film came out due to her nude scenes, is warm and funny as a mother who also wants to be a lover. Dickinson is truly amazing in the film's celebrated museum sequence, where De Palma never allows the camera to stop. The extended sequence allows Dickinson to say so much with her body language, and she says volumes.
Young Keith Gordon is also an asset as young Peter, a smart, savvy kid who is always one-step ahead of the rest of the characters, including hard-nosed police Detective Marino (Dennis Franz warming up for NYPD Blue).
"Dressed to Kill" begins and ends with a shower sequence, and in between De Palma showers us with buckets and buckets of suspense and thrills. His use of split screens allows him to create unimaginable suspense. You have to pay attention to fully enjoy this film. There's a lot of information being passed around, and if you lose one step you will stumble.
Keep up and you will find yourself experiencing a film that delivers everything it promises.
COMPLETE CHECK-UP
VISION: Good

2.35:1 Widescreen

16:9 Enhanced
Despite the fact that "Dressed to Kill" was shot in dreamy soft-focus, the digital transfer looks marvelous. Colors are well balanced and vibrant, while blacks look quite impressive. Flesh tones are especially pleasing, and colors never bleed or fade. Depth of field is sharp considering, and attention to detail is high. There are some minuscule age problems, but overall the print looks clean and sharp. Slight edge enhancement, but nothing to get upset about. Whites are pure, and shadow detail is well defined. Even difficult elements like steam and rain hold up without no noticeable artifacts.
HEARING: Good

5.1 Dolby Digital Surround

Dolby Digital Mono in English & French
Purists can choose the original mono soundtrack that graced the film in it's theatrical run, but the newly mixed 5.1 Dolby Digital Surround soundtrack is quite impressive. The mixers have done a wonderful job of separating the tracks to reflect their true stereo placement, including an expressive front sound field that delivers a powerful dialogue mix and excellent left-to-right stereo split. The rear speakers come alive with powerful musical cues and haunting ambient noise. Surround effects are okay, and basses are limited. The soundtrack isn't as sharp as recent efforts, but the mix allows for better than expected highs and lows with minimal distortion.
ORAL: Excellent

Closed Captions in English for the Hard of Hearing

Subtitles in French & Spanish
COORDINATION: Excellent

"The Making of Dressed to Kill," an extensive documentary that brings together all of the talent (minus John Travolta) and most of the filmmakers. Like the excellent documentary on "Carrie," this documentary is really a treat, filled with enough fond recollections and background information to please any fan or film fanatic. Using stills and limited behind-the-camera footage, plus new interviews, the documentary explores the concept and controversy. It's really funny to hear Angie Dickinson use the word "beaver" in describing the work of her body double.

Rating Comparison Feature that provides an eye-opening look at the different versions of the film in circulation. Here you can compare the different versions of the film, from the uncut European version, to the R-rated film and then the silly television version. The differences are stunning.

"Slashing Dressed to Kill" featurette exploring the controversy director Brian De Palma faced over the content of the film. Amazing what De Palma had to put up with from the ball-busting feminists and censors of the era. Anyone with a fascination over what constitutes an R or an NC-17 will appreciate this little history lesson.

"An Appreciation" by actor-director Keith Gordon, a small yet informative tribute by Gordon, who provides even more background information on the making of the film and the controversy surround its release.

Advertising Gallery

Photo Gallery that does all of the work for you

The film's original theatrical trailer

Collectible Booklet

Handsome, animated main menus and standard issue scene access menus
PROGNOSIS: Excellent

You don't have to get dressed up to make a killing with this excellent DVD.
VITALS:

$19.98/Rated R/105 Minutes/Color/16 Chapter Stops/Keepcase
ATTENDING RESIDENT: John Larsen
PATIENT: DRESSED TO KILL-SPECIAL EDITION
BIRTH DATE: 1980
HMO: MGM Home Entertainment