Dragon: The Bruce Lee Story
At first glance, "Dragon: The Bruce Lee Story" would seem like an odd choice to release as a "Collector's Edition." Originally released in 1993 to capitalize on the 20th anniversary of "Enter the Dragon," the docu-drama stars Jason Scott Lee (no relation) as the Honk Kong martial arts star whose spiraling career came to a sudden and unexpected end when Lee mysteriously died.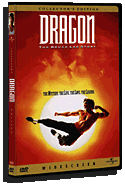 Director Rob Cohen and co-writers Edward Khmara and John Raffo explore Lee's loves and losses, and use elaborate cinematic devices to bring to the life his inner demons that plagued his life. Jason Scott Lee is admirable as he goes through the motions, while Lauren Holly delivers a sympathetic performance as his devoted wife Linda. Fans of Lee will appreciate the opportunity to stroll down memory lane with their hero.
COMPLETE CHECK-UP
VISION: [ X ] EXCELLENT [ ] GOOD [ ] RESUSCITATE [ ] D.O.A.
You'll need glasses if you have a small set. "Dragon: The Bruce Lee Story" is presented in it's original 2.35:1 widescreen aspect ratio, so unless you have a 27″ or larger screen, you'll be lost. Then again, I really can't imagine anyone owning a 19″ screen buying this DVD, unless it's a 54-year old martial arts fan who is still living in his mother's basement with Farrah Fawcett posters living the wall. This DVD was mastered for those who appreciate the medium. Sharp, vibrant images bring the action to life on this finely tuned dual-layered disc.
HEARING: [ ] EXCELLENT [ X ] GOOD [ ] RESUSCITATE [ ] D.O.A.
Dolby Digital Surround tracks in English and French. They're not 5.1, but they do manage to fill the room with aural images.
ORAL: [ ] EXCELLENT [ X ] GOOD [ ] RESUSCITATE [ ] D.O.A.
"Dragon: The Bruce Lee Story" features English close-captions and Spanish sub-titles. Once again, a film about martial arts that doesn't include a Chinese or Japanese language track or sub-titles.
COORDINATION: [ ] EXCELLENT [ X ] GOOD [ ] RESUSCITATE [ ] D.O.A.
Here's where "Dragon: The Bruce Lee Story-Collector's Edition" gets interesting. Forget about the usual trappings like scene selections, bios, production notes and such. They're all here, and they're fine. Skip to the bonus materials that go behind the scenes to show the tremendous effort that went into making Bruce Lee's story come to life. There's an interview with Bruce Lee that's a must for all fans, plus an archive of photographs. A featurette on the making of the film is included, plus outtakes from the featurette that prove the old adage stars are people too. You'll also get a chance to see Jason Scott Lee's screen test (a feature they should include on all DVD's) and no less than five storyboard sessions that show the intricate nature of getting difficult shots.
PROGNOSIS: [ ] EXCELLENT [ X ] GOOD [ ] RESUSCITATE [ ] D.O.A.
Unless you're a fan of the film or Bruce Lee, all of the extra effort seems for naught. The price tag will keep those on the fence from making the leap from rental to purchase.
VITALS: $34.98/Rated R/120 Min./Color/33 Chapters/Keepcase/#20224
ATTENDING RESIDENT: John Larsen
PATIENT: DRAGON-THE BRUCE LEE STORY: COLLECTOR'S EDITION
BIRTH DATE: 1993
HMO: Universal Studios Home Video