Die Another Day
Most milestones are marked with a party, and even though the champagne loses its fizz before the final reel, "Die Another Day," is still cause for celebration. The twentieth film in the James Bond franchise, "Die Another Day" arrives forty years after the release of "Dr. No."
"Die Another Day" also marks Pierce Brosnan's fourth appearance as Bond, and he has matured nicely into the role. After three films, Brosnan brings just the right amount of personal and professional baggage to the role. He's still easy on the eyes, but this Bond is more rugged and assured.
The screenplay by Neal Purvis and Robert Wade is equally rugged, but nearly as assured. In many ways, they bring out the best and worst of Bond. They stick to the popular formula of espionage, babes, bad guys and close calls, but in an attempt to attract teenage boys, pump up the action to the point of idiocy.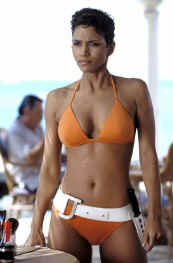 The action in Bond films has always bordered on the absurd, but in "Die Another Day" it becomes comical. However, those willing to suspend disbelief will be in for a grand time. "Die Another Day" isn't the best Bond film, but it sure is a lot of fun, especially for fans, who will appreciate homages to previous entries.
Anyone familiar with the franchise will recognize nods to "Goldfinger," "Thunderball," "From Russia with Love," and "Dr. No," especially when bikini-clad Halle Berry sashays out of the surf dangling a knife from her suit. Ursula Andress would be proud. Berry plays Jinx, an American agent whose good looks betray her lethal skills.
Bond makes his way through the usual bevy of babes, but it's refreshing to see him teamed up with a woman who is more than set decoration. From the first time we meet Jinx, we know she's trouble.
Director Lee Tamahori (Once Were Warriors) brings a stunning visual edge to "Die Another Day," incorporating stylized editing and photography to bring Bond into the twenty-first century. Tamahori never allows the larger than life action to engulf the characters. We actually care about the characters instead of the special effects.
The plot is vintage Bond, with just enough high tech thrown in to keep 007 from becoming a dinosaur. After a mission goes bad, Bond is captured and held in a North Korea prison for 18 months. Bond is released after being traded for another prisoner, but is informed by M (Judi Dench, always a delight) that he's no use to anyone. Bond takes matters into his own hands and sets out to track down the person who betrayed him.
His personal mission interferes with one being run by the CIA and NSA, who have assigned Jinx to track down and kill a scientist using DNA to alter appearance. When their missions collide, Bond and Jinx find themselves on the trail of charismatic but elusive billionaire industrialist Gustav Graves (Toby Stephens), whose latest philanthropic contribution, a satellite designed to deliver 24-hour sunshine, is actually a lethal laser.
The plot takes us around the globe, from North Korea to Cuba, London to Iceland, all breathtakingly captured by director of photography of David Tattersall, who incorporates Peter Lamont's jaw-dropping production design, detailed miniatures and computer graphics into a near perfect fantasy world. Most action films take you for a ride, but "Die Another Day" requires seatbelts.
Toby Stephens makes an affluent villain. Like others on a long list of megalomaniac villains, Graves is exceptionally charismatic and cocksure, obvious signs that something is wrong. After all, can you really trust a man who gives half his immense wealth to charity? There's a lot of mystery surrounding his character, and you appreciate the writers making him more than a one note villain.
The writers also give Berry and the rest of the "Die Another Day" women the respect they deserve. Berry is smart and sassy as Jinx, a woman who understands the hazards of the job, including sleeping with Bond. Watching Brosnan and Berry go at it creates more heat than the laser.
Rosamund Pike is good as no-nonsense British agent Miranda Frost, a gorgeous woman with great aim, while Rick Yune is effective as Zao, another in a long line of freak henchmen. Madonna (who sings the theme song) even manages to shine as a lesbian fencing instructor.
"Die Another Day" mixes old and new to come up with a James Bond that should appeal to fans of all ages. Sure, some of the stunts are incredible, but more incredible is how a 40 year-old franchise can still excite and entertain. "Die Another Day" does both.
PIERCING BOND
New 007 film is shaken, not stirred
DIE ANOTHER DAY
Pierce Brosnan, Halle Berry, Toby Stephens, Rosamund Pike, Rick Yune, Judi Dench, John Cleese. Directed by Lee Tamahori. Rated PG-13. 132 Minutes.
LARSEN RATING: $6.00