The Devil Wears Prada
When Runway fashion magazine editor Miranda Priestly goes swimming in the ocean, sharks clear a path out of professional courtesy. Priestly may not have a fin, but she navigates the waters of New York high fashion with precision, devouring anything crossing her path.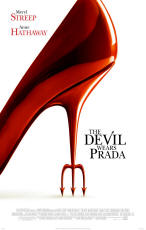 Fresh into the pool is Northwestern journalism graduate Andy Sachs, immediately tossed into the deep end after applying for an assistant job. Talk about hitting the pavement running, it doesn't take long before Sachs stumbles over her own earnestness.
Based on Lauren Weisberger's novel about her tenure at Vogue Magazine, The Devil Wears Prada is a delicious page-turner of a movie, a wonderfully wicked examination of absolute power and how it corrupts absolutely. Movies set in the fashion world are usually reserved for Lifetime or Oxygen. Whereas we've been up and down this road before, we haven't made this trip with these people.
Talk about dream casting. With her closely cropped white mane, steely eyes, and hifalutin' posturing, Meryl Streep is perfect as Miranda. Streep can cut diamonds with her laser looks and sharp comebacks, floating an air of superiority like the Goodyear Blimp. For someone who literally sucks the air out of the room, it's fortunate she lives with her head in the clouds. Most actors would compensate by making her larger-than-life, but Streep keeps Miranda grounded, where she can do the most damage.
We've all had one, seen one, or known one: the boss from hell. Some rise through accomplishment, some arrive at the top through favor, but the boss from hell arrives out of expectation. They believe they deserve everything they get, but rarely get what they really deserve. They use and abuse their assistants to make them look good. The character can either be extremely superficial, or in Streep's care, multi-layered. Miranda may be a monster, but she's always interesting.
So is Anne Hathaway's sacrificial lamb Andy Sachs, sweet, young, just getting started with life. Sachs is Miranda's flip side, still in possession of her soul, hoping to hold on to it during her climb to the top. Souls are baggage, and unless the character is strong and willing, it is impossible for them to climb the ladder with all the extra baggage. Miranda's soul is history, but Andy works overtime not to become an ice bitch. Thank goodness Hathaway is such a strong actress or Andy would disappear into the woodwork.
Hathaway has played this sort of role before in The Princess Diaries, a commoner thrown into a royal arena, but The Devil Wears Prada is more a cautionary than fairy tale. It's about people who want to live the dream, even if it means accepting the nightmare. Andy is such a decent person we really don't want her to morph into Miranda, but she has chosen a profession which doesn't lend itself to excessive backslapping. Backstabbing, yes.
Streep has also played variations of Miranda, most notably in She-Devil and The Manchurian Candidate, strong women who work hard to live easy. Miranda pretends to be happy, but in reality she is a mess. So is Andy, who has forsaken understanding boyfriend Nate (Adrien Grenier), her father, and a possible reporter-suitor (Simon Baker) in order to keep Miranda happy. There's a lot to be said about someone who gives up their happiness to fulfill someone else's happiness, and writer Aline Brosh McKenna gives Andy plenty to say.
McKenna's sharp observations and equally sharp dialogue turn The Devil Wears Prada into a treat, a frothy concoction which pretends to be a chick flick but offers an interesting take on how people treat people. The writer never takes shortcuts, forcing the characters to face their demons and make tough decisions. Just when we think one of the characters is finally going to have a revelation, it doesn't happen. Stuff like that only happens in the movies.
Like the series of events which take their toll on Miranda's assistant Emily (Emily Blunt). When Miranda handpicks Andy as Emily's new assistant, Blunt's combination of respect, fear and disappointment provide just the right comic relief. You can't blame Emily for wanting to make Andy's life difficult, especially when Emily's annual Paris Fashion trip hinges on her success.
Stanley Tucci also has some fine moments as the art director looking to make his own mark, while Grenier plays the displaced boyfriend with as much depth as possible.
Director David Frankel, who cut his teeth on episodic television (Entourage, Sex and the City, Band of Brothers), takes a big bite out of the New York fashion world. He never allows the actors to chew the high rent production design, or turn their characters into caricatures. What emerge is an acting tour de force with lots of bite.
Feeding Frenzy
Streep Swims With Sharks, and Looks Fabulous
The Devil Wears Prada
Meryl Streep, Anne Hathaway, Stanley Tucci, Simon Baker, Adrien Grenier. Directed by David Frankel. Rated PG-13.
Larsen Rating: $8.00