Dead Poet's Society
If history has taught us but one thing, it is every time Robin Williams plays a dramatic role in a film with three words in the title, he's Oscar bound. Look at his relationship with Oscar: "Good Morning, Vietnam," "Dead Poet's Society," "The Fisher King," and finally a win for "Good Will Hunting." "Good Morning, Vietnam" was his first major hit, a brilliant combination of humor and pathos set against the blossoming Vietnam War. Williams didn't do another feature film until 1989's "Dead Poet's Society," and once again proved that he was more than a hyper kinetic comedian.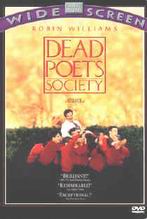 Like "Good Morning, Vietnam," "Dead Poet's Society" features a consummate Robin Williams performance, perfectly reigned in by director Peter Weir, who would later have the same success with Jim Carrey in "The Truman Show." Williams is absolutely brilliant as English professor John Keating, not much older than his high school students in a posh private school on the East Coast. Set in 1959, "Dead Poet's Society" perfectly evokes the time and place. The film takes place during the first Fall semester, a special time for a group of friends completing their sentence (uh, I mean time) at the Welton Academy and ready to head off to the finest Universities the world has to offer. As written by Tom Schulman, "Dead Poet's Society" isn't your typical high school romp. It's thoughtful and insightful. There aren't any panty raids or toga parties, just lots of poetry readings.
So how commercial could that be? Very, as "Dead Poet's Society" became Williams' second major hit in a row. Audiences and critics alike shared their enthusiasm for this honest, funny, exceptional drama. Williams shines as Keating, a man who encourages his students to seize the day and make their lives extraordinary. Through his example and encouragement, the students begin to exercise their individuality. This growth, and how it affects the central characters, makes for engaging viewing.
Robert Sean Leonard is heartbreaking as Neil Perry, a senior who knows what he wants in life but is afraid to disappoint his demanding father (Kurtwood Smith). Perry shares a room with new kid Todd Anderson (Ethan Hawke), a quiet student living in the shadow of his popular older brother. The two are joined by other students (most memorable Josh Charles as the love-struck Knox Overstreet, who is willing to get pulverized in order to see the girl he loves, and Gale Hansen as wise acre Charlie Dalton) when they decide to start up the "Dead Poet's Society," an underground organization that has been banned from campus since Keating's day. At first the guys feel funny meeting in a cave and reciting poetry, but before long, they begin to feel a release that opens their minds. That's all the Welton Academy needs is free thinkers. Even during it's most somber moments, "Dead Poet's Society" is life affirming. The message is received loud and clear.
Director Weir does a splendid job of getting truthful performances from everyone in the cast. The characters are so vividly drawn that you never feel cheated. What you see is what you get. The film looks sensational, thanks to John Seale's Norman Rockwell cinematography. "Dead Poet's Society" and "Good Morning, Vietnam" are two of Robin Williams' finest films, and they deserve a place in any DVD library.
COMPLETE CHECK-UP
VISION: Good
A superior transfer that captures the delicate cinematography of John Seale with accuracy and respect. Delivered in the film's original 1.85:1 widescreen ratio, the digital transfer is extremely clean, with only a minute amount of compression artifacts visible. The color saturation is strong, the blacks bold and vivid, while the flesh tones are exceptional. The warm colors of the fall and the bleak hues of winter all look natural. Once again, an impressive transfer from the folks at Disney.
HEARING: Minor Hearing Loss
The Dolby Digital Surround track is serviceable, with high marks for an excellent dialogue mix. Not much activity for the surround speakers except the occasional musical cue and directional ambient noise. The quality is clear and crisp, but the stereo separation is subdued. There's also a French language soundtrack.
ORAL: Good
Closed captions in English for the hard of hearing.
COORDINATION: Weak
Main and scene access menus.
PROGNOSIS: Excellent
ATTENDING RESIDENT: John Larsen