The Corruptor
As much as I admire Hong Kong action star Chow Yun-Fat and director James Foley ("Glengarry Glen Ross"), I purposely avoided seeing "The Corruptor" in theaters. I even admire Mark Wahlberg after his turn in "Boogie Nights," which proved he's much more than an underwear model.
Even with all of those elements in place, the idea of another buddy cop movie left me cold. After all, haven't we seen all of this before? Well, yes and no.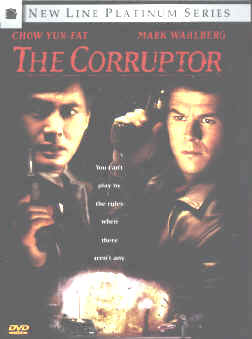 While Robert Pucci's screenplay presents common elements found in most action thrillers, how he tweaks those elements makes for riveting viewing. It helps having Foley at the helm, who understands the slow burn more than any one else. Foley has a knack for taking pedestrian situations and giving them an edge. The same applies to the characters that inhabit his films. They may seem run-of-the-mill at first glance, but look a little deep and you'll find layers that make the characters interesting and unique.
Even though "The Corruptor" comes with a ready-to-buy premise, Foley and Pucci take it to the next level, creating a film that constantly surprises you. It's also tough and gritty, my kind of action film. The setting is New York's Chinatown, where crime and corruption run rampant. Chow Yun- Fat plays Nick Chen, a respected member of the all Asian police station. Chen plays tough, especially when a rival Asian gang sets out to take over the neighborhood. While the police tolerate certain illegal activities, they find themselves at war with the new gang who deal in slave trade and blowing things up.
Chen feels obligated to protect his interests, and makes the new gang his priority. He gets some assistance from his new partner, a white cop named Danny Wallace (Mark Wahlberg), who asked to be assigned to Chinatown in order to stop the madness that has gripped the precinct. Chen doesn't like Wallace, whom he sees as a token player in a dangerous game. Under orders, Chen takes Wallace under his wing, teaching him the ins and outs of Chinatown. As their investigation into the gang intensifies, Wallace learns that there are different levels of right and wrong, especially in Chinatown.
For instance, Wallace can't understand how Chen can be so passionate about certain crimes, while virtually ignoring others. A quick education teaches him that in order for there to be a balance of power in Chinatown, certain activities and individuals must be allowed to exist. That doesn't sit too well with Wallace, the son of a cop trying to prove himself to his father. While Chen is laid back and accepts his role in the community, Wallace is determined to clean up Dodge. Of course that means numerous shoot-outs and car chases, plus several revelations that bring to light corruption in the system.
While all of this is laid of matter of fact, there are moments that help the film rise above the bottom feeders of the genre. Chen's cop is like an Asian "Dirty Harry." He shoots first and asks questions later, and this sort of Cowboy justice is just what the film needs. While the film's moral core is ambiguous, the character's motivations are not. Even though Chen is on the take, he's still better than the bad guys who import young Asian women as slaves, leaving an occasional body in a dumpster as a warning to others.
Even Wallace finds it hard to keep his nose clean, especially when he becomes a hero and receives unwanted attention from the very people he's trying to nail. Even though the moral compass is all over the map, it is still easy to root for Chen and Wallace. Yun-Fat is wonderful as the wise senior cop who knows of what he speaks. Wahlberg has the more quiet role (and the burden of carrying a sub-plot about his alcoholic father who is in debt over his gambling problem), and manages to rise to the occasion when necessary. Ric Young has the ability to make your skin crawl as the smarmy Henry Lee, the proprietor of a popular restaurant and the head honcho behind most of Chinatown's illegal activity.
The film presents a well balanced menu of personal drama and hard-hitting action, and the chase scene that completes the second act is actually quite impressive and gripping. While it's not a classic by any means, I was constantly surprised at how much I liked the film while I was watching it. It's not "Lethal Weapon," but it does manage to rise above the usual cliches that inhabit the screenplay.
COMPLETE CHECK-UP
VISION: [ X ] 20/20 [ ] Good [ ] Cataracts [ ] Blind
Striking, gorgeous 2.35:1 widescreen digital transfer. Exceptional colors, lifelike flesh tones and solid state blacks are just the tip of the iceberg. Enhanced at 16:9 for widescreen televisions, the images are vivid and sharp. Color saturation is excellent, with no bleeding or fading. Depth of field is strong, with nice attention to detail. Even those pesky hard-to-hold patterns (like blind shadows) make the transfer without any problem. No noticeable compression artifacts or noise.
HEARING: [ X ] Excellent [ ] Minor Hearing Loss [ ] Needs Hearing Aid [ ] Deaf
Rambunctious 5.1 Dolby Digital Surround (also delivered in 2.0 Stereo Surround) completely surrounds you in an ocean of decisive noise. The dialogue mix is sensational, allowing you to hear each and every word, even in the middle of the action scenes. Stereo effects are excellent, especially the left to right split. Front to rear spatial separation also sounds natural, while the rear speakers are alive with strong music cues and ambient noise. Basses are booming, while the middle and high ends are clean. No noticeable noise or distortion.
ORAL: [ ] Excellent [ X ] Good [ ] Poor
Subtitles in English.
COORDINATION: [ X ] Excellent [ ] Good [ ] Clumsy [ ] Weak
As usual, New Line Home Video has packed this "Platinum Series" edition with some outstanding extras.

Director James Foley clocks in with a full-length audio commentary that takes us behind the scenes of the film. After watching Foley in the DVD's documentary and then listening to him on the audio track, I only have one thing to say: Keep this guy away from Starbucks. Way too much caffeine. Even Mark Wahlberg mentions in an interview segment his hesitation to work with Foley because the guy is so hyper. Foley is a blast to listen too, even if he's exhausting.

There's a lengthy documentary called "From the (Under) Ground Up: The Making of the Corruptor," and as far as behind-the-scene documentaries go, this one is top notch. There is so much here it's almost worth the price of the DVD by itself. There is only one minus. It becomes apparent after spending five minutes with Mark Wahlberg that even though he might be a pretty decent actor, he lacks the smarts necessary to make intelligent conversation. Most of Chow Yun-Fat's interview is delivered in one cut. Wahlberg's comments are delivered in numerous cross-cuts in an effort to hide his lack of verbal skills. On a much higher note, the documentary delivers the sort of extras that make owning a DVD such a pleasure. Not only do we get to go behind-the-scenes as numerous scenes are filmed, we get a marketing presentation on how New Line finally arrived at the theatrical trailer used for the film. What a thrill it is to see how different elements from the film were juggled in order to come up with a trailer that works for rather than against the film. There are also a healthy dose of production designs and stills. The highlight of the documentary is the film's original, unedited car chase. After showing us the process used to film the chase, Foley shows us the graphic cut of the chase that was trimmed in order to get an "R" rating from the MPAA. There are distinct differences, and you'll be thrilled with the opportunity to see both.

The film's catchy score by Carter Burwell is available as an isolated track, with commentary by the composer. Even better, the musical cues are listed on a special menu, a first for a DVD.

The DVD features a music video of "Take It Off" by UKG. Not my cup of tea, but a nice addition.

Some of the best animated, interactive menus ever on a New Line Home Video DVD. The menus are just as impressive and fun to play with as those on the "Ghostbusters" DVD. A lot of work went into these menus, which incorporate the theme of the film and the explosive car chase. The scene selection menu takes you to a storefront, where the scenes are listed like a grocery list that can be crossed of as you peruse each item. Just an outstanding effort that proves what DVD is capable of.

The DVD also features the original theatrical trailer, plus a good selection of cast & crew bios and filmographies.

DVD-ROM content includes the original screenplay, and the ability to jump to any scene in the script, plus more in-depth cast and crew information available through the web links.
PROGNOSIS: [ X ] Excellent [ ] Fit [ ] Will Live [ ] Resuscitate [ ] Terminal
Hard-hitting, uncompromising and definitely worth the buck.
VITALS: $24.98/Rated R/110 Minutes/Color/23 Chapter Stops/Snapcase/#N4776
ATTENDING RESIDENT: John Larsen
PATIENT: THE CORRUPTOR-PLATINUM SERIES
BIRTH DATE: 1999
HMO: New Line Home Video