The Corpse Bride
As a film critic, I always find myself looking beyond the projected image. I'm constantly asked if dissecting a film detracts from my enjoyment of it. Hardly. A well constructed film holds up under any scrutiny. Unlike most audience members, I also derive pleasure in knowing how the filmmakers arrived at this point. So while most people are satisfied with a simple scene between two characters on a bridge, I'm completely blown away by the magnitude of the artistry involved.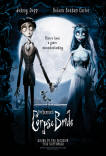 There's a lot to admire in The Corpse Bride, an infectious blend of macabre humor, romance, music, and heart. Directed by Tim Burton and frequent animator Mike Johnson, The Corpse Bride is the latest film to incorporate the time consuming process of stop motion animation. Like Burton's The Nightmare Before Christmas and his presentation of James and the Giant Peach, The Corpse Bride is visually arresting.
So are the characters, who instantly capture our imagination with their detailed expressions, linear body parts and ulterior motives. The filmmakers wisely break from the ordinary, depicting the world of the living as dark and dreary, while the underground world of the dead is alive in color and song. This contrast helps us understand the dilemma facing Victor, who is being forced into an arranged marriage by his fishmonger parents to save face.
The bride, Victoria (Emily Watson), is equally apprehensive, as she too is being used by her parents to secure financial gain. There's great irony in the fact both families are using each other for financial gain, as is robber baron Barkis Bittern (Richard E. Grant), who wants Victor out of the picture. While rehearsing his wedding vows, Victor mistakenly places the ring on a bony finger he believes is a tree, thus sealing his marriage to The Corpse Bride (Helena Bonham Carter).
The film's writers then take us underground and introduce us to one wild character after another, turning poor Victor into a head case. As Victoria awaits Victor's return, her parents plot to marry her off to Barkis, setting into motion a race to find Victor and save the wedding day.
With frisky songs by Danny Elfman which advance rather than stop the plot dead in its tracks, The Corpse Bride benefits from thoughtful voice talent, bittersweet storytelling which manages to touch your emotions, and a wild sense of abandon. Kids will appreciate the colorful imagery, adults will enjoy the complex themes, while everyone will drop dead over the elaborate and stunning production design.
Burton Delivers An Animated Corpse
Tim Burton's Corpse Bride
Voice of Johnny Depp, Helena Bonham Carter, Emily Watson, Tracey Ullman, Christopher Lee, Albert Finney, Richard E. Grant. Directed by Tim Burton and Mike Johnson. Rated PG. 77 Minutes.
Larsen Rating: $8.00