Child's Play
As a former video retailer, I was fortunate enough to attend a local Video Software Dealer's Association event in Malibu, California. It was a regional event, where members and their families enjoyed an afternoon of food and fun, courtesy of several studios and the VSDA. These events are always a lot of fun, and beneficial. You learn a little about the industry, you mingle with people in the same boat as you, and you get to take home some neat promotional items from the studios.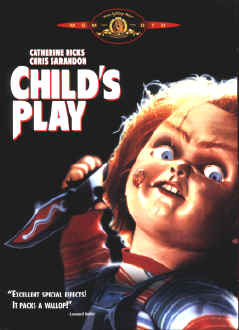 One of the promotional items I was lucky enough to snag was a "Child's Play" doll. I didn't see the film in theaters, so I wasn't thrilled beyond belief with my good fortune at the time. Only after I saw the film was I thrilled about my Chucky Doll. I only have three dolls in my collection. Alf, Mini-Me from "Austin Powers" and Chucky. Chucky is my favorite. Who could resist the charms of a killer doll? I use him every Halloween when I have a party.
He hangs from a noose in the hallway (he comes with suction cups to hang in a car window, but I wouldn't dare do that because someone would break the window and steal him). I liked "Child's Play," a devilish little thriller about a serial killer who transfers his soul into a child's play doll. Hey, it could happen! Killer doll stories have always had a special place in my heart (ever since Telly Savalas stumbled across one in "The Twilight Zone"), and "Child's Play" delivers the goods. After being mortally wounded, serial killer Charles Lee Ray (Brad Dourif) uses voodoo to transfer his soul into the body of a "Good Guy"doll. When the doll ends up in the hands of a small boy named Andy Barclay (Alex Vincent), he uses the opportunity to get even with his double-crossing partners and the cop who shot him.
Director Tom Holland, working from a thrifty screenplay by Don Mancini, John Lafia and himself, is an effective thriller that mixes black humor and cheap thrills to create a giddy good time. The cast isn't nearly as animated as Chucky, the killer doll. Thanks to Kevin Yagher's ingenious special effects (created by David Kirchner), you believe that this killer doll actually exists within the frame of the film. At first Chucky is docile and friendly, but when he gets pissed off, he becomes a mini-Terminator.
Nothing stops this guy, and Holland even pays homage to Cameron's film with a finale that is strangely reminiscent. Catherine Hicks and Chris Sarandon are saddled with the responsibility of being the adults who fail to believe young Andy about Chucky until it is too late. Dourif must be in Hollywood Heaven. He has the easiest job in the "Child's Play" franchise. He just shows up and lays down his vocal tracks.
After the first ten minutes of the first film, Dourif is never seen again. However, his voice is so distinctive that it has become synonymous with Chucky. Anything else would be a pale imitation. His delivery is so menacing and evil. "Child's Play" isn't a gem, but it is effective. You'll be entertained and jolted out of your seat once or twice. You'll even laugh at the film's dark humor.
COMPLETE CHECK-UP
VISION: [ ] 20/20 [ X ] Good [ ] Cataracts [ ] Blind
Delivered in full-frame, the transfer looks a little grainy. Blacks aren't nearly as strong as they need to be, while the colors are a little flat. There is some flecking, while depth of field is minimal and attention to detail negligible. I can't understand why a widescreen transfer wasn't included.
HEARING: [ ] Excellent [ X ] Minor Hearing Loss [ ] Needs Hearing Aid [ ] Deaf
The soundtrack is more lively than the image transfer, providing some degree of effectiveness. The DVD features both an English and French language Stereo Surround soundtrack. The English soundtrack sounds decent, with strong basses and clean middle and high ends. No noticeable hiss or distortion. Surround effects are okay, but not definitive.
ORAL: [ ] Excellent [ X ] Good [ ] Poor
Closed captions in English for the hard of hearing.
COORDINATION: [ ] Excellent [ ] Good [ X ] Clumsy [ ] Weak
Standard issue main and scene access menus, plus a collectible booklet.
PROGNOSIS: [ ] Excellent [ ] Fit [ X ] Will Live [ ] Resuscitate [ ] Terminal
For the life of me I can't understand why MGM didn't transfer this film in letterbox. Chucky is more popular than ever, and this would have been an excellent opportunity to capitalize on that popularity.
VITALS: $24.98/Rated R/87 Minutes/Color/36 Chapter Stops/Keepcase/#907504
ATTENDING RESIDENT: John Larsen
PATIENT: CHILD'S PLAY
BIRTH DATE: 1988
HMO: MGM Home Entertainment