Catch-22
Released the same year as Robert Altman's "M*A*S*H," Mike Nichols' production of Joseph Heller's "Catch-22" shared the same sensibilities and anti-war sentiment. Both films found their way into the cinema mainstream as the Vietnam War was at its height. Anti-war protestors were joined by others who had become disillusioned over our involvement.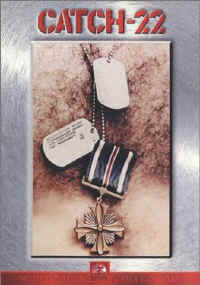 We didn't blame the soldiers on the front line, but their superiors. They were open targets, and even though "M*A*S*H" and "Catch-22" were set during separate wars (Korea and World War II), both films painted them as nincompoops. It was a change of pace from John Wayne's "The Green Berets," which was business as usual, just on a larger scale.
While "M*A*S*H" flourished at the box office, Nichol's "Catch-22," which came several months later, didn't face the same fate. Heller's book and Buck Henry's screenplay was filled with madcap moments and characters, but they were more cerebral than those in "M*A*S*H." While Altman's film managed to mirror the Vietnam experience, "Catch-22" found itself grounded by convention. Set on a small alcove on the Mediterranean coast at the close of the war, "Catch-22" looked and felt like a World War II movie.
Audiences will to look a little closer discovered something more, a wicked little fable that takes place in a surreal world where nothing is what it seems. This cinematic device allows the actors and filmmakers to explore situations that would normally seem out of place or gimmicky. Perhaps audiences at the time weren't ready to accept a film that requires more thought than emotion.
Indeed, there's very little emotion in "Catch-22." That's not a bad thing. We're not here to feel for these characters, but to tag along with them for a while to see how their lives are affected by the war. Like the doctors and nurses in "M*A*S*H," the characters in "Catch-22" have as much down time as up, leaving them plenty of opportunity to go stir crazy.
No one feels the stress more than Captain Yossarian (Alan Arkin), a B-52 bombardier who has flown more than his share of missions, 35 to be exact. That's ten over the original cut-off to be sent back home. Now the bar has been raised to 50, forcing Yossarian to go nuts and look for a way out. What he discovers is a military system that is just as out of whack as he is, where logic never raises its head in fear of getting shot.
That leaves Yossarian alone with his demons, demons that eventually begin to take their toll on him. After being stabbed by an unknown attacker, Yossarian slips in and out of a dream like state where nothing makes sense. All of this is captured by director Nichols with a keen eye for detail. Nichols is so skillful as a director that even though we have no idea where the film is going, we're willing to trust him. He creates believable characters and situations and then lets them loose in a dream world.
There's madness both on and off the airstrip, especially when Captain Major(Bob Newhart) is promoted to a Major out of necessity. Totally unprepared for his new duty as squadron leader, Major Major (great gag) devises a plan that conveniently separates him from the men. That leaves everyone else free to do what they want. Jon Voight plays Milo Minderbinder, a profiteer who is literally selling off the squadron one piece at a time, while Major Danby (Richard Benjamin) fashions himself as Patton leading the men into battle. Singer Art Garfunkle plays Yossarian's pilot, a sweet, naive guy who doesn't understand that his fiancee is really a prostitute.
I especially liked Charles Grodin's Aarfy Aardvark, the navigator on Yossarian's plane who manages to get through every crisis without blowing a gasket. There are so many great people in "Catch-22," including Orson Welles, Paula Prentiss, Martin Balsam, Buck Henry, Jack Gilford and Anthony Perkins. Under Nichols' tutelage they all shine. There isn't one false performance in the bunch, which is always difficult when working with such a large ensemble.
It may not have the raucous flavor of "M*A*S*H," yet "Catch-22" remains a film that demands to be seen. Fortunately, now you can see it in widescreen and enjoy every moment of this offbeat and observant film.
COMPLETE CHECK-UP
VISION: Good

2.35:1 Widescreen

16:9 Enhanced
Except for a little wear and tear on the original negative, the digital transfer is absolutely vivid. Bright, detailed widescreen images are sharp and crisp, with penetrating colors that never bleed or fade. Flesh tones are incredibly lifelike, while blacks are mostly solid. No artifacts here. Whites are clean, and there's good detail in the shadows and low lit scenes. The film's golden hues are beautiful and warm. Depth of field is endless. Nice job.
HEARING: Okay

5.1 Dolby Digital Surround

Dolby Digital Mono in English and French
Moderately successful 5.1 Dolby Digital re-mix is okay but no where near definitive. The rear speakers are thrown the occasional bone, and while the front sound field is strong, the dialogue mix doesn't really sparkle. The problems lies in the film's original dialogue mix, which wasn't sharp to begin with. In digital, the flaws really become apparent. While it's not difficult to pick out the dialogue, the new stereo mix doesn't help the situation. Ambient noise is loud, obviously the stereo split of choice, while middle and high ends don't extend the clarity you find on more modern soundtracks. Watch the film in it's original mono soundtrack and skip all the hassle.
ORAL: Good

Closed Captions in English for the Hard of Hearing
COORDINATION:

Feature-length audio commentary with directors Mike Nichols and Steven Soderbergh. What a sheer joy to sit down and listen to veteran Nichols converse with hotter-than-hot director Soderbergh (who is also a film historian) about this movie and films in general. The running commentary was recorded as the two watched the film, and their shared observations and recollections are priceless. Not only do you learn a lot about the film, you learn a lot about both men. They're willingness to share is amazing, and their patter sounds like two old friends who have gotten together to dish. I learned so much, especially about some of the film's signature moments. These little tidbits and secrets are what fans come for, and they won't be disappointed. Highly recommended.

The film's original 3 « Minute Theatrical Trailer in widescreen, which is actually one clip from the film that says it all.

Black and white photo gallery with portraits and behind-the-scenes shots.

Mainstream main and scene access menus.
PROGNOSIS: Excellent

Even though the print and soundtrack aren't four star, the film and it's presentation here are. You don't have to be a fan of the movie to appreciate the running commentary. A win-win situation for all involved.
VITALS:

$29.98/Rated R/121 Minutes/Color/22 Chapter Stops/Keepcase
ATTENDING RESIDENT: John Larsen
PATIENT: CATCH 22
BIRTH DATE: 1970
HMO: Paramount Home Video