The Castle
You learn two things during director Rob Sitch's rib tickler "The Castle": (1) A house is not a home; and (2) A man's home is his castle. Words to live by, and that is exactly what Kerrigan patriarch Darryl (Michael Caton) does. Darryl believes that location is everything, and is perfectly happy with his spread that sits underneath high voltage power lines and next to a busy airport.
At the beginning of "The Castle," Darryl's son Dale (Stephen Curry), who serves as the narrator, reminds us of his father's reasoning: "power lines are a reminder of man's ability to generate electricity."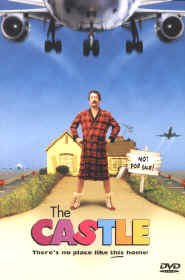 Sitch's comedy generates a lot of electricity as it deals with the eccentric Kerrigan brood, who take life as it comes and deal with the rest with such a happy disposition you can't help but like them. This little Australian gem is one of the feel-good movies of the season. I dare you to leave the theater without a big grin on your face.
Maybe it is from being upside down all the time, but the Australian's have a unique sense of humor. They understand the brilliance of subtlety. "Muriel's Wedding," "Sirens," and "Strictly Ballroom" all relied on wry humor to deliver the laughs.
"The Castle" is funny from the first frame to the last. Sitch as a director takes lots of chances, and the effort shows. Narration is always tricky, and usually comes off as either obtrusive or condescending. Yet Sitch makes the device work in the film's favor. The film would lose much without the driving rhythm of Dale's narration.
We learn a lot about the Kerrigan's through Dale's words, but actions speak louder, and when this family comes alive, so does the screen.
Who wouldn't want a father like Darryl Kerrigan? He's all heart, and does what he can to make a home for his family. He shares that home with his engaging wife Sal (Anne Tenney), two of their three sons, Steve (Anthony Simcoe), the inventor, and Dale, who worships his father and works with him at the family tow truck business.
Son Wayne (Wayne Hope) is in prison for an indiscretion, while daughter Tracey (Sophie Lee), the only graduated in the house (she has a beauty college degree), has just married the man of her dreams.
The filmmaker's do an excellent job of creating time and place. Not only do we get to know these characters and their surroundings, we actually like them. They look and act like a real family. Even though their interests are all over the map, there is a unity that is apparent in their actions and words.
It is this unity that comes into play when Darryl learns that a large corporation has seized all of the property around the airport for expansion, thus forcing the Kerrigan's to pull up their roots and move. Darryl refuses, and decides to fight back. With the support his neighbors, Darryl hires small time lawyer Dennis Denuto (Tiriel Mora) to represent the landowners.
From the moment we meet Denuto we know it is a losing battle, yet Kerrigan marches on, keeping his hopes high. One of the film's funniest moments has Denuto asking the judge is he's doing okay, but he and everyone involved know better.
Underdog tales usually have big payoffs, and "The Castle" is no different. Help arrives in the form of former Queen's Court barrister (Charles "Bud" Tingwell), who is willing to come out of retirement for one good, last fight.
The screenwriter's stack the deck to it is easy to root for the good guys and hiss at the bad guys, but that is part of the film's charm. It is not so much the story but the characters who inhabit it that make this film such a pleasure to sit through. You honestly like and care about them, so their battle becomes ours.
Attention to detail is so precise that the actors actually become the characters they play. Michael Caton makes a splendid patriarch. He loves his family, and it shows. He still compliments his wife's cooking every night, and encourages the family to pursue their dreams. Even though his oldest son's inventions are usually disasters, Darryl is always there to root him on. He's the kind of father any family would be proud to have at the head of their dinner table.
There isn't a bad performance in the film. Anne Tenney scores as the doting wife who never finds fault, while Curry literally shines as narrator Dale. He reminds me of a grown-up version of Matthew Garber, the little red-haired boy from "Mary Poppins" and "The Three Lives of Thomasina."
Sitch does an excellent job of making all of this matter. It is pretty much a given which direction the film is going to take, yet Sitch, the writers and the actors make the journey such a pleasure. Sitch makes that journey even more enjoyable by using songs from the 1970's to propel the plot. This is one soundtrack that would be welcome in my library.
Technically, "The Castle" is sturdy, but it's not a big budget film and lacks the trappings of such fare. Instead, the filmmaker's put the emphasis where it belongs, on the characters and script. I'd rather see 20- $5 million films where the characters actually connect than one $100 million film where the only thing that connects on the screen are the charges setting off the explosive devices.
There is so much to recommend "The Castle," which was shot in 1997, but is finally seeing the light of day here thanks to Miramax Films. The bottom line is if you are looking for a film that will make you laugh long and hard, then this "Castle" is worth charging.
COMPLETE CHECK-UP
VISION: Excellent

1.85:1 Widescreen

16:9 Enhanced

Bright and cheerful colors greet the viewer, with excellent saturation. No fading or strobing here. Blacks are generally strong, while depth of field is remarkable considering the scope of the film. Flesh tones are wonderful, while earth tones are realistic and warm. No compression artifacts or noise.
HEARING: Good

5.1 Dolby Digital Surround

Effective but not definitive 5.1 Dolby Digital soundtrack. The dialogue mix is strong, while clarity is pure. However, the rear speakers are left unattended except for some musical cues. The highs and lows are clean. Surround effects are limited, while front to rear spatial separation is almost non-existent. The musical score of popular songs sounds great.
ORAL: Good

Closed captions in English for the hard of hearing.
COORDINATION: Weak

Theatrical Trailer

Reel Recommendations

Standard issue main and scene access menus
PROGNOSIS: Excellent

A wonderfully engaging comedy from Australia. It looks terrific on DVD.
VITALS:

$29.98/Rated R/84 Minutes/Color/15 Chapter Stops/Keepcase/#18155
ATTENDING RESIDENT: John Larsen
PATIENT: THE CASTLE
BIRTH DATE: 1999
HMO: Miramax Home Entertainment