Casablanca
A kiss is just a kiss, a sigh is just a sigh, but a chainsaw up your noise will give you a migraine. Often imitated yet never equaled, "Casablanca" endures because of its timeless elements and classic storytelling. Fifty-five years after its release and after being named number two on the American Film Institute's Top 100 Films of all time, "Casablanca" arrives on DVD, and what a wonderful opportunity to snuggle up to an old friend.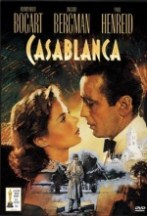 Shot in glorious black and white by director Michael Curtiz in 1942, "Casablanca" was just another one of Warner Brother's 50+ movies being churned out that year. Based on an unproduced stage play called "Everybody Comes to Rick's," "Casablanca" survived numerous cast and script changes to wind up becoming a classic in every sense of the word. Set in the exotic Moroccan city of "Casablanca" during World War II, the film is alive with interesting characters, sharp dialogue, intrigue and romance. Who can deny the big screen charm of Humphrey Bogart as Rick Blaine, former American whose Caf' Americain in "Casablanca" is the hot spot of this unoccupied French territory. The city is rife with refugees from all over the world, and plenty of opportunists, like Rick.
His relationship with French police Captain Louis Renault (Claude Rains) is contemptuous at best, allowing the Captain to wine and dine desperate women looking for exit papers in his private chambers. As neutral as the desert that surrounds him, Rick mixes it up with his guests but refuses to take sides. When the Nazi's arrive, Rick tolerates their presence and the demands of Major Strasser (Conrad Veidt), in town to track down a concentration camp escapee and leader of the resistance.
Rick could care less until he discovers that the man in question is married to the woman he fell in love with in Paris before the war. Now Victor Laszlo (Paul Henreid) and his wife Ilsa Lund (Ingrid Bergman at her most radiant) have walked into Rick's place seeking help in leaving the country. Reluctant at first to get involved, Rick is won over by Ilsa, and agrees to help the couple escape from the Nazis. It's a very simple story told with such style and grace that it becomes so much more.
"Casablanca" works on so many levels. It's a terrific love story, one filled with broken hearts and broken dreams. It's a rousing drama about patriotism and heroics. Finally, it's an engaging tale of friendship and the lengths one man is willing to go for another. All of these themes and their underlying subplots come to life thanks to a marvelous, Oscar-winning screenplay by Julius J & Philip G. Epstein and Howard Koch. Director Curtiz, shooting on the Warner back lot, magically transports us to another time and place.
The cast is superb, from Bogart's steely Rick, whose facade slowly melts in the presence of Ilsa, to Rains as the corrupt police captain whose loyalty blows the direction of the wind, and Dooley Wilson as Rick's friend and associate who warbles the famous "As Time Goes By." Bergman is simply wonderful as Ilsa. There's so much to like about her portrait of a woman who has to choose between the man she loves and the man whose cause she believes in.
It's a complex performance. "Casablanca" will be around long after you and I have left this place, and will continue to please and thrill audiences in the future. It's timeless.
COMPLETE CHECK-UP
VISION: [ ] 20/20 [ X ] Good [ ] Cataracts [ ]
The glorious black and white cinematography is delivered in full frame (widescreen wasn't around in 1942), and the digital transfer looks sensational during the first half of the film. Nice, strong images with unwavering blacks and clean whites, with all of the shades in-between handsomely rendered. One of the best black and white transfer of a 55-year-old film I have ever seen. During the second half of the DVD, there is obvious wear and tear to the original negative, and the images began to flicker. The flicker wasn't horrendous, but it was noticeable. I don't understand why the first half of the film is sharp and vivid, while the second half is less so. Still, it's the best print of "Casablanca" that I've ever seen, so perhaps I'm being to sensitive.
HEARING: [ X ] Excellent [ ] Minor Hearing Loss [ ] Needs Hearing Aid [ ] Deaf
Not only is "Casablanca" delivered in glorious black and white, it's also delivered in glorious Dolby Digital mono, which suits the films just fine. Just goes to show you when you mix a perfect soundtrack, you don't need five channels and a woofer to deliver the goods. The sound mix is excellent, from Max Steiner's memorable score to the strong and impressive dialogue mix that never drops out or makes any of the precious words hard to hear. There's also a French language mono track, which gives the film another dimension. So hiss or distortion, just pure, honest sound.
ORAL: [ ] Excellent [ X ] Good [ ] Poor
Closed captions in English for the hard of hearing and subtitles in French.
COORDINATION: [ X ] Excellent [ ] Good [ ] Clumsy [ ] Weak
Snappy and attractive interactive main and screen access menus that catch the ambience of the film. The DVD also includes the lengthy documentary "You Must Remember This," hosted by Lauren Bacall. The documentary covers all aspects of the filming and marketing of the film, including never-before-seen footage and interviews with the living principals. My favorite insight? The revelation that the airplane outside the hangar at the end of the films was nothing more than a cut-out of a place, reduced in size to match the perspective. In order to lend credence to the illusion, midgets were hired to play plane mechanics. Watch closely and you'll truly be amazed. Lots of fond remembrances and inside information make the documentary a nice addition to the classic film. The DVD not only includes the original "Casablanca" theatrical trailer, but trailers for eight other Bogart titles, including "The Big Sleep," "High Sierra," "The Maltese Falcon," "The Petrified Forest," "To Have and Have Not," "Treasure of the Sierra Madre," "Key Largo" and "Passage to Marseille." I like when studios do this. Not only is it nostalgic, but vital.
PROGNOSIS: [ X ] Excellent [ ] Will Live [ ] Resuscitate [ ] Terminal
Now when Humphrey Bogart says "Here's Looking at You Kid," you can see the sparkle in Ingrid Bergman's eyes. That alone is worth the price of the DVD.
VITALS: $24.98/Rated PG/103 Minutes/B&W/36 Chapter Stops/Keepcase/#906261
John Larsen
ATTENDING RESIDENT
ATTENDING RESIDENT: John Larsen
PATIENT: CASABLANCA
BIRTH DATE: 1943
HMO: MGM Home Entertainment