Carrie
When I first saw "Carrie" at the studio screening in 1976, I had never read a Stephen King novel. I know, bad me. Go stand in the corner and flog myself. That meant I had no clue what I was in for. I knew it was a warm and compassionate movie about the and bond between a shy high school girl and her doting mother.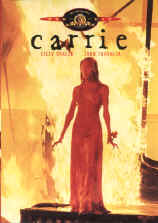 Okay, I knew it was a horror movie, but I can dream can't I? By the time director Brian DePalma directed "Carrie," he was gaining a reputation for imitating Alfred Hitchcock. DePalma poked fun at his critics by naming the high school featured in the film Bates High. I like a director with a sense of humor, which is why I absolutely love Brian DePalma. He finds humor in the most awkward moments, and is capable of creating unrelenting suspense. That makes him the perfect choice to direct this tale of a shunned, naive teenager's revenge against her heartless classmates and over protective mother.
DePalma really pushes the envelope with "Carrie." The opening locker room scene features complete frontal nudity in a slow motion shot that culminates with Carrie White (Sissy Spacek) discovering her first period. That's heavy duty stuff, yet DePalma makes it lyrical. Utilizing a fabulous, Bernard Hermann-flavored score by Pino Donaggio, DePalma takes us through the personal hell that is Carrie White's life. Her classmates ridicule her, her teacher mocks her, the neighborhood kids make fun of her, and religiously fanatic mother thinks she's the devil's spawn.
Actually, Carrie is the byproduct of drunken sexual encounter that left her mother Margaret White (Piper Laurie) scarred for life. Now Margaret wanders the neighbor spreading God's word when she's not locking Carrie in a hall closet to atone for her sins. Carrie's introduction into womanhood upsets her mother, but causes classmate Sue Snell (Amy Irving) to reassess her feelings towards Carrie. In an act of kindness, Sue convinces her popular boyfriend Tommy Ross (William Katt) to escort Carrie to the high school prom. School gym teacher Miss Collins (Betty Buckley) thinks it's a set-up, but Sue and Tommy convince her it's a genuine act of kindness.
Not if snotty classmate Chris Hargenson (Nancy Allen) has anything to do with it. Angry at Carrie for getting her banned from the prom, Chris conspires with her boyfriend (John Travolta) to get even with Carrie. Her plot involves dumping a bucket of pig's blood on her when she's crowned prom queen. That's right, set poor Carrie up for the big fall. What Chris doesn't know is that Carrie has telekinesis, the power of the mind to move objects. Carrie uses her special powers to turn the prom into an inferno, and then has her way with Chris and her boyfriend, and then her mother. Larry Cohen's screenplay captures the very essence of King's novel (yes, I have read it since) but gives the film an identity of its own. DePalma's visual flourishes are exciting and bold.
The performances are first rate, especially Spacek as the tormented Carrie. Laurie is also excellent, in an over-the-top sort of way, as the Bible thumping mother who eventually gets the point, while Amy Irving is sincere as Sue Snell. Nancy Allen is a real witch as Chris Hargenson, while Betty Buckley has some nice moments as the gyn teacher who tries to reach out to Carrie. I must have seen "Carrie" ten times, and it never loses it's punch.
COMPLETE CHECK-UP
VISION: [ ] EXCELLENT [ ] GOOD [ X ] RESUSCITATE [ ] D.O.A.
Problematic, to say the least. "Carrie" is presented in the film's original 1.85:1 widescreen ratio, and that's the only way this film should be seen. DePalma utilizes a lot of split screens during the prom destruction, and to fully appreciate the editing, you have to see it in widescreen. That's not the problem. The original negative used for the transfer isn't in the best condition. Then there are compression artifacts all over the place, creating little white specks throughout. The digital transfer has a real problem defining steam. The opening locker room scene looks dreadful. The image gets better and stays that way until the end of the film, when the annoying artifacts started streaking across the frame. I really wanted to give "Carrie" an excellent rating, but that's not going to happen. The colors are sharp and vivid, and the flesh tones look superior, but the blacks don't hold up nearly as strong as I would have liked. I haven't seen the video version of "Carrie" in a while, but I have to believe that a better print of the film exists than the one used here. If not, this is the best it gets. I like the film enough to put up with the flaws, but that's me.
HEARING: [ ] EXCELLENT [ X ] GOOD [ ] RESUSCITATE [ ] D.O.A.
The soundtrack has been re-mastered in 5.1 Dolby Digital surround, but it's not all encompassing. The surround speakers are only used for the occasional shrieks of Pino Donaggio's creepy score and some obvious ambient noise. Otherwise, the sound is okay for 2 channel stereo. The dialogue is strong, but your system won't get much of a workout from the remainder of the soundtrack. The highs and lows are represented, but don't get much acknowledgment. There's also a French language mono track.
ORAL: [ ] EXCELLENT [ X ] GOOD [ ] RESUSCITATE [ ] D.O.A.
English and French language subtitles.
COORDINATION: [ ] EXCELLENT [ X ] GOOD [ ] RESUSCITATE [ ] D.O.A.
The original theatrical trailer, really creepy main and scene access menus, and an eight-page booklet with fascinating background information on the film. Surprisingly, author Stephen King's name is misspelled on the credits of the theatrical trailer.
PROGNOSIS: [ ] EXCELLENT [ ] GOOD [ X ] RESUSCITATE [ ] D.O.A.
It's not as bad as having a bucket of pig's blood dumped on your head at the prom, but this prom scream queen deserves better treatment.
VITALS: $24.95/Rated R/98 Min./Color/32 Chapter Stops/Keepcase/#907057
ATTENDING RESIDENT: John Larsen
PATIENT: CARRIE
BIRTH DATE: 1976
HMO: MGM Home Entertainment