Candleshoe
Jodie Foster made several films for Walt Disney Pictures. My all-time favorite is "Freaky Friday." I can't wait for that one to arrive on DVD. In "Candleshoe," the future Oscar- winning actress teams up with previous Oscar winners Helen Hayes and David Niven. Even though it's still lightweight Disney fluff, the union is special indeed.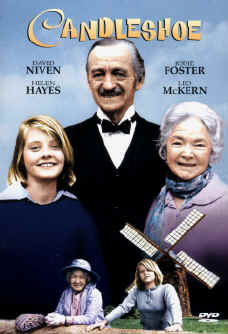 It is a joy to watch the burgeoning actress trade lines with such heavyweights. It helps that "Candleshoe" is extremely enjoyable. Foster plays Casey, a 14- year old American orphan living on the streets of Los Angeles. Casey is recruited by a scrupulous Englishman Harry Bundage (Leo McKern) to impersonate the missing granddaughter of Lady Gwendolyn St. Edmund (Hayes). Reluctant at first, Casey agrees to the deception in order to share in the bounty: a pirate's treasure hidden somewhere inside St. Edmunds estate. Using inside information, Casey manages to convince Lady Gwendolyn that she is her missing granddaughter, and sets out to find the treasure.
Her quest is both hindered and helped by the estate butler Priory (Niven), and four children from a local orphanage who live there in exchange for helping in its upkeep. Resentment immediately sets in between the children and Casey when she refuses to help them with their chores. It doesn't take long before Casey begins to feel at home, and starts helping out. When she learns that the estate taxes are due, she uses her street smarts to help raise the funds. Casey's new sense of family doesn't sit well with Bundage, who is eager to cash in.
When he steals the tax money and sends Casey to the hospital in the process, the makeshift family groups together to find the treasure themselves. In true Disney fashion, this leads to the inevitable comical showdown between Bundage and his goons and Casey and her new family. The screenplay by David Swift and Rosemary Anne Sisson is serviceable but not extraordinary. The dialogue works because the actors delivering them are pros. Director Norman Tokar keeps everything lighthearted.
The cast is engaging, especially Niven, who plays four different characters. With the estate low on funds, Priory has been forced to dismiss the rest of the staff. In order to please Lady Gwendolyn, he dons different disguises to play the rest of the staff. It's a true "Pink Panther" device carried out with respect. Helen Hayes is delightful as the matriarch of St. Edmunds estate, while Foster truly shines as the street who finds her heart before the final frame. Filmed in England, "Candleshoe" definitely has that the old world look. The countryside is gorgeous, even in one of those typically cheesy 1970's Disney matte shots. "Candleshoe" is the kind of film that requires nothing more than just to sit back and enjoy it.
COMPLETE CHECK-UP
VISION: [ ] 20/20 [ X ] Good [ ] Cataracts [ ] Blind
The DVD features both the 1.66:1 widescreen and full-frame versions of the film, and both are adequate. The original negative has some age issues, which translates into a less than stellar digital transfer. There is visible flecking throughout, but not enough to cause a riot. The colors are okay but not distinctive. Blacks are strong, but whites and shadows seem to suffer from the negative issue. Depth of field is minimal, while attention to detail is there but not stunning. No real compression artifact issues.
HEARING: [ X ] Excellent [ ] Minor Hearing Loss [ ] Needs Hearing Aid [ ] Deaf
Standard issue mono soundtrack features Dolby Digital clarity, plus a strong dialogue mix that makes the lines easy to understand.
ORAL: [ ] Excellent [ ] Good [ X ] Poor
No closed captions or subtitles.
COORDINATION: [ ] Excellent [ ] Good [ X ] Clumsy [ ] Weak
Not much here. Just the main and scene access menus.
PROGNOSIS: [ ] Excellent [ X ] Fit [ ] Will Live [ ] Resuscitate [ ] Terminal
"Candleshoe" is likeable enough to warrant a rental. Fans of the cast might want to add a copy to their collection.
VITALS: $24.98/Rated G/101 Minutes/Color/19 Chapter Stops/Keepcase/#DV10894
ATTENDING RESIDENT: John Larsen
PATIENT: CANDLESHOE
BIRTH DATE: 1977
HMO: Anchor Bay Entertainment