Cabaret
More than thirty years after it's Broadway debut, "Cabaret" is alive and well. There's a new Tony Award- winning Broadway revival, and now this very special "Special Edition" DVD. The Bob Fosse-directed musical-drama was an instant hit when it was released in 1972, and garnered eight Academy Awards, including Best Director, Actress and Supporting Actor. "Cabaret" lost the Best Picture nod to "The Godfather," but Fosse's decadent vision of Berlin in 1931 beat out Francis Ford Coppola for Best Director. More vibrant than ever, "Cabaret" stars Michael York as the English tutor who takes a room at the boardinghouse of Sally Bowles (Liza Minnelli), a friendly cabaret star who will sleep with anyone who can make her a star.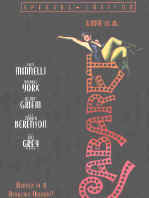 York and Minnelli fall in love amidst the chaos that surrounds them. The well textured screenplay by Jay Presson Allen perfectly captures the content of the Joe Masteroff book, while director Fosse gives the songs by John Kander and Fred Ebb a real workout. Joel Grey is outstanding as the emcee of the notorious Kit Kat Klub, where "Money" and a song will get you just about anything. Superb cast, dazzling dance and musical numbers, and a real sense of time and place distinguish "Cabaret" as a film experience.
COMPLETE CHECK-UP
VISION: EXCELLENT
Geoffrey Unsworth's smoky cinematography survives the digital transfer without any noticeable noise or distortion. Don't expect vibrant colors. Unsworth and Fosse chose a muted, earthy look to ground the garish settings and costumes. Those who have never experienced "Cabaret" on film might believe they have a bad copy, but look closer. The images in their milieu are exceptional. Notice how the transfer makes good use of the hazy shadows and neon reds. "Cabaret" is presented in it's original 1.85:1 wide-screen format, restoring the intricate Fosse dance numbers. No noticeable pause for an RSDL presentation.
HEARING: EXCELLENT
The Dolby Digital Surround Stereo breathes life into the classic songs, while the stereo separation is clear and distinct. Musicals should engulf you, and the sound here does just that without any hiss or distortion.
ORAL: EXCELLENT
Sub-titles in English, French and Spanish. What, no German?
COORDINATION: GOOD
Hats off to Warner Home Video for their ability to pile on the extras without bumping up their price. "Cabaret: Special Edition" is indeed special. You may not get a pan-and-scan version, but you do get enough extras to compensate. Two comprehensive documentaries are included, and each one provides an unique perspective on the making of the film. "The Recreation of an Era" is a 1972 documentary that covers the task of recreating Berlin just as the Nazi Party began to take shape. The nostalgic clips are a great contrast to "Cabaret: A Legend in the Making," another documentary compiled for the film's 25th Anniversary in 1997. Both are fascinating efforts that take us behind the scenes. There's also a Kit Kat Klub Memory Gallery with photos from and about the film, production notes, interactive menus, trailers and scene access.
PROGNOSIS: EXCELLENT
Life is a "Cabaret," and any true musical fan will already have this title in their collection.
ATTENDING RESIDENT: John Larsen
PATIENT: CABARET: SPECIAL EDITION
BIRTH DATE: 1972
HMO: Warner Home Video