Butterfly
Told with the assurance of a master storyteller, "Butterfly" unfolds like a spirited novel where you can't wait to turn the page, even if you know where the story is going. Director Jose Luis Cuerda, working from a thoughtful screenplay by Rafael Azcona, delivers a heartfelt and honest story about one boy's coming-of-age.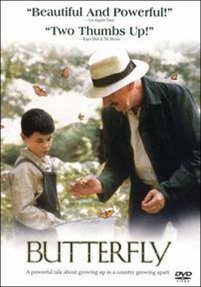 Manuel Lozano plays Moncho, the son of a tailor whose naive young eyes the story unfolds. Moncho and his family are indeed living in the best of times, the worst of times. The story is set in a small Spanish village in Galicia. It's the winter of 1936, and even though Spain's Civil War is waiting in the wings, there are undercurrents of unrest.
None of this matters to Moncho, who is finally attending school after a delayed start due to his asthma. Moncho's first day is filled with anxiety and expectation. It doesn't help that his protective mother (the wonderful Uxia Blanco) embarrasses him within earshot of his classmates, or that his brother's horror stories about the teacher cause him to wet his pants and run home scared.
The teacher, Don Gregorio (Fernando Fernan Gomez), couldn't be more understanding. Following Moncho home, Gregorio immediately senses something special about the boy and takes him under his wing. Gregorio helps spark Moncho's interest in the world around him, and together the two develop a passion for life.
Based on a collection of short stories by Manuel Rivas, "Butterfly" warmly embraces the spirit of life, both at the beginning and at the end. Moncho is only seven, and has his whole life ahead of him. Gregorio is getting read to retire after a lifetime of teaching, but understands that Moncho can teach an old dog new trick.
I love stories like this, ones that depict real friendship between old and young characters. Like "Cinema Paradisio" and "Central Station," "Butterfly" perfectly evokes the innocence of childhood while exploring the complex issues that face adults.
Azcona's screenplay is filled with wonderful observations about life, and gives us characters that say and do things that seem real and honest. There are many layers in Azcona's script, allowing the director to create a film that is constantly evolving. When it becomes clear where the film is headed, the filmmakers take us there with assurance and bravado.
Gomez, the star of last year's Oscar-nominated "The Grandfather," shows uncommon depth as Gregorio, a man who understands where his country is headed and is desperate to see one generation grow up without fear of civil unrest. When he gives Moncho a copy of "Treasure Island" and a butterfly net, they're not just gifts, but keys to his future.
Lozano is excellent as Moncho, delivering a performance filled with emotional ballast. His natural curiosity and genuine acting skills allow him to become Moncho. It's important for us to understand and care about these two characters, and by the time "Butterfly" comes to a close, that connection has been made.
Director Cuerda lines the streets of the small village with all sorts of interesting characters. Moncho's family is a winning combination of old guard and youthful exuberance. Blanco is outstanding as his loving mother who inadvertently gives him his school nickname, while Alexis de los Santos is strong as his older brother Andres.
There's a wonderful subplot that finds Andres exploring his love of jazz music by joining a band, which leads to a unexpected crush on a young Chinese woman.
"Butterfly" allows us the luxury of getting to know the characters. There's beauty and respect in Cuerda's direction, plus a real understanding of who these people are. He lines the films with little details that say more than words. Even though these people are living in a time of peace, you can feel the war machine just over the hill.
"Butterfly" isn't a film for children, even though it's central character is one. It's a film for adults who still believe that love can exist even under the most demanding of circumstances. Most of the characters in "Butterfly" are either falling in love, are in love, or are just out of reach of it. There's even a very adult romantic encounter that provides the film with one of it's most unexpected laughs.
European films have a texture all their own, a look and feel that can't be duplicated here in the United States. The lighting is golden, the colors brighter and more vivid. "Butterfly" has that look. Technically, the film is solid. Tight direction and editing, beautiful performances, and a touching script that touches the heart and soul.
In Spanish with English Subtitles.
BUTTERFLY
Fernando Fernan Gomez, Manuel Lozano, Uxia Blanco, Alexis de los Santos, Gonzalo Uriarte in a film directed by Jose Luis Cuerda. Rated R. 95 Minutes.
LARSEN RATING: $6