Brainstorm
Natalie Wood's last film was almost a non-event. When the actress mysterious drowned during the final weeks of filming, her death set into motion a series of backstage negotiations that finally allowed director Douglas Trumbull to release his film. Wood had several vital scenes left to film, and at first, it seemed that unlike the old Hollywood adage, the show wouldn't go on.
Thanks to some nifty tinkering by Trumbull, "Brainstorm" finally saw the light of day. It's not a great movie by any means, but a vital one nonetheless.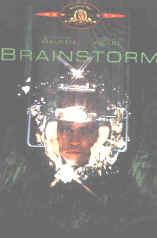 In telling his story about a device that records the brains thoughts and then allows another person to experience them, Trumbull experimented with standard widescreen and Super 70mm. Dramatic action was captured in the standard format, while the playback of another person's thoughts would expand to the wider frame, hopefully drawing the audience into the hallucinatory experience. Christopher Walken was the inventor of the device, Wood his loving and devoted wife. When the government decides they want in on the action, the couple go to extreme lengths to keep it out of their grips. Louise Fletcher is excellent as Walken's assistant who records her own death, leaving behind a peek into the great beyond. Taking the trip comes with major consequences, as Walken and Wood eventually find out. Fascinating subject that just misses being great.
COMPLETE CHECK-UP
VISION: [ X ] EXCELLENT [ ] GOOD [ ] RESUSCITATE [ ] D.O.A.
Of course it's in widescreen. There's no other way to experience the visual splendor from director Trumbull, a former visual effects director ("Close Encounters of the Third Kind"). The DVD captures Trumbull's vision with a startling clarity.
HEARING: [ ] EXCELLENT [ X ] GOOD [ ] RESUSCITATE [ ] D.O.A.
Impressive Dolby Stereo Surround, especially when the stars put on the dream machine. Then the surround really kicks in, engulfing you in the proceedings. You get the same treatment in French language as well. The separation embraces the James Horner musical score with passion.
ORAL: [ X ] EXCELLENT [ ] GOOD [ ] RESUSCITATE [ ] D.O.A.
English, French and Spanish language sub-titles.
COORDINATION: [ ] EXCELLENT [ ] GOOD [ X ] RESUSCITATE [ ] D.O.A.
Not much here except for scene selection, original theatrical trailer and an 8-page booklet on the making of the film. This is one DVD that should have had a director's commentary track.
PROGNOSIS: [ ] EXCELLENT [ X ] GOOD [ ] RESUSCITATE [ ] D.O.A.
Intelligent science-fiction films are few and far in-between, so it's always a pleasure to welcome one with open arms. You don't get much more than the movie here, but the presentation is worth the bucks.
VITALS: $24.99/Rated PG/106 Min./Color/32 Chapters/Keepcase/#907045.
ATTENDING RESIDENT: John Larsen
PATIENT: BRAINSTORM
BIRTH DATE: 1983
HMO: MGM Home Entertainment