Blithe Spirit
Maybe time has jaded me, or perhaps the 1940's were a much simpler time, but when I got done watching David Lean's "Blithe Spirit," I couldn't understand the film's popularity. I remember seeing the film when I was much younger, obviously too young to know better. Now that I'm all grown up and should be able to appreciate a film directed by David Lean and written by Noel Coward, I thought it was time to give "Blithe Spirit" another spin.
Luckily it just materialized on DVD, so that made things a lot easier. Before I watched the film I read the production notes on the back of the DVD case.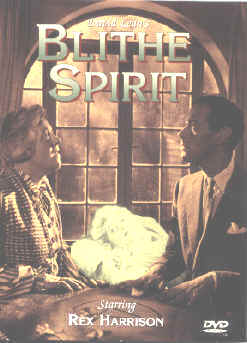 There's some background information on Coward and the play's success, but the kicker is how Lean and director of photography Ronald Neame (who became a successful director on his own with films like "The Prime of Miss Jean Brodie" and "The Poseidon Adventure") decided to create the ghostly apparitions in the film. For those unfamiliar with the Coward's play or the film, Rex Harrison (very stilted) stars as Charles Condomine, a middle aged writer who lives with his second wife Ruth (Constance Cummings) in a quiet little English manor.
One evening, Charles invites a noted female psychic (Margaret Rutherford, the best thing about the film) to the house for a seance. The psychic believes she's there to make contact with the other side, while Charles just needs information for his latest book. The psychic makes connection with the other side, and brings back with her Charles' dead first wife Elvira (Kay Hammond). Now Charles has to contend with a spirited live wife and a spirited dead wife. Ruth thinks that Charles is going nuts until Elvira makes a believer out of her by levitating furniture. Now Charles has to figure out how to balance two women in his life. In it's time, I imagine the Noel Coward script tickled some funny bones. By today's standards, it's dry and lifeless. To compound matters, the technique that Lean and Neame use to incorporate Elvira into the living world is simply dreadful.
Instead of using optical effects to create a ghostly effect, the film maker's cover Kay Hammond head to foot in a puke green colored make-up and dress, and then specially light her on the same set with the other actors. It's supposed to give Hammond a ghostly glow, but instead she looks more like a sister of the Wicked Witch of the West in "The Wizard of Oz." To accomplish this task, a special set had to be built, and special lighting had to be rigged to properly light the living characters while spotlighting the ghostly character.
The process never works, and on occasion the film maker's do retreat to optical effects to make their point. It's a creepy process that never works, even when the film does. The first seven chapter stops are pretty elementary and play more like a drawing room comedy than one dealing with the supernatural. Once we're into the eighth chapter, the film does manage to become lively, if only for fleeting moments.
When it becomes clear that Elvira plans to kill Charles to bring him over to the other side, the Noel Coward screenplay has some witty moments, especially those involving Rutherford's psychic. Rutherford is such a delight (long before she went on to play Miss Marple) that you really wanted to like the film more than I did. "Blithe Spirit" was David Lean's only comedy.
Thank goodness he found his footing making such epics like "Lawrence of Arabia" and "Bridge on the River Kwai." His flair for comedy isn't a strength. What's really funny is that "Blithe Spirit" won the 1946 Oscar for special effects. Go figure. It must have been poltergeists.
COMPLETE CHECK-UP
VISION: [ ] 20/20 [ ] Good [ X ] Cataracts [ ] Blind
The digital transfer delivers the film in it's original full frame ratio, but the print is so faded and understated that it looks dreadful. The transfer magnifies these problems. The picture looks grainy and flat, while the flesh tones look more ghastly than ghostly. I'm not sure how well the original negative has held up, but if this is the best they can get from it, then it's sadly time to either restore the print or find some way to stop the deterioration. The print also has many noticeable scratches and tears, while the blacks are an embarrassment. They are so grainy they're usually a speckled gray. The colors are all dreary and unspectacular. "Blithe Spirit" would have looked much better in black and white.
HEARING: [ ] Excellent [ X ] Minor Hearing Loss [ ] Needs Hearing Aid [ ] Deaf
Poltergeist's must have been goofing with the volume control. Sometimes the dialogue is perfectly audible. Other times it's extremely hard to hear. It could have been an artistic decision, but it's very disconcerting. Needless to say, the soundtrack is delivered in Dolby Digital Mono, and the results aren't nearly as clean nor as crisp as I have come to expect. There is all kinds of hiss when you are forced to turn up the volume to hear some of the dialogue.
ORAL: [ ] Excellent [ ] Good [ X ] Poor
No closed captions or subtitles.
COORDINATION: [ ] Excellent [ ] Good [ ] Clumsy [ X ] Weak
You get the movie. What more do you want?
PROGNOSIS: [ ] Excellent [ ] Fit [ X ] Will Live [ ] Resuscitate [ ] Terminal
It's not nearly the spirited romp that I remember, and the digital transfer highlights the flaws on the original negative. Whether or not you give up the ghost on this DVD depends on how much you honestly love the film.
VITALS: $24.99/Not Rated/96 Minutes/Color/13 Chapter Stops/Snapcase/#ID4526JFDVD
John Larsen
ATTENDING RESIDENT
ATTENDING RESIDENT: John Larsen
PATIENT: BLITHE SPIRIT
BIRTH DATE: 1945
HMO: Image Entertainment