The Big Chill
I loved "The Big Chill" so much that I swear I must have seen it four or five times in one week. I kept taking back a different group of friends so I could enjoy it through them. My friends and I even went to see 'The Big Chill" in Hawaii while we were on vacation, even though we had seen it numerous times. That's quite a testament when you consider that I was willing to spend two hours watching a movie I had already seen numerous times than getting some rays on Waikiki Beach. The movie had a real effect on me, and later I found, had touched a similar nerve with America. Audiences flocked to theaters, making "The Big Chill" more than just a film about seven people who get together for the funeral of a friend and try to make some sense of their own lives.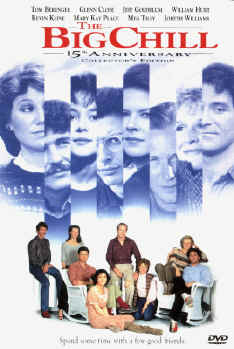 It was a chance to hang out with people who talked and looked the way we did. We came to share in their joys and disappointments, their highs and lows, and most of all, to appreciate the flawless performances and enjoy the witty dialogue of writer-director Lawrence Kasdan and writer Barbara Benedek. "The Big Chill" touched a nerve, and American responded by making the film a hit and the soundtrack album a best seller.
"The Big Chill" also served as a showcase for some of the best up and coming talent in the business. Even though their names are now institutions in Hollywood, it's easy to forget that the film was only William Hurt and Glenn Close's second movie, or that Kevin Kline was more noted as a Broadway actor than a film star. Kasdan and Benedek frame the action around a belated reunion when one of the group commits suicide. The film begins as each of the group receives the news that Alex has committed suicide. There's married couple Harold (Kline) and Sarah (Close), who open up their South Carolina home to friends Michael (Jeff Goldblum), a journalist looking for a good story; Meg (Mary Kay Place), an Atlanta attorney who wants to have a baby; Karen (Jobeth Williams), who arrives with her husband but harbors a secret crush on popular television star Sam Weber (Tom Berenger).
Also thrown into the mix are Nick (William Hurt), who hides his emotional scars with drugs, and Chloe (Meg Tilly), Alex's girlfriend, the only outsider of the group. After a brief funeral, the group returns to Harold and Sarah's house, where they are invited to stay the weekend. This allows the old friends to catch up on their hopes and dreams, and to reminisce about a past that seems like a distant memory. They eat, chat, play football, and generally hash out their troubles. What makes "The Big Chill" so inviting is that we get to watch from the sidelines, safe from the trials and tribulations, and still feel like a part of the group. That doesn't mean we're not affected by the happiness and heartbreaks that occur over the course of 48 hours. It just means that after we turn off the film we can continue on with our lives without the emotional baggage. There's so much emotional baggage in this film that Kasdan should have written in the role of a bell hop.
"The Big Chill" has the ability to make you laugh and cry, and I treasure films that can evoke emotions without being overly emotional. There isn't a bad performance in the ensemble, but it's Glenn Close's Sarah who shows the most depth and vulnerability. When Sarah breaks down in the shower Close is so devastating that it hurts. Then there's genuine joy as she asks Harold to do a favor for her that in anyone else's hands would seem totally outrageous. Thanks to Kasdan's assured direction and Close's dynamic performance we perfectly understand her motivations and trust her judgement.
Using a number of cinematic devices to move the story along (one of the characters finds a video camera which they use to record their most intimate thoughts), Kasdan has created a film about people talking that is never boring or trite. It's been fifteen years since it's release, and I still admire and love "The Big Chill" as much now as I did then. It's theme and message are universal and eternal.
COMPLETE CHECK-UP
VISION: [ X ] 20/20 [ ] Good [ ] Cataracts [ ] Blind
Stunning, vibrant 1.85:1 widescreen digital transfer displays fine detail and color saturation, plus flattering flesh tones and rock solid blacks. The 16:9 enhanced presentation is virtually free of compression artifacts. The original negative has been well taken care of, and the effort shows. Kasdan and production designer Ida Random chose a soft art deco look, and the pastel colors look terrific. The greens are especially vivid.
HEARING: [ X ] Excellent [ ] Minor Hearing Loss [ ] Needs Hearing Aid [ ] Deaf
Engaging 2.0 Dolby Digital Surround soundtrack sounds terrific. The classic Motown songs come through loud and clear, while the dialogue mix is outstanding, never missing a beat. I didn't notice any audible hiss or distortion, but I did notice clear low and high ends that were music to my ears. The DVD also features language soundtracks in French and Spanish.
ORAL: [ X ] Excellent [ ] Good [ ] Poor
Subtitles in English, French and Spanish.
COORDINATION: [ X ] Excellent [ ] Good [ ] Clumsy [ ] Weak
An extensive, thorough hour-long (even though the back cover states that the documentary is only 30 minutes) retrospective documentary that is as compelling and entertaining as the film. Featurette writer- director Laurent Bouzeral has done a splendid job of corralling all of the talent in front of and behind the camera together for their fond recollections about making the baby boomer hit. I was extremely fascinated by the cast and crew's stories about the communal feeling that existed during the course of the filming, which also included a leisurely rehearsal period that allowed the cast to become familiar with their characters and each other. Using clips from the film, up-to-date interviews and outtakes and deleted scenes, Bouzeral manages to make "The Big Chill" come alive again. I love the film so I was thrilled to be able to go behind-the-scenes and get inside the actor's heads. There's a lot of information being dispensed (for instance, all of the women wanted to play the Mary Kay Place role of the southern lawyer), and you can still feel a sense of community between the cast today. Director/co-writer Lawrence Kasdan does an excellent job of taking us back fifteen years when he found it impossible to sell the film to a major studio. Even though he was one of the highest profile writers in Hollywood at the time (not to mention the director of "Body Heat"), Kasdan had a hard time convincing Hollywood that America would care about these characters and what they had to say. Some of the behind-the-scenes shots are also a delight, including the revelation that the cast was wired for the kitchen clean-up scene so they could stay in step with the song "Ain't To Proud to Beg." The scene is played back without the song, and it's hilarious and a testament to the actors that the scene comes off as well as it does. The DVD also features a healthy selection of deleted scenes, but alas, not the extended ending that Kasdan so eloquently talks about in the featurette. Kasdan admits that the flashback was shot, so the big question is why was it withheld from this release? The deleted scenes are nice, but no Kevin Costner? I'll live, and so did his career. There's also the film's original theatrical trailer, handsome and easy-to-navigate menus and scene selections, and an insert booklet with some fascinating and pertinent info.
PROGNOSIS: [ X ] Excellent [ ] Fit [ ] Will Live [ ] Resuscitate [ ] Terminal
Your DVD collection is incomplete unless you have a copy of "The Big Chill" in it.
VITALS: $29.99/Rated R/106 Minutes/Color/28 Chapter Stops/Keepcase/#02632
John Larsen
ATTENDING RESIDENT
ATTENDING RESIDENT: John Larsen
PATIENT: THE BIG CHILL-15TH ANNIVERSARY COLLECTOR'S EDITION
BIRTH DATE: 1983
HMO: Columbia-TriStar Home Video