Bee Gees: One Night Only
I was feeling a little nostalgic last night so I had the Bee Gees over for a concert. Actually, I popped in Image Entertainment's "Bee Gees: One Night Only," but the results were strikingly similar. Originally a pay-per-view event that was eventually shown on cable, "Bee Gees: One Night Only" was the group's first live concert in 1997 and their first U.S.
Concert in nearly 10 years. The Brothers Gibb, Barry, Robin and Maurice, have survived where many have failed. Starting with their folksy ballads in the 1960's, the three brothers weathered and won the disco era of the 1970's, and reemerged as the driving force behind numerous pop artists in the 1980's.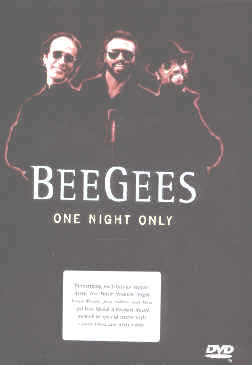 The concert even includes songs from their latest album, "Still Waters." Collectively and individually, the Bee Gees have been a driving force in the music business for over thirty years, and they still sound as good as ever.
Sure, they look a little older (Robin looks particularly anorexic, Barry's hair isn't nearly as thick as it once was), and their voices tend to crack every now and then on the high notes, but the overall effect is still the same. I've been a fan of the Bee Gees since they began, so I jumped at the opportunity to review their MGM Grand Hotel concert on DVD. Who could resist 110 minutes of Bee Gees standards new and old? Unlike other taped rock concerts, where there's a lot of patter in between the sets, the Bee Gees provide almost two hours of non stop memories.
They open and close the concert with the dance classic "You Should Be Dancing," and in between manage to cover most of their hits, plus out their own spin on songs they wrote other artists turned into hits. To that degree, the trio sings Dionne Warwick's "Heartbreaker" (albeit briefly, a sore point for me), the Kenny Rogers/Dolly Parton duet "Islands in the Stream," and "Guilty," which Barry wrote and produced for Barbra Streisand.
The Bee Gees wisely mix their melodic 1960's material with the rocking disco beat of their "Saturday Night Fever" era hits like "Stayin' Alive" and "Night Fever." For nostalgia, they cover "Massachusetts," "I Started a Joke," and "Lonely Days." For lovers, there's "How Deep is Your Love," "Run to Me," and "Too Much Heaven." The Bee Gees get sentimental when they perform a video duet with their late brother Andy Gibb on "Our Love (Don't Throw It All Away)." It's terribly affecting, and left a tear in my eye.
It's a blast to see Olivia Newton John in the front row with her daughter as the guys sing the theme to "Grease," and then watch John try to shield her daughter's eyes from the love scene with John Travolta on the screen behind the trio. Celine Dion also pops up to perform her Bee Gees hit "Immortality." It's a tune-filled evening that stays in your head long after the presentation is over. It made me want to toss my Bee Gees CD's into the player. If you didn't get a chance to see this concert on pay-per-view or on cable, then here is your chance to see it with the best possible sound.
COMPLETE CHECK-UP
VISION: [ X ] 20/20 [ ] Good [ ] Cataracts [ ] Blind
Delivered in the film's original 70mm IMAX presentation ratio (yeah right, don't get your panties in a bunch)…the DVD looks sensational. Presented in it's original broadcast ratio of 1.33:1, the DVD features pristine images, with outstanding color saturation and not one iota of compression artifacts. The blacks are strong and impenetrable, while the colors are exceptional and vivid. Excellent flesh tones.
HEARING: [ X ] Excellent [ ] Minor Hearing Loss [ ] Needs Hearing Aid [ ] Deaf
As close to the actual concert experience as you're going to get. The booming 5.1 Dolby Digital Surround track puts you in the front row of the MGM Grand Hotel auditorium, where the thundering basses will peel away the worry lines on your face and rattle your eyeballs until you're seeing double. The audio mix is superb, with excellent stereo separation from L-R and front to rear. The middle and high ends are startling, with a clarity that defies all hiss and distortion. All you get are five channels of distinct, pure, rich sound that fills the room and rocks the rafters.
ORAL: [ ] Excellent [ ] Good [ X ] Poor
Listen to the damn songs and shut the hell up!
COORDINATION: [ ] Excellent [ ] Good [ X ] Clumsy [ ] Weak
Functionary title selection menu. What else were you expecting?
PROGNOSIS: [ X ] Excellent [ ] Fit [ ] Will Live [ ] Resuscitate [ ] Terminal
An exciting collection of old and new tunes from the Bee Gees presented in 5.1 Dolby Digital Surround. Does it get any better than this?
VITALS: $19.99/Not Rated/110 Minutes/Color/32 Chapter Stops/Snapcase/#ID5473ERDVD
ATTENDING RESIDENT: John Larsen
PATIENT: BEE GEES – ONE NIGHT ONLY
BIRTH DATE: 1997
HMO: Image Entertainment