Beauty and the Beast
When "Beauty and the Beast" was released, it set a new standard for animated film. Walt Disney Pictures animation division was experiencing a renaissance thanks to "The Little Mermaid." Thanks to clever storytelling, rich animation, outstanding voice talent and memorable songs by Alan Menken and Howard Ashman, "Beauty and the Beast" went on to become the only animated film to be nominated for "Best Picture."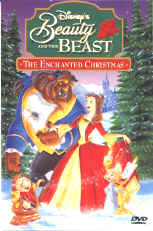 It also racked up $140 million in box office, which signaled the studio that a sequel was in order. Big problem. "Beauty and the Beast," like the story it was derived from, was like a book. It had an opening, a middle, and a finale that pretty much wrapped the story up. So where do you take the characters after they have been transformed back into human beings? Instead of a sequel, the film maker's have created a little moment lost in time that took place during the original. It's Belle's first Christmas in the castle, the enchanted objects disobey the Beast's edict that there be no celebrating. They hope to warm the Beast's heart and soul so that he will fall in love with Belle and break the curse. Their festive mood is contagious, and before you know it, all of the enchanted objects (including newcomer Angelique, voice of Bernadette Peters) are pitching in to make it a Merry Christmas. Their efforts are thwarted by evil organ Forte (voice of Tim Curry), who enlists a timid piccolo named Fife (Paul Reubens) to do his dirty work. Forte fears that if the Belle breaks the spell, he will no longer be important to the Beast. While Forte feeds the Beast with rage and anger, the enchanted objects rally around Belle. How the two sides come together makes for grand viewing. Even though the animation isn't nearly as top drawer as the theatrical film, it is impressive for a direct-to-video effort. It's very colorful and fluid. All of the original voice talent has returned (including Paige O'Hara as Belle, Robby Benson as the Beast, Angela Lansbury as Mrs. Potts, Jerry Orbach as Lumiere, and David Ogden Stiers as Cogsworth), and they are excellent. The songs are pleasing, and the situations both amusing and exciting. "Beauty and the Beast: The Enchanted Christmas" isn't classic animation from Walt Disney Home Video, but it is enjoyable and engaging.
COMPLETE CHECK-UP
VISION: [ X ] EXCELLENT [ ] GOOD [ ] RESUSCITATE [ ] D.O.A.
Glorious digital transfer is rich in vibrant colors and impenetrable blacks. Unfortunately, "The Enchanted Christmas" is presented in Full-Frame. Since it was made directly-for-video, I imagine this is the film's true aspect ration. No compression artifacts or noise. The images are sharp and show great depth. I can't wait to see some Walt Disney Home Video animated classics on DVD if they're going to look this great.
HEARING: [ X ] EXCELLENT [ ] GOOD [ ] RESUSCITATE [ ] D.O.A.
Bountiful Dolby Digital 5.1 Surround sound, filled with booming basses and crystal clear high ends. The sound mix is excellent, and the separation makes good use of the front and rear speakers. The dialogue and songs come through with the precision of a well-oiled machine. The stereo effects are accurate in correlation with the on-screen action. There's also a French language track. Voila!
ORAL: [ ] EXCELLENT [ X ] GOOD [ ] RESUSCITATE [ ] D.O.A.
Closed caption for the hard of hearing in English.
COORDINATION: [ ] EXCELLENT [ ] GOOD [ ] RESUSCITATE [ X ] D.O.A.
For such a cheerful film, there's little to cheer about in regards to bonus material. The main menu is attractive, but there's no scene access menus, and the only other addition is some DVD recommendations from Walt Disney Home Video.
PROGNOSIS: [ ] EXCELLENT [ ] GOOD [ X ] RESUSCITATE [ ] D.O.A.
The price tag might send some parents into sticker shock.
VITALS: $34.95/Not rated/71 Min./Color/17 Chapter Stops/Keepcase/#15282
THE ENCHANTED CHRISTMAS-
ATTENDING RESIDENT: John Larsen
PATIENT: BEAUTY AND THE BEAST – THE ENCHANTED CHRISTMAS
BIRTH DATE: 1997
HMO: Walt Disney Home Video