Austin Powers
One of 1997's funniest films, Mike Myers' spoof of James Bond-"In Like Flint" super spy thrillers is one hilarious gag after another. Top heavy on the references and snappy one-liners, "Austin Powers" perfectly captures the look and feel of it's source material while creating a style all its own. Myers stars the hip 60's secret agent Austin Powers, who enjoys his carefree life in London. When his arch enemy Dr. Evil (Myers once again) has himself frozen and jettisoned into outer space in a Bob's Big Boy rocket, Powers has himself frozen, only to be thawed when Dr. Evil re-enters the atmosphere.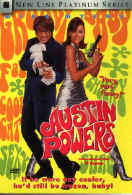 The inevitable happens in modern day Las Vegas, where Powers tries to adjust to a new set of standards and a sexy new partner while trying to thwart the dastardly Dr. Evil. "Austin Powers" is the ultimate fish out of water comedy, with a majority of the film's best laughs coming from the 60's agent trying to fit into a 90's groove. Elizabeth Hurley is sensational as the daughter of Power's former partner (Mimi Rogers doing her best Emma Peel), who is teamed up with Powers to save the day. As someone who grew up with the films being spoofed, I laughed at every reference. Great musical score and a grand sense of tongue-in-cheek fun make this a keeper.
COMPLETE CHECK-UP
VISION: [ x ] EXCELLENT [ ] GOOD [ ] RESUSCITATE [ ] D.O.A.
Groovy, baby! Both the pan-and-scan and widescreen versions are perfect transfers. "Austin Powers" is alive with rich, bright colors, all perfectly rendered here in high definition. Side one is the standard pan-and-scan version. Flip this baby over, and you get the 2:1 aspect ratio that's enhanced for widescreen televisions.
HEARING: [ x ] EXCELLENT [ ] GOOD [ ] RESUSCITATE [ ] D.O.A.
Full, vibrant stereo (5.1 Digital) that completely surrounds you with well-defined separation. There's also a French language surround track that's just as funny as the English language track.
ORAL: [ x ] EXCELLENT [ ] GOOD [ ] RESUSCITATE [ ] D.O.A.
Subtitles in English, French and Spanish.
COORDINATION: [ x ] EXCELLENT [ ] GOOD [ ] RESUSCITATE [ ] D.O.A.
The perfect extra would be a case of Depends™ undergarments. You'll laugh so hard, you might wet yourself. The film is reason enough to buy the DVD, but this New Line Platinum Series has much more in store for viewers. The running audio commentary by Myers and director Jay Roach is just as funny as the film, with the two pointing out the mistakes they made and the short cuts they took to get the film on the screen. There's also seven deleted scenes, including two alternate endings that seem right at home within the context of the film. While the deleted scenes are a welcome addition (they include the sexy Stewardess line that was cut), their lack of quality exposes their cutting room flow origins. Still, who's complaining? Not me. Look for the standard extras like cast and crew bios, interactive menus, scene access, and the original theatrical trailer. In the mood to shag? Then you'll enjoy the whimsical "Music to Shag By" animated sequence. Finally, there's a star highlights reel of the leading players that dishes up some of their previous films.
PROGNOSIS: [ x ] EXCELLENT [ ] GOOD [ ] RESUSCITATE [ ] D.O.A.
After being frozen for thirty years, "Austin Powers" is alive and well in the 90's. The DVD is the perfect antidote for the blahs.
VITALS: $24.95/Rated PG-13/90 Min./Color/24 Chapters/Snapcase/#N4577
ATTENDING RESIDENT: John Larsen
PATIENT: AUSTIN POWERS-INTERNATIONAL MAN OF MYSTERY
BIRTH DATE: 1997
HMO: New Line Home Video