The associate
Before I begin, it is important to note that I absolutely adore Whoopi Goldberg. Sure, she has been in some crappy films, but for the most part, I find her very watch-able. Goldberg did several films for Disney, including the extremely popular "Sister Act." She later did two films back-to-back that didn't fare so well at the box office, but found favor with me. They were corny, good, old-fashioned entertainment, but they weren't crowd pleasers.
One was the basketball comedy "Eddie," where Goldberg played the ultimate basketball fan who gets a chance to be manager for a day.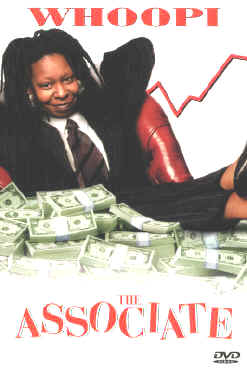 Then there was "The Associate," a wonderful little comedy about equality in the workplace. Written by Nick Thiel, "The Associate" is actually a fairytale. It is hard to take any of this seriously, yet Goldberg and the cast are so engaging that you don't mind dropping your guard and giving in to their charms. Goldberg is excellent as Laurel, a Wall Street whiz who doesn't get the respect she deserves because she is a woman. Taken advantage of one last time by the boy's club firm she works for, Laurel quits. With the assistance of her former secretary Sally (Dianne Wiest), Laurel attempts to start her own firm, but meets testosterone roadblocks every where she turns. It becomes apparent that the only way Laurel is going to make any headway is to become a man. With the help of a female impersonator friend, Laurel creates the rich and powerful Robert Cutty, who becomes the talk of Wall Street. You totally have to throw disbelief out the window in order to buy the premise. The make-up applications used to turn Goldberg into older, white male are hardly foolproof, but that's not the point. The fun comes in watching Goldberg work through the mechanics of the plot. Most of the characters are stock, but the people playing them instill them with enough spunk to make them interesting. Goldberg is delicious, especially when she's getting even with the smarmy male colleague (Tim Daly) who tried to steal her thunder. Dianne Wiest is always a delight, and she sparkles here. She is at her best playing wise, shrewd women, and she excels here. Austin Pendleton (another favorite since "What's Up Doc?") has some nice moments as a mousey millionaire, and Bebe Neuwirth turns up the heat as a power groupie. The film is ably directed by Donald Petrie, who keeps everything light and fluffy. Not a classic, and not even a great film, "The Associate" is still an enjoyable romp that more than gets the job done.
COMPLETE CHECK-UP
VISION: [ ] 20/20 [ X ] Good [ ] Cataracts [ ] Blind
Generally chipper 1.85:1 widescreen transfer looks a little muddy in spots. On the whole, the images are clean and sharp, with excellent color saturation and flattering flesh tones. Blacks are generally solid, while whites and shadows look clean thanks to a pristine negative that shows only a minute amount of flaws. Some interior scenes look a little fuzzy, but it may have been an artistic decision as book ending scenes look vibrant. Depth of field is amazingly strong, with excellent attention to detail. Some patterns prove problematic, but not enough to throw your arms up in dismay.
HEARING: [ X ] Excellent [ ] Minor Hearing Loss [ ] Needs Hearing Aid [ ] Deaf
Nicely defined 5.1 Dolby Digital Surround soundtrack isn't as expressive as some other DVDs, but it does get the job done. The dialogue mix is strong and to the point, while the stereo split (left to right) and front to rear spatial split is good without being obtrusive. Basses are subtle but evident, while middle and high ends are extremely clear and precise. Surround stereo effects aren't a selling point, and the rear speakers seem limited to the occasional ambient noise or music cue. Still, the mix brings it all together into a pleasant offering.
ORAL: [ ] Excellent [ X ] Good [ ] Poor
Closed captions in English for the hard of hearing.
COORDINATION: [ ] Excellent [ ] Good [ X ] Clumsy [ ] Weak
Standard issue main and scene access menus, some Reel Recommendations, and the film's original theatrical trailer.
PROGNOSIS: [ ] Excellent [ X ] Fit [ ] Will Live [ ] Resuscitate [ ] Terminal
I liked "The Associate" enough to add her to my company roster. You may just want to request her on a temp basis.
VITALS: $29.98/Rated PG-13/114 Minutes/Color/19 Chapter Stops/Keepcase/#17372
ATTENDING RESIDENT: John Larsen
PATIENT: THE ASSOCIATE
BIRTH DATE: 1996
HMO: Hollywood Pictures Home Video