As Good As It Gets
The last time director James L. Brooks and Jack Nicholson got together, they created magic and each won an Academy Award. The film was "Terms of Endearment." That same magic is at work in "As Good As It Gets," a wonderful collaboration of great material, outstanding performances, and perfect direction. Nicholson is superb as the obsessive-compulsive romance novelist who hates everyone he meets. Helen Hunt is endearing as the waitress who opens his heart, while Greg Kinnear finally hits pay-dirt as Nicholson's gay artist neighbor whose pet pooch plays a major part in his therapy.

Nicholson is at his best making us warm up to a very unlike-able character.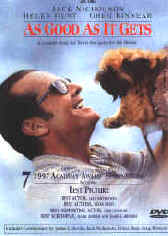 He makes it easy to believe that under that gruff facade is a man who longs to be loved. Melvin Udall (Nicholson) is a fragile person who follows the same routine every day, which includes breakfast at a local diner. Hunt is sensational playing a woman who understands the human condition, but hasn't had much luck putting that knowledge to good use. Carol Connelly (Hunt) is also the only waitress who will still serve Melvin, so it's fate and necessity that throws them together. Melvin's life takes a tailspin when his neighbor Simon (Kinnear, very sympathetic) is beaten up and left without means of support. When Melvin takes care of Simon's dog, and then Simon himself, he learns what it's like to be selfless for the first time in his life. Honest, winning performances bring it all to life in one sensational film.
COMPLETE CHECK-UP
VISION: [ X ] EXCELLENT [ ] GOOD [ ] RESUSCITATE [ ] D.O.A.
Both the 1.85:1 widescreen and pan-and-scan transfers are as sharp as the film's dialogue.
HEARING: [ X ] EXCELLENT [ ] GOOD [ ] RESUSCITATE [ ] D.O.A.
Brooks is noted for his superbly mixed soundtracks, and the 5.1 Dolby Digital Surround perfectly captures the multi-layered dialogue and ambient noise. The separation is excellent. There's also a French language track that's a blast to watch.
ORAL: [ X ] EXCELLENT [ ] GOOD [ ] RESUSCITATE [ ] D.O.A.
Subtitles in English, French and Spanish.
COORDINATION: [ ] EXCELLENT [ X ] GOOD [ ] RESUSCITATE [ ] D.O.A.
As if the film alone weren't incentive enough to shell out the sawbucks, the DVD features an engaging alternate audio track with director Brooks, Nicholson and Kinnear. It's easy to tell who has command of the floor when these four get together. Toss in the standard travelling accessories (scene selections) and you have a pretty good deal on your hands.
PROGNOSIS: [ X ] EXCELLENT [ ] GOOD [ ] RESUSCITATE [ ] D.O.A.
If you don't already have "As Good As It Gets" in your DVD collection, turn off the computer right now, lock the front door, and go out and get yourself a copy before your friends find out and make fun of you.
VITALS: $29.99/Rated PG-13/139 Min./Color/28 Chapters/Keepcase/#21709
ATTENDING RESIDENT: John Larsen
PATIENT: AS GOOD AS IT GETS
BIRTH DATE: 1997
HMO: Columbia-TriStar Home Video