American Beauty DVD
It wasn't love at first sight. It was lust. When he first saw her, she was more than the nubile 17 year-old best friend of his daughter. She was a goddess, capable of stopping time so that a moment with her would seem like eternity. Her lips were full and red, her young body tight and firm.

For 42 year-old Lester Burnham (Kevin Spacey), Angela (Mena Suvari) was a goddess. In just one brief moment she made Lester feel alive again. Trapped in a loveless marriage and a crappy job, Lester had been going through the motions so long he forgot what it felt like to be alive. Director Sam Mendes does more than go through the motions with "American Beauty," a dark, witty tale of the American dream gone to hell.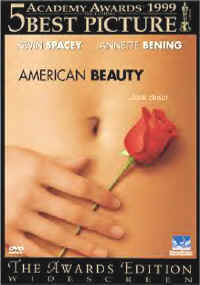 Making what is perhaps a consummate director's debut, Mendes paints a portrait of a family that is not only dysfunctional, but completely detached. On the surface the Burnham's seem to have it all. Look a little closer and you notice some chips in the china. Hang out with these people for two hours and you learn how ugly people can really be.
Alan Ball's screenplay is a real pleasure, filled with sharp, satiric dialogue, interesting characters and bold dialogue. Mendes and Ball take chances that pay off. In their hands, "American Beauty" is both quirky and calculated.
Even at its darkest hour, "American Beauty" is a comedy. You laugh because you're not these people. Their lives are so pathetic you immediately feel better about yours. You feel sorry for the teenagers. They are forced to become adults while their parents act like children.
Ball's screenplay is ingenious in the way that he gets us to root for Lester, even though he's a borderline pedophile. On the surface, you can't blame Lester for harboring dirty thoughts about Angela.
Angela is your typical "Lolita." She dresses like an adult and wears way too much make-up. She's the polar opposite of Jane (Thora Birch, so adult here), Lester's daughter and Angela's best friend. Jane is more sullen. You can't blame her with parents like Lester and Carolyn (Annette Bening).
Even though they share the same dinner table (and listen to the same elevator music), Jane is virtually a stranger in her own home. Her parents are so self-involved with their pathetic lives that they ignore her.
Lester and Jane's worlds are turned upside down at the same time. To show support for their daughter, Lester and Carolyn attend a high school basketball game where Jane and Angela are to perform at half- time.
Lester is immediately smitten when he sees Angela, and you can literally see the blood pumping through his veins as his infatuation grows. Like a hound dog in heat, Lester sets out to catch himself a pretty young thing. He starts lifting weights, quits his boring job, and finds himself feeling young and reinvigorated.
Jane's world finds meaning when new neighbors movie in next door. At first Jane is suspicious of the new boy next door, and finds his habit of videotaping everything creepy. His name is Ricky, the son of a strict Army Colonel (Chris Cooper) and a shell shocked mother (Allison Janney). The two find they have much in common.
The adventurous nature of the script and the bold, almost audacious plot twists transform a domestic drama into one of the best films of the year. Ball and Mendes tackle complex issues with irreverence, turning what could have been a downbeat experience into one of sheer exhilaration.
Kevin Spacey is outstanding as Lester. You honestly believe that Angela is this guy's lifeline. The wanting look in his eyes say more than mere words. A lot of Spacey's performance relies on attitude and looks. There is one scene where he is working out in the garage and strips down to admire his reflection in the window. Without saying a word, Spacey perfectly conveyed the hope and desperation of a man standing on the edge of the high dive of life.
Carolyn Burnham sells real estate for a living, but Carolyn hasn't felt alive in years. Not only does she have her failed marriage to weigh her down, Carolyn has come to the realization that she's a lousy real estate agent. Annette Bening captures the total emptiness of this woman. She's strong on the outside, but Bening allows us to see how delicate she really is.
Chris Cooper is quite the bastard as Ricky's strict father who suspects that his son is up to no good, while Allison Janney is heartbreaking as the dutiful military wife.
Thora Birch is absolutely devastating as Jane You want to reach out and comfort her, and feel relief when she finally finds a soul mate in Ricky. Wes Bentley is sympathetic as Ricky, delivering a performance that is assured . Vladimir Nabokov would have been in awe of Mena Suvari's nymphet Angela, one part vixen, one part little girl. Together they equal trouble, and Suvari makes you believe that her character is more than capable of creating a little trouble.
"American Beauty" is one of the most assured films I've seen in a while.
COMPLETE CHECK-UP
VISION: 20/20

2.35:1 Widescreen

16:9 Enhanced
Sparkling digital transfer maintains the integrity of Conrad L. Hall's stunning cinematography. The colors are absolutely vibrant, with just enough grain to give them an edge. This is not a compression issue, but a choice made with the type of equipment and film used, which also allows for specific attention to detail and great depth of field. Flesh tones are warm and honest, while the rest of the color spectrum arrives with perfect saturation with no bleeding or fading. Blacks are strong, while the pristine negative provides for clean whites and grays. No real noticeable compression artifacts.
HEARING: Excellent

5.1 Dolby Digital Surround

5.1 Dolby Digital Surround DTS

2.0 Dolby Digital Surround
Subtle yet defined soundtrack provides a few surprises. All the sound fields deliver accurate information, from a true stereo split, to a dialogue mix that is front and center. Basses are there but hardly noticeable, while the middle and high ends sound superb. No noticeable hiss or distortion here. Front stereo split is well defined, while the front to rear pan sounds natural. Rear speakers make good use of the ambient noise and musical cues. Surround effects are gentle yet assured.
ORAL: Good

Closed Captions in English for the Hard of Hearing
COORDINATION: Good

Full-length audio commentary with director Sam Mendes and writer Alan Ball. Mendes takes center stage, while Ball pops up occasionally to punctuate the director's statements. While I would have liked to have heard from the writer more, Mendes is an excellent tour guide, taking us through the process with lots of energy and information. His affection for the material is obvious.

"American Beauty: Look Closer…" Behind-the-scenes featurette with interviews of the cast and crew. Nice extra, but doesn't provide enough insight into the filmmaking process. Instead ,the focus is on the acclaim that the film has garnered.

Storyboard presentation with commentary by Mendes and director of photography Conrad Hall. Anyone with an honest interest in the filmmaking process will find this presentation invaluable. The presentation and layout is what DVD was designed for. A split screen allows you to compare the storyboards with the actual shot in the film.

Theatrical trailers

Production notes, cast & crew biographies

DVD-ROM features including the screenplay accompanied by footage from the film and storyboards. This feature alone is worth getting a DVD-ROM drive for your computer. Access any scene in the film through the storyboard.

Handsome main and scene access menus.
PROGNOSIS: Excellent

The Best Film of 1999 blossoms on DVD.
VITALS: $29.98/Rated R/122 Minutes/Color/Keepcase
ATTENDING RESIDENT: John Larsen
PATIENT: AMERICAN BEAUTY
BIRTH DATE: 1999
HMO: DreamWorks Home Video