American Beauty
It wasn't love at first sight. It was lust. When he first saw her, she was more than the nubile 17 year-old best friend of his daughter. She was a goddess, capable of stopping time so that a moment with her would seem like eternity. Her lips were full and red, her young body tight and firm.

For 42 year-old Lester Burnham (Kevin Spacey), Angela (Mena Suvari) was a goddess. In just one brief moment she made Lester feel alive again. Trapped in a loveless marriage and a crappy job, Lester had been going through the motions so long he forgot what it felt like to be alive.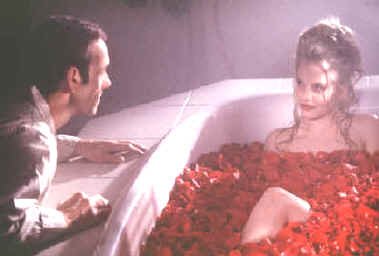 Director Sam Mendes does more than go through the motions with "American Beauty," a dark, witty tale of the American dream gone to hell.
Making what is perhaps a consummate director's debut, Mendes paints a portrait of a family that is not only dysfunctional, but completely detached. On the surface the Burnham's seem to have it all. Look a little closer and you notice some chips in the china. Hang out with these people for two hours and you learn how ugly people can really be.
Alan Ball's screenplay is a real pleasure, filled with sharp, satiric dialogue and interesting characters and bold dialogue. Mendes and Ball take chances that pay off large dividends. In their hands, "American Beauty" is both quirky and calculated.
Even at its darkest, "American Beauty" is a comedy. You laugh because you're not these people. Their lives are so pathetic you immediately feel better about yours. You feel sorry for the teenagers. They are forced to become adults while their parents act like children.
Ball's screenplay is ingenious in the way that he gets us to root for Lester, even though he's a borderline pedophile. On the surface, you can't blame Lester for harboring dirty thoughts about Angela.
Angela is your typical "Lolita," a wannabe model who dresses like an adult and wears way too much make-up. She's the polar opposite of Jane (Thora Birch, so adult here), Lester's daughter and Angela's best friend. Jane is more sullen and insular. You can't blame her with parents like Lester and Carolyn (Annette Bening).
Even though they share the same dinner table (and listen to the same elevator music), Jane is virtually a stranger in her own home. Her parents are so self-involved with their pathetic lives that they ignore her. They're the kind of parents who give her things as tokens of their love.
Lester and Jane's worlds are turned upside down at the same time. To show support for their daughter, Lester and Carolyn attend a high school basketball game where Jane and Angela are to perform at half-time.
Lester is immediately smitten when he sees Angela, and you can literally see the blood pumping through his veins as his infatuation grows. Like a hound dog in heat, Lester sets out to catch himself a pretty young thing. He starts lifting weights, quits his boring job, and finds himself feeling young and reinvigorated.
Jane's world finds meaning when new neighbors movie in next door. At first Jane is suspicious of the new boy next door, and finds his habit of videotaping everything creepy. His name is Ricky, the son of a strict Army Colonel (Chris Cooper) and a shell shocked mother (Allison Janney). The two find they have much in common, including parents who don't get it.
The adventurous nature of the script and the bold, almost audacious plot twists transform a domestic drama into one of the best films of the year. Ball and Mendes tackle complex issues with irreverence, turning what could have been a downbeat experience into one of sheer exhilaration.
I found myself laughing at the most ironic moments because I could envision them happening in real life. The cast approach their characters with the same conviction.
Kevin Spacey is outstanding as Lester. You honestly believe that Angela is this guy's lifeline. The wanting look in his eyes say more than mere words. A lot of Spacey's performance relies on attitude and looks. There is one scene where he is working out in the garage and strips down to admire his reflection in the window. Without saying a word, Spacey perfectly conveyed the hope and desperation of a man standing on the edge of the high dive of life.
Carolyn Burnham sells real estate for a living, but like her husband Lester, Carolyn hasn't felt alive in years. Not only does she have her failed marriage to weigh her down, Carolyn has come to the realization that she's a lousy real estate agent. Annette Bening captures the total emptiness of this woman.
She's strong on the outside, but Bening allows us to see how fragile she really is. Bening has a brilliant moment where she collapses after a day of peddling a real loser of a house. Her hurt, frustration and disappointment are real.
Chris Cooper is quite the bastard as Ricky's strict father who suspects that his son is up to no good. I've known people like Colonel Frank Fitts, and Cooper plays him with such power and menace you can understand why his son and wife are afraid of him. Allison Janney, so hilarious in "Drop Dead Gorgeous," is so heartbreaking as the dutiful military wife. There's real honesty in her performance.
We've watched Thora Birch grow up on the screen, and she's absolutely devastating in "American Beauty." You want to reach out and hold Jane, and feel relief when she finally finds a soul mate in Ricky. It's a very adult performance. Newcomer Wes Bentley is sympathetic as Ricky, delivering a performance that is both assured and engaging.
Vladimir Nabokov would have been in awe of Mena Suvari's nymphet Angela, one part vixen, one part little girl. Together they equal trouble, and Suvari makes you believe that her character is more than capable of creating a little trouble. There is a real innocence in her sluttish behavior. The only thing missing is a giant lollipop.
"American Beauty" is one of the most assured films I've seen in a while. Cinematographer Conrad L. Hall paints bright, pretty images that look sharp and vivid. Lester's vision of Angela covered in rose petals is honestly dreamy. Thomas Newman's music frames the drama, while production designer Naomi Shohan creates the picture perfect world the characters inhabit.
You won't find a more observant, honest and ultimately challenging film out there. "American Beauty" is as fragile and as alluring as a rose. Catch this one before it wilts and disappears.
"BEAUTY" IS MORE THAN SKIN DEEP
AMERICAN BEAUTY
Kevin Spacey, Annette Bening, Thora Birch, Mena Suvari, Wes Bentley, Chris Cooper, Allison Janney, Scott Bakula, Sam Robards in a film directed by Sam Mendes. Rated R. 114 Minutes.
LARSEN RATING: $8