American Graffiti: Collector's Edition
"American Graffiti," the film that asks the question: "Where we you in '62?" I was five-years old. I don't remember where I was. So I left it to writer-director George Lucas to fill me in. I was sixteen years old when I first saw "American Graffiti." Even though I spent my formative teen years in the seventies, I really identified with the music of the sixties. I don't know. Maybe it was an unconscious cry to return to a simpler time. Whatever. I remember seeing "American Graffiti" for the first time at a drive-in.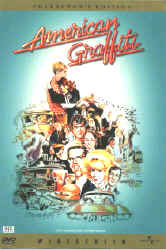 The perfect place to see a film that celebrates the automobile. From the first strains of Bill Haley and the Comet's "Rock Around the Clock," George Lucas' little movie about cruising and teenage rites of passage had me hooked. Aside from Ron (then Ronny) Howard, who had played Opie on "The Andy Griffith Show," most of the cast members were new to me. Richard Dreyfuss as Kurt, the indecisive writer; Cindy Williams as his sister Laurie, the head cheerleader who is dating Steve (Howard). Steve, like Kurt, is getting ready to head off to college, and creates turmoil in Laurie when he suggests that they see other people while he's away; Charlie Martin Smith as Terry the Toad, whose life changes dramatically when he inherits Steve's car while he's gone; Candy Clark as Debbie, the Sandra Dee look-a-like Toad picks up; Paul Le Mat as John Milner, the cool king of the strip who has never lost a race; MacKenzie Phillips as Carol, the obnoxious young teen who ends up in Milner's car; Harrison Ford as Bob Alfalfa, the hot new kid in town; and Suzanne Somers as Kurt's vision of love, the infamous blonde in the T-Bird.
They were new to me, but they were extremely talented, as time has proven. Shot in 27 nights in Petaluma, California, "American Graffiti" is a miracle of movie making. Working with a tight $750,000 budget, Lucas managed to tell four parallel stories with the assurance of a major studio film. There isn't a bad performance in the film. Lucas creates interesting shots that draw us into the character's world. Everything in the film evokes a sense of nostalgia. The soundtrack is one of my favorites. The songs are so vital to the story that just listening to them evokes memories of the film. "American Graffiti" made a lot of money, and ended up being nominated or five Academy Awards, including Best Picture and Best Director. Lucas didn't make just a film. He made a classic.
Through sheer determination and artistic talent, Lucas managed to capture a time and place that no longer exists and then make us believe it does. I think the true sign of a classic film is it's ability to make you want to come back and see it over and over again. When I'm flipping channels looking for something to watch and I come across "American Graffiti," I find it hard to change the channel.
COMPLETE CHECK-UP
VISION: If I'm not mistaken, "American Graffiti" has never looked better, and that includes all of the times I saw it in theaters and on video and television. The digital transfer (in anamorphic 2.35:1 widescreen, no less) is superior. I thought I was watching a brand new movie. I don't know where Lucas got the print to make the transfer, but it's as vivid and colorful as the original negative. No visible signs of pixelation or compression artifacts, even though some of the film's low lit scenes could have been a problem. They're not. The blacks are impressive, especially when John takes Carol through an auto graveyard. As they walk through the rows of cars, they occasionally dissolve into the shadows. Instead of filling the screen with incomplete data, the shadowy figures come through like gang busters. Warm flesh tones and vivid colors combine to create a pleasing pallette. The disc is RSDL.
HEARING: In the documentary "The Making of American Graffiti," director Lucas and sound editor Walter Murch lament over the fact that they spent their entire music budget on the classic rock and roll songs and didn't have any left over for incidental music. They then go on to explain how they managed to create mood by adding various ambient noises together. It was an intricate process that took a lot of time and effort to accomplish. Little subtle noises that make all the difference. The Dolby Digital Surround track on "American Graffiti" picks up on each and every nuance in the sound mix. If you don't listen to the "American Graffiti" DVD in stereo, you're missing half the picture. The separation is one of the best I've ever heard. The detail is exceptional. You feel like you're in the movie. You're watching a street scene, and you hear foot steps and people talking behind you. It's so realistic, you want to turn around. The classic rock and roll songs sound authentic within their on-screen environment, meaning that when a song is playing on a car radio, it sounds like it's coming from the radio and not just pasted on the soundtrack. The DVD also features a 2 Channel Mono French language soundtrack.
ORAL: Closed captioned in English for the hard of hearing, with subtitles in Spanish.
COORDINATION: First, check out the original theatrical trailer for "American Graffiti," and you'll immediately realize that Universal didn't know what they had on their hands. That point is driven home in the full-length documentary "The Making of American Graffiti." I've sat through hundreds (maybe even thousands) of these behind-the-scenes documentaries, and this is one I didn't want to end. I was so enthralled by the process that Lucas went through in order to see his original vision on the screen. Lucas, producer Francis Ford Coppola, and most of the cast are on hand to reminisce about the experience, and their insights are wrapped around a fascinating collection of stills, outtakes, and screen tests. The screen tests are especially revealing, showing the early, raw talent of the actors who would later go on to stardom. I could sit around for hours (and have) and listen to directors wax eloquent about their war stories, and found myself wanting more when the documentary ended. Sadly, there's no alternate audio commentary. What would have made the DVD truly special would to have the cast hang-out together, watch the movie, and just discuss the film. Give them each a microphone so no one has to twist and shout. Oh well. Nice menus, production notes and cast & crew bios flesh out the package.
PROGNOSIS: "American Graffiti" was an instant classic when it came out, and remains one today. It affects you on so many levels. No true DVD collector would be caught dead without this one in their library.
ATTENDING RESIDENT: John Larsen
PATIENT: AMERICAN GRAFFITI: COLLECTOR'S EDITION
BIRTH DATE: 1973
HMO: Universal Studios Home Video