50 First Dates
Hawaiian sea life park veterinarian Henry Roth (Adam Sandler) enjoys the benefits of vacation romance: love them and they leave. Perfect modus operandi for someone who prefers short term relationships. Henry's a nice guy, but he's not looking for anything long term.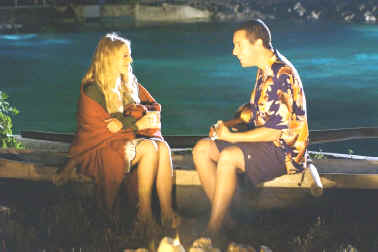 Then he's literally blind sided by Lucy (Drew Barrymore), sweet, pretty, everything he's looking for in a life mate. Someone he can invest his future in, share his stories with, grow old next to. The perfect partner. In "50 First Dates," Henry gets the tables turned on him when he learns that Lucy suffers from short term memory loss, turning every date into the first date.
Mixing elements of "Groundhog's Day" and "Clean Slate," with a comic dash of "Memento," writer George Wing has created a winning romantic comedy that makes it easy to suspend disbelief. Sandler and Barrymore, who sparkled in "The Wedding Singer," are even better here, accommodating the absurd requirements of the screenplay with complete conviction. It's a pleasure to see these two mix it up again.
"50 First Dates" marks another step in Sandler's climb up the ladder of respectability. His maturity provides Sandler with a broader base for his comedy. Gone are traces of the emotionally stunted "Happy Gilmore," leaving Sandler standing taller than ever. In the right role, with the right material, Sandler really is a respectable romantic leading man. His best characters all have big hearts, and despite the rough edges, we still want to embrace him.
Lucy, on the other hand, has a hard time embracing Henry's belief that he's her boyfriend. After all, you think a girl would remember something like that. Once aware of Lucy's disability, Henry goes to extreme lengths to remain part of her life, including using a video camera and diary. Barrymore is absolutely winning as a woman who begins each day with the optimism of a newborn baby. She's sweet and unassuming, and Barrymore's reactions are priceless.
Director Peter Segal, who last teamed Sandler with Jack Nicholson ("Anger Management"), delivers a film that is as light and breezy as a tropical drink. It's understood from the opening moments that we're not supposed to take any of this seriously. Just sit back and enjoy the ride, and with that as a prerequisite, "50 First Dates" is an extremely enjoyable ride.
The supporting characters are just as colorful as the scenery, including Sandler stalwart Rob Schneider as an island beach bum who accompanies Henry in his quest to shock Lucy back into the present. Blake Clark is hilarious as Lucy's protective father, ably assisted by Sean Astin as her brother, who work in cahoots to keep Lucy locked in a perpetual haze.
"50 First Dates" serves as a nice transition film for Sandler's core legion of fans and those on the fence. The film features a couple of gross out moments (the opening Walrus scene sets the tone), but like "The Wedding Singer," the emphasis is on comedy and romance. "50 First Dates" is big on both, the perfect Valentine for any day of the year.
50 FIRST DATES
Adam Sandler, Drew Barrymore, Ron Schneider, Sean Astin, Lusia Strus, Blake Clark, Dan Aykroyd, Amy Hill. Directed by Peter Segal. Rated PG-13. 99 Minutes.
LARSEN RATING: $7.00