21 Grams
With its fractured, non-linear storylines, gripping, complex performances, and strong direction, "21 Grams" emerges as one of the best films of the year. While "21 Grams" has nothing to do with drugs, the intoxicating blend of cinema verite and personal drama will leave you numb.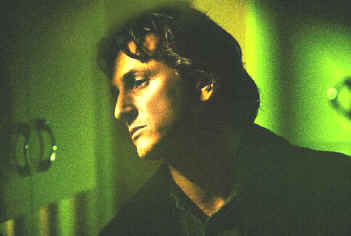 "Pulp Fiction" opened the door for non-linear storytelling, and while several films have successfully duplicated the formula ("Memento" comes to mind), none have done it as masterfully as director Alejandro Gonzalez Inarritu in "21 Grams." The Mexican director, whose "Amores Perros" tinkered with multiple, intersecting plots, skillfully unfolds three story arcs, mixing and matching plot and time lines, until all of the pieces of the puzzle become clear to us.
What may seem like erratic editing is actually a clever tool to lure us into the action, forcing us to pay attention to each and every syllable of Guillermo Arriaga's potent screenplay. The actors deliver these lines with such assurance and humanity they transcend their characters and become real to us. The director allows us to become the proverbial fly on the wall, exposing us to moments so authentic they tear at our heart.
There's a lot of soul searching going on in "21 Grams," where the lives of three people cross at the most unexpected and horrific moment. There's also hope in Arriaga's words, a small glimmer struggling to find its way out of the darkness and despair that surrounds a terminally ill teacher, a former junkie now living the good life, and a born again ex-con looking for redemption.
Sean Penn stars as Paul Rivers, wrestling with a faulty heart and a faulty marriage, desperately looking for meaning in his life. His wife Mary (Charlotte Gainsbourg), a sprite English import with hair as dark as her past, wants a baby, a souvenir of their marriage. Close to heart failure and in urgent need of a donor, Paul finds the idea of pawning off a token legacy repulsive.
Naomi Watts is electrifying as Cristina Peck, who gave up the needle and one night stands for a happy family and security. She finds all that and more with husband Michael and their two daughters, who provide her with the strength to stay true to her cause. All that changes in one horrific moment, when an accident changes Cristina's future for the worst and Paul's for the best.
Connecting Cristina and Paul together is Jack Jordan (Benicio Del Toro), an ex-con who has seen the light and tries to live his life by the word of God. Jack begins to suspect that God is setting him up when he receives a new, powerful pick-up truck, which will later be used to commit an unspeakable act that will question his new found faith. We can tell by the moments Jack spends with his family, especially understanding wife Marianne (Melissa Leo), that he wants to live a decent life, but that the odds are stacked against him.
Inarritu does a brilliant job of slowly piecing together the various moments that will bring these three people together, giving us small clues to prepare us for the revelations that are to follow. The films most intense moment is also one of it's most benign, a long shot of a gardener wielding a leaf blower, the noise obscuring the horror occurring off screen. We sit there, knowing full well what is about to transpire, helpless to do anything but accept the consequences.
"21 Grams" is all about consequences, choices made, opportunities lost, and how one seemingly unrelated event can trigger a chain reaction. Wading deep in their emotions are Penn, Watts and Del Toro, who have never been better. Each actor brings uncommon depth to their role, especially Penn, whose pale, ashen face and soulless eyes tell us that we're dealing with a man who, despite that glimmer of hope, has given up.
That's why we, like Mary, understand why Paul keeps sneaking a cigarette as he waits for a donor heart. With each wheezing breath Penn reminds us how precious life can be and how easily it can be thrown away. We're not supposed to like Paul, he's self-absorbed and unfaithful, yet Penn still manages to get under our skin and convince us otherwise. By the time he makes the bravest choice of his life, we are on his side.
Watts is enigmatic as the strong-willed Cristina, whose fall from grace allows the actress to dig deep and deliver a performance that is as memorable as it is devastating. Watts takes ordinary moments and makes them extraordinary, like the scene in the hospital when Cristina attempts to comprehend what has happened. It's a multi-layered, haunting performance. Del Toro finally delivers on the promise of "Traffic." Jack Jordan is an equally complex person, and watching Del Toro balance Jack's inner demons with Marianne's voice of reason is breathtaking.
Making his English-language debut, Inarritu proves that "Amores Perros," a powerful trilogy of tales adeptly penned by Arriaga, was no fluke. Inarritu is a master storyteller, whose insights go beyond where to position the camera. His actors trust him, a trust that pays off with brave performances. "21 Grams" is gripping because the actors are willing to strip down to their barest emotions, revealing their vulnerabilities and weaknesses.
Rodrigo Prieto's constantly moving camera keeps us in the moment, while Gustavo Santaolalla's music, with it's mournful Spanish guitar, perfectly reflects the somber mood. "21 Grams" isn't what I would call entertainment. You won't leave the theater feeling refreshed, but you will feel like you've experienced something remarkable and special.