Can Count On Me DVD
In the sideshow that is her life, single mom Sammy Prescott has become a master juggler. She's so busy juggling the men in her life that until recently she has had little time for self reflection. Sammy is so afraid that if she drops one ball her whole life will come crashing down.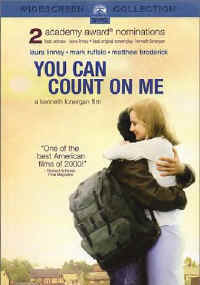 Sammy has good reason to be so neurotic. Orphaned at an early age, Sammy has always been the one people in her life can count on. First her younger brother Terry, then her bastard ex-husband, followed by her loving son Rudy and then sometimes current boyfriend Bob.
Sammy has always managed, but all that is about to change in writer-director Kenneth Lonergan's "You Can Count On Me." Refreshingly honest and absorbing, "You Can Count On Me" marks Lonergan's debut behind the camera. The writer of "Analyze This" makes an auspicious debut, one filled with witty insight and engaging characters.
Lonergan creates characters that live and breathe. They say and do things that matter, not only to them, but to the audience. We care about what happens to these people. Lonergan's dialogue captures the way people really talk to each other, especially conversations that take place between brothers and sisters. He skillfully mixes comedy and drama into a potent potable that goes down easy.
Laura Linney is perfect as Sammy, the single mother who still lives in the same small town and house where she grew up. It's one of those picture perfect Norman Rockwell communities in upstate New York named Scottsville, with one Main Street and where everyone else knows your business. That doesn't bother Sammy, who has finally got her life together.
She's dating a decent guy, her job is comfortable and stable, and she's finally getting a sense of who she really is. It doesn't take long for reality to poke a hole in her perfect little bubble. Her boyfriend wants to marry her. Her son is becoming restless and wants to know who his real father is. Her old boss is replaced by an uncaring and domineering new boss, and her wandering brother Terry has arrived back in town with his hand out.
Before Sammy knows it, she's once again juggling the men in her life. She doesn't want to get married, but likes the idea of long term commitment. Her new boss, Brian, is frustrated over being assigned a bank branch out in the sticks and vents his anger on Sammy. Then there's Terry, the brother she truly loves and adores but wishes would settle down.
We learn a lot about Sammy along the way. Lonergan's script doesn't fill in all of the blanks. He allows Linney flesh out the character with a truly amazing performance. She shows us a woman who has not only lived life, but survived it. There's true emotion in her eyes and expressions. We feel her love for her son and brother, even when both are acting like jerks. Linney helps us to understand what makes Sammy run, especially when her character does some truly stupid things.
Like sleeping with her new boss, whom she at first despises. Matthew Broderick plays Brian, the married bank manager with a very pregnant wife. Brian is such a pathetic loser we at first question Sammy's desire to sleep with him. Then it becomes clear. Sammy likes bad boys. They make her feel less in control. She doesn't really love them, she just needs them to validate her existence.
That's why she not only wants her wayward brother to stay in town, she literally begs him. He's not just kin, he's her extension to a life outside of her own. Terry has been around, seen things. He doesn't juggle his life. He could care less if the balls fall. He just wants to get on with his life.
Mark Ruffalo is uncommonly good as Terry. He takes us inside Terry's mind, exposing us to a man who has been hit hard by life and still comes back for more. With his rugged good looks and charismatic delivery, it's hard to take your eyes off Ruffalo. He makes it easy to see why Sammy loves him, even when he goes against her grain.
He arrives on Sammy's doorstep hoping to score enough money so he can get his girlfriend an abortion. At first Sammy is upset, but realizes that Terry is only being Terry. When things go sour with the girlfriend, Terry accepts Sammy's invitation to stay for a while. Terry instantly becomes Rudy's big brother, showing the sheltered kid what life is like outside the box. Their relationship is one of the strongest bonds in Lonergan's script.
Jon Tenney has some nice moments as Sammy's suitor Bob, the decent guy who really doesn't stand a chance. Like Sammy, we come to realize that Bob is the nice guy, the knight is shining armor. If Sammy is to be saved, it must come from within. Her realization that she is the enabler allows Sammy to step back and take a good, long look at her life.
Behind the camera, Lonergan shows real talent for getting natural performances from his actors. As a first time director Lonergan resists the temptation to show off. He's more interested in telling a story than directing an industry calling card. In the process he has created a film that will not only open doors, but should keep them open for a very long time.
Lonergan's screenplay is a juggling act in itself. He carefully keeps all of the balls in rotation. A less talented director would fail. Lonergan is blessed with an excellent technical crew, including director of photography Stephen Kazmierski and editor Anne McCabe, whose combined work makes the film look as sharp as it plays. Lesley Barber's musical score, peppered with signature songs, punctuates the emotional level of every scene.
"You Can Count On Me" is one of those little films that comes out of nowhere and takes the world by storm. The world has been raining accolades on the film since it won the Sundance Grand Prize Jury (co- winner) and was nominated for two Academy Awards, including Best Actress and Screenplay. See the film and you will agree that all of the acclaim is warranted.
COMPLETE CHECK-UP
VISION: 20/20

1.85:1 Widescreen

16:9 Enhanced
Absolutely smashing digital transfer perfectly captures the colors and tones of the original negative with no bleeding, fading or artifacts. The colors are incredible, with life-like reds, blues and earth tones, while the flesh tones are extremely realistic. Blacks are solid, shadows and whites are clean, and depth of field is endless. Attention to detail is excellent, especially in the film's more subtle moments. Interiors and exteriors are perfectly lit, and the digital transfer maintains their integrity.
HEARING: Excellent

5.1 Dolby Digital Surround

2.0 Dolby Digital Surround
Subtle, almost delicate 5.1 Dolby Digital Surround soundtrack shows how well a mix can work. Don't expect an ultimate surround experience. The film is dialogue heavy, and the mix is perfect. Not one line or utterance is lost. Front sound field gets most of the action, with true stereo left-to-right stereo split. Rear speaker aren't emphasized except for the use of music and ambient noise cues. Basses are there but not important enough to brag about, while the middle and high ends purr with perfection. No hiss or distortion.
ORAL: Good

Closed Captions in English for the Hard of Hearing
COORDINATION: Okay

Feature-length audio commentary with director Kenneth Lonergan. Lonergan's comments are scene specific, and he goes into great detail about the development and eventual filming of the movie. He talks about his life experiences and how they are reflected in his script. Lonergan doesn't ramble on and on, but he does provide enough insight to make the commentary track worth a listen.

A Look Inside, interviews with the cast and director Lonergan about their involvement in the film, including clips to emphasize their points.

The film's original theatrical trailer.

Pedestrian main and scene access menus.
PROGNOSIS: Good

You Can Count On this wonderful, witty and ultimately winning character study to deliver the goods.
VITALS:

$29.98/Rated R/110 Minutes/Color/19 Chapter Stops/Keepcase
ATTENDING RESIDENT: John Larsen
PATIENT: YOU CAN COUNT ON ME
BIRTH DATE: 2000
HMO: Paramount Home Video