X-Men 2
Even as someone who read super hero comics as a kid, I have never been a big fan of the first films in their respective franchises. "Superman" was grounded by feet of lead, wasting too much time setting up the premise, while "Batman" was too dark and serious. I didn't like the first "X-Men" movie for those same reasons.
The first salvo in most super hero film franchises are faced with the burden of introducing the characters and their place in the super hero world.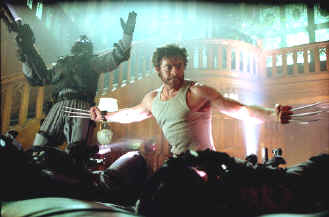 With most, but not all of the introductions out of the way, "X-Men 2" is a major improvement over the first installment. Director Bryan Singer and a platoon of credited writers are now free to kick the franchise into overdrive, and without missing a beat, "X-Men 2" leaps into action with the ferocity of its mutant heroes and villains. Anyone bothered by the first film's lack of breakneck pacing and cohesiveness will find the sequel is just what the script doctor ordered.
"X-Men 2" not only delivers the goods, it does so with respect for fans (who still may be exasperated by the sheer number of mutant characters and their lack of screen time) and wastes no time rehashing previous plot points. Instead, writers Michael Dougherty & Dan Harris and David Hayter (working from a story by Hayter, Zak Penn and Singer) pick up exactly where "X- Men" left off, with no apologies to those who have not seen the first film.
All of the original players return for "X-Men 2," including Patrick Stewart as Professor Charles Xavier, now rid of arch villain Magneto (Ian McKellen) and free to run his reclusive school for up-and-coming mutants. Like "X-Men," a message of tolerance echoes through "X-Men 2," where Xavier and his legion fight (sometimes literally) for their place in a human world. Even though this message is the anchor of the script, the writers never approach the level of preachiness. Instead, they know that action speaks louder than words, and have filled "X-Men 2" with some rousing moments of exhilarating intensity.
There's also a well-balanced diet of humor and emotional pathos at work, providing the previously one-dimensional cartoon characters with more depth and humanity. While some characters are conveniently pushed into the background, others, like Hugh Jackman's tormented Wolverine, are allowed to explore their inner demons with uncommon weightiness for a super hero film.
Alliances are also tested and shifted, while the sequel introduces a new villain, military zealot turned mutant hunter Colonel William Stryker (Brian Cox), who uses a mutant attack on the President to secure permission to invade Xavier's school and round up all of the mutants. Stryker's invasion inadvertently aligns the telepathic, good-hearted Xavier, and Magneto, the evil mastermind who can control metal and believes mutants should control the world.
"X-Men 2" is filled with many such conflicts, especially when good mutants find themselves as unwilling pawns in Stryker's plan. There's even conflict in Stryker's camp, as he uses evil mutants to fulfill his goal, and shares a mysterious, malevolent connection to Wolverine. That connection is exposed when Wolverine comes face to face with Deathstrike (Kelly Hu), his female counterpart whose claws and prowess are equally deadly.
Offsetting the visual razzle dazzle and lengthy fight scenes are honest moments of self-discovery. As if telepathic teacher Jean Grey (Famke Janssen) didn't have enough to worry about, she finds herself in a romantic tug-of-war between Wolverine, whose animal magnetism she finds alluring, and the laser-beam emitting Cyclops (James Marsden). Young love also comes into play when Rogue (Anna Paquin) finds herself attracted to both Pyro (Aaron Stanford) and Iceman (Shawn Ashmore), a crush that runs hot and cold since her mere touch could kill either one.
The cast obviously feels more comfortable in their mutant skins this outing. We finally get a real sense of who they are, and what they stand for. Rebecca Romijn-Stamos returns as the shape shifting Mystique, a wicked femme fatale who leaves everyone she comes into contact with a case of the blues, while Alan Cumming's Nightcrawler is a great addition to the film's dark side. Even tough her screen time is limited, Halle Berry makes a strong impression as Storm, whose proficiency for manipulating weather is given more credence.
Singer and his production team have done a tremendous job of blending fantasy and reality, creating a world that feels equally at home on either side of the fence. The special effects are a big improvement over the first film, and include some terrific set pieces that prove the visual and special effects magicians rightfully earned their paychecks.
"X-Men 2" is a super hero film that, like last year's "Spiderman," proves in the right hands, you can create a powerful, enjoyable and exciting film out of a comic book.
MUTANT MAYHEMForeplay over, now it's time for great Mutant "X"
X-MEN 2
Hugh Jackman, Patrick Stewart, Ian McKellen, Halle Berry, Famke Janssen, James Marsden, Rebecca Romijn-Stamos, Anna Paquin, Alan Cumming. Directed by Bryan Singer. Rated PG-13. 134 Minutes.
LARSEN RATING: $8