The Whole Nine Yards
The characters in "The Whole Nine Yards" and "Drowning Mona" come from opposite worlds, yet share one distinct trait. They're despicable. They're loathsome. They're heartless. They're also pretty funny.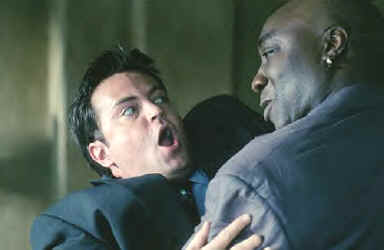 It's always difficult for filmmakers to create lovable bad guys. Most of the time you love to hate them, but actually warming up to them is another story. There are plenty of sympathetic bad guys in "The Whole Nine Yards" and "Drowning Mona," two dark comedies that revel in bad taste.
Luckily, neither film leaves a bad taste in your mouth. Audiences hungry for wicked humor will find plenty to laugh about, especially if you enjoy pokes at white trash. Both "The Whole Nine Yards" and "Drowning Mona" are littered with white trash, and enough jokes to fill a dumpster.
Bruce Willis and Matthew Perry are engaging in "The Whole Nine Yards." Willis plays former mob hit man Jimmy Tudeski, who has the unfortunate luck to move next door to henpecked husband/dentist Oz Oseransky (Perry), who immediately recognizes his new neighbor.
Oz's life is already a living nightmare. He's stuck in a loveless marriage to an ungrateful French Canadian white trash wife (Rosanna Arquette), living with his ungrateful mother-in-law, and working off a debt left to him by his former father-in-law and partner. Like Jimmy, all Oz wants is some peace and quiet.
Writer Mitchell Kapner creates some hilarious complications when Oz's wife seeks out Jimmy to kill her husband, helping seal his fate by sending Oz to Chicago to rat out Jimmy and collect a finder's fee. It's not long before the mob heads up to Canada to kill Jimmy, who has met some unusual allies, including Oz's dental assistant, played with comic flair by Amanda Peet.
Kapner and director Jonathan Lynn do an excellent job creating various levels of bad guys. Even though Jimmy is a contract killer with 17 jobs under his belt, he's not nearly as bad as Janni Gogolak, the Hungarian mob boss played by Kevin Pollak. Peet's aspiring hit woman may be bad, but she's not as despicable as Arquette's evil wife. These distinctions make it easy to root for one group, even if they still are the bad guys.
"The Whole Nine Yards" reminded me of a Blake Edwards "Pink Panther" film. Once the film gets rolling, it becomes a caper. Under Lynn's direction, the film is more than a one note comedy. He gleefully exploits the dark elements of the script, and the results are more than satisfactory.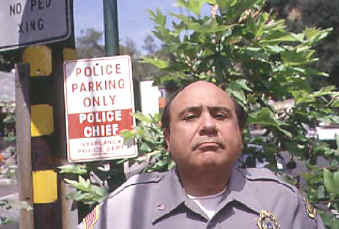 "Drowning Mona" wallows in white trash. Writer Peter Steinfeld skillfully sets up the jokes, and director Nick Gomez ("New Jersey Drive") and his talented cast delight in knocking them down. By the time the film comes to a close, you feel so good about your life that you can't help but laugh.
Bette Midler plays Mona Dearly, whose untimely death at the beginning of the film sets off an investigation that turns up no shortage of suspects. Danny DeVito (who co-starred with Midler in "Ruthless People") plays the small town sheriff who tries to balance his investigation with the upcoming wedding of his daughter (Neve Campbell).
Steinfeld's screenplay is filled with all sorts of off-beat, witty observations and insights. He has created a gallery of white trash characters, all of whom occupy the small town of Verplanck, N.Y., former home of a Yugo automobile plant. Except for a handful of characters, none of the citizens of Verplanck have a clue. They are as dense as fresh cut lumber.
The filmmakers and the cast have a lot of fun with the plot (everyone drives an old Yugo), which uses flashbacks to introduce us to Mona and her family. Midler is ornery as Mona, a woman so full of hate and disappointment she wouldn't think twice about severing her son's hand when he reaches for her beer. Midler has a lot of fun with the limited role, which she plays loud and broad.
Gomez, whose previous films dealt with gritty subject matters, shows a real flair for comedy. He trusts his talented cast of comedians to deliver the goods, and there isn't a bad performance in the whole film.
Casey Affleck plays the most sympathetic character, a shy, good looking kid who always seems to turn up at the scene of the crime. He's the only one who doesn't jump for joy when Mona's car takes a dive into the river. Jamie Lee Curtis has some nice moments as a local waitress who has ties to both Dearly men, including husband Phil (William Fichtner) and brain dead son Jeff (Marcus Thomas). Both are hilarious.
"Drowning Mona" and "The Whole Nine Yards" may be as opposite as night and day, but they both quenched my thirst for something off-beat yet entertaining. Big stars, big laughs, there's nothing like taking out the white trash.
TAKING OUT THE WHITE TRASH
THE WHOLE NINE YARDS
Bruce Willis, Matthew Perry, Amanda Peet, Rosanna Arquette, Michael Clarke Duncan, Kevin Pollak in a film directed by Jonathan Lynn. Rated R. 99 Min.
DROWNING MONA
Danny DeVito, Bette Midler, Casey Affleck, Jamie Lee Curtis, William Fichtner, Neve Campbell, Marcus Thomas in a film directed by Nick Gomez. Rated PG-13. 95 Min.]
LARSEN RATING: $5