Whale Rider
Steeped in centuries of tradition and an honest family dynamic rarely seen within the conventional movie system, "Whale Rider" is an emotionally satisfying coming-of-age tale that skillfully peels away the layers of Hollywood artifice to expose a reality that touches the heart, brings a smile to your lips and a tear to your eyes.
There, I've said it. Real men do cry, especially when their soul has been affected by this story concerning the unspoken bond between a young girl and her distant grandfather.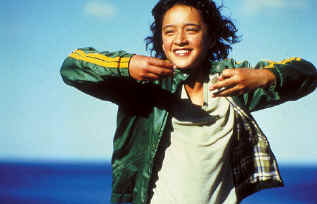 It's traditional for a critic to recommend a film, but it's rare when a critic demands that his readers see a film. Instilled with natural, human performances, insightful, involving dialogue, and exquisite cinematography, "Whale Rider" is a small film with a big heart.
Based on Witi Ihimaera's novella, "Whale Rider" examines the efforts of the male members of the New Zealand Ngati Konohi tribe to hold on to their heritage even as modern civilization slowly dilutes those traditions. While custom dictates that the first born male into the bloodline shall rule the tribe and carry on the spirit of founding father Paikea, the current generation of young men hold little hope for the future.
Koro (Rawiri Paratene), the tradition bound tribal leader, holds out hope that his son Porourangi's (Cliff Curtis) wife will deliver upon them a boy, but when the wife and son die during delivery, leaving only twin daughter Pai (Keisha Castle-Hughes) as the only survivor, Koro sees the tragedy as the beginning of the end for his people.
Devastated by the death of his wife and son, Porourangi distances himself from Pai, whose presence is a reminder of a life that could have been. Pai is raised by her grandparents, including her loving and strong grandmother Nanny Flowers (Vicky Haughton), but is shunned by Koro, who believes she is the key to the tribe's collapse. Desperate to find a successor, Koro begins training history and the tradition of his ancestors to the tribe boys, never once believing that Pai might be the chosen one.
"Whale Rider" succeeds on many levels, including the understated writing and direction of Niki Caro, making her sophomore film, and newcomer Keisha Castle-Hughes, who imbues Pai with a spirited, natural performance that literally steals your heart. It would have been easy to play Pai with mawkish sentimentality, a perpetual victim of misunderstood youth, yet Castle-Hughes elevates herself and the entire film with a sincere debut that definitely qualifies for Oscar consideration.
While "Whale Rider" may only be Caro's second film, she displays a natural talent when it comes to securing just the right emotion from her cast of seasoned pros and screen novices. The film is perfect in its depiction of matters of the heart, and Caro skillfully guides the cast through an emotional tempest. The director identifies with her characters, and never allows them to become anything less than human.
"Whale Rider," shot on location in New Zealand, also has a strong sense of time and place. Even though the present has become predominant in the character's lives, they are always aware of their culture, their past, and their destiny. It's only when past and present merge one rainy evening on the beach that the character's are forced to reevaluate their priorities. "Whale Rider" is more than just a coming-of-age story, it explores preconceived notions about the roles of men and women in a society that clearly distinguishes between the two.
Caro wisely surrounds Castle-Hughes with a strong, empathetic cast, including veteran New Zealand actor Rawiri Paratene, whose forceful performance as the grandfather doesn't make him a bad guy but a man afraid to see the forest from the trees. When his grandson dies in birth, he only sees loss, not the birth of a healthy, beautiful baby girl. That task falls to Vicky Haughton as Nanny Flowers, who radiates the essence and wisdom of a woman who may not wear the pants in the relationship, but is in charge nonetheless.
As Pai's distraught and reserved father, Cliff Curtis shows us a man who hopes that time and distance will heal his wounds, a change of pace for an actor who usually plays hiss-able villains, while newcomer Grant Roa is enjoyable as Pai's carefree uncle willing to break from tradition and guide her in the ways of tribal leadership.
You won't see a lot of television ads for "Whale Rider," an independent film that must rely on word of mouth. That word is excellent, one of the best films of the year, and the first film I have assigned a $10 rating. It's worth it.
THE WARRIOR WITHINTribe girl fights prejudice to become "Whale Rider"
WHALE RIDER
Keisha Castle-Hughes, Rawiri Paratene, Vicky Haughton, Cliff Curtis, Grant Noa. Directed by Niki Caro. Rated PG-13. 102 Minutes.
LARSEN RATING: $10