Welcome to Collinwood
In "Welcome to Collinwood," a group of diverse, inept thieves gather for what they believe will be the biggest heist of their career. Even though they come from all walks of life, they share two things in common: they have a desperate need for money, and would rather steal than earn it.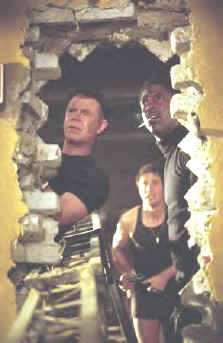 Why should they? According to the cell mate of imprisoned petty thief Cosimo (Luis Guzman), there's a fortune stashed inside a safe just waiting to be cracked. It's such a can't miss opportunity that Cosimo and his girlfriend Rosalind (Patricia Clarkson) convince Pero (Sam Rockwell), a down-for-the-count pretty boy amateur boxer to serve as Cosimo's Mullinski (fall guy in tough guy talk) in exchange for a piece of the action.
When Pero double-crosses Cosimo, Rosalind sets out to recruit a team to do the job, and like the 1957 Mario Monicelli Italian comedy "Big Deal On Madonna Street," winds up with an entourage of quirky characters. William H. Macy plays a photographer whose wife is in jail and has been left alone to raise their child. Isaiah Washington is a small-time thief who wants the money to help his sister escape their working class Cleveland neighborhood.
Michael Jeter is on hand as a thief well past his prime, while Andrew Davoli is the lady's man in need of some fast cash. They're briefly assisted by Jerzy (George Clooney), a veteran safe cracker who never lets his wheelchair get in the way of a job. It's a wild and wacky group of characters, but the actors are much better than the material, and lack true direction. The writing-directing team of Joe and Anthony Russo have made a film that perfectly captures Cleveland's gritty side, but their characters and situations lack the same grit.
"Big Deal On Madonna Street" wasn't just a comedy, it was a farce, a spoof of perfectly executed crime capers. We know from the outset where the plot is headed, so we must derive our pleasure watching the characters get there. While it's impossible to gather this much talent in front of a camera without creating some sparks, the Russo brothers are obviously rookies. They squander one moment after another, content to connect the dots without coloring in the final picture.
Not only does Clooney put in an extended cameo, he also produced the film with "Ocean's Eleven" director-writer Steven Soderbergh. The two were won over by the brother's independent film at Sundance, and agreed to produce "Welcome to Collinwood." Unfortunately, they're just along for the ride. Whereas "Ocean's Eleven" proved you can breathe new life into an old film, "Welcome to Collinwood" proves you can suck the life out of it as well.
The characters are supposed to be colorful, but the colors are dull and faded. The actors are anchored by a script that is supposed to be hip and cool, but eventually drags them under with its stilted dialogue and pretense. As writers, the Russo brothers fashion themselves as the next generation Wes Anderson and Owen Wilson (Rushmore) or Quentin Tarantino (True Romance), but their style is all imitation.
William H. Macy brings his patented sad-sack persona to the role of Riley, a photographer who would rather paint his own pictures. Macy always shines, even in weak roles, because he manages to find the heart of the character. Riley is a dreamer, but understands the realities of life. Not only does Riley need money to take care of his kid, he also needs it to spring his wife from jail. His priorities are in order when he agrees to help Pero.
Sam Rockwell makes a decent patsy, a schemer who doesn't seem to bright but still manages to turn the tables on Cosimo. Rockwell excels in these types of roles, and makes Pero much more than the printed word on the page. There's dignity in Isaiah Washington's Leon, and plenty of over-the-top eccentricity by Michael Jeter as the elder thief.
"Welcome to Collinwood" is a small picture, but even on that scale the writer-director team can't create convincing characters and situations. They have no problem setting up the premise, but can't sustain the joke for a short 82 minutes. The brothers wisely surround themselves with top of the line production personnel, including cinematographers Lisa Rinzler and Charles Minksy, who give the film a classic look, and "The Royal Tenenbaums" composer Mark Mothersbaugh, whose score is much more inviting than the action on the screen.
Somewhat better than a student film, much less than a full-fledged feature, "Welcome to Collinwood" is an art house comedy with very little art and very little comedy.
SHIP OF FOOLSStars shine in lackluster remake of comic caper
WELCOME TO COLLINWOOD
William H. Macy, Luis Guzman, Sam Rockwell, Isaiah Washington, Patricia Clarkson, Michael Jeter, Andrew Davoli, Jennifer Esposito, George Clooney. Written-directed by Anthony and Joe Russo. Rated R. 82 Minutes.
LARSEN RATING: $3.00