Two Lost Worlds
Unlike it's companion feature "The Flying Serpent," this 1950 release is campy without being silly. Like "The Flying Serpent," "Two Lost Worlds" feels like a Saturday morning serial that has been pieced together as a feature (even though it runs a scant 61 minutes).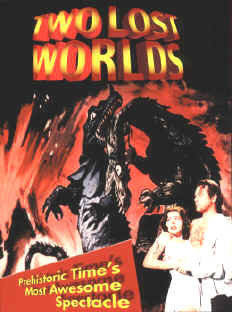 It's filled with cliff hangers, close calls, damsels in distress, pirates, and prehistoric monsters. Even though the film's special effects look like they were pieced together from other more expensive films, they still work within the context of the story. Directed with assurance by Norman Dawn and written by Tom Hubbard and Phyllis Parker, the film stars James Arness as Captain Kirk (Is William Shatner aware of this?) Hamilton, the stalwart hero who saves his ship from marauding pirates.
After the sea battle, Hamilton and his men take refuge in a port in Australia, where Hamilton becomes romantically involved with the daughter of his host. While Hamilton and his men teach the locals how to defend themselves from the pirates, he also sets his sights on the lovely Elaine Jeffries (Laura Elliott). He has competition from land owner Martin Shannon (Bill Kennedy), who has been pursuing Elaine for years. After a skirmish with the pirates, Hamilton and his men (plus stowaways Martin, Elaine and her sister Janice) find themselves washed up on a mysterious island, where they encounter prehistoric monsters and an active volcano.
While the dialogue is a little stilted, the film is actually quite engaging. The actors do their best, especially Arness, who makes a great hero. The action sequences are lively, even though the miniatures are more than obvious. How can you not like a film where one of the female characters gets killed by a blanket of flowing lava? I love lava movies, and "Two Lost Worlds" is filled with lava. It's also filled with a sense of adventure.
Luckily, the print used for the DVD transfer is a far improvement over "The Flying Serpent."
COMPLETE CHECK-UP
VISION: [ ] 20/20 [ X ] Good [ ] Cataracts [ ] Blind
Unlike its companion feature "The Flying Serpent," the original negative used for the digital transfer on "Two Lost Worlds" is a major improvement. Sure, there are some signs of wear and tear, but the final product is not even close to the monstrosity of "Serpent." Contrast of the black and white images is good, and overall images are sharp enough not to complain. Blacks are strong, while whites and shadows look as good as they're going to get. The film is delivered in full frame.
HEARING: [ X ] Excellent [ ] Minor Hearing Loss [ ] Needs Hearing Aid [ ] Deaf
Dolby Digital Mono soundtrack gets the job done, including serving up a strong dialogue mix and some creative sound effects for the era.
ORAL: [ ] Excellent [ ] Good [ X ] Poor
No closed captions or subtitles.
COORDINATION: [ ] Excellent [ ] Good [ X ] Clumsy [ ] Weak
Main and scene access menus, plus a filmography on James Arness.
PROGNOSIS: [ ] Excellent [ X ] Fit [ ] Will Live [ ] Resuscitate [ ] Terminal
Fans of old serials will want to add this campy title to their collection.
VITALS: $19.98/Not Rated/61 Minutes/B&W/10 Chapter Stops/Snapcase/#ID5377FWDVD
ATTENDING RESIDENT: John Larsen
PATIENT: TWO LOST WORLDS
BIRTH DATE: 1950
HMO: Image Entertainment