Truman Show DVD
America's insatiable appetite for television has been fodder for Hollywood for generations, but never has the picture been as bright nor as sharp as it is in "The Truman Show," a wonderfully realized dramatic comedy from director Peter Weir.
There is a lot to admire in "The Truman Show," from it's clever and very human screenplay by Andrew Niccol ("Gattaca"), to an amazing dramatic star turn from rubber-faced comic Jim Carrey.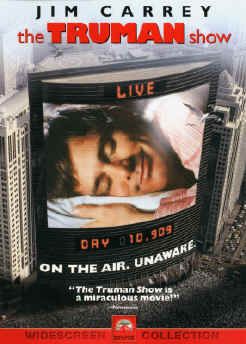 Those who doubted Carrey's ability to turn on the charm without talking out of his butt cheeks will be pleasantly surprised by a performance that is more Jimmy Stewart than "Ace Ventura." As Truman Burbank, the unknowing and unwitting star of his own television show, Carrey proves that he's capable of handling more serious material. After "The Truman Show," Carrey's fans (both old and new) will follow him anywhere.
Weir, an Australian director who has mastered the American experience on film ("Witness," "Dead Poet's Society," "Fearless"), does a superb job of making something completely implausible work. Adopted at birth by a corporation to be the star of his own 24- hour cable show, Truman Burbank is an affable sort. He has no idea that his entire world is a facade. Truman lives in a picture perfect seaside community that is actually housed inside the world's largest sound stage. Everything in Truman's life, from his doting wife Meryl (the lovely Laura Linney), to the sunrise and sunset, and fake. The town is populated by actors and extras, who work in unison to keep Truman in line.
Directing the action from above in his "God- like" control room is Christof (Ed Harris), the originator of "The Truman Show." Christof is indeed the "creator," and utilizes 5,000 hidden cameras around town to capture Truman's every moment. As the world sits glued to their television sets, Truman goes about his life. He has a nice house, a good wife, a concerned mother, and a job selling insurance.
His seemingly complacent life is haunted by two events: the drowning death of his father during a boating trip (actually an event choreographed to keep Truman on his island) and the mysterious disappearance of the girl he really loved (Natascha McElhone). Both events are pivotal to Truman's new state of unrest. When he sees his father walking the picturesque streets years after the accident, his simple world starts to unravel. Technical glitches lead Truman to believe that he's in on a major conspiracy, but doesn't realize that he's the conspiracy. He gets reassurances from his best friend (a very likeable Noah Emmerich) and his mother (Holland Taylor), but still suspects that something is amiss. His suspicions are confirmed when every attempt to leave town is thwarted by one thing after another.
One of the film's funniest moments come when Truman tries to book a flight to Fiji at a travel agency whose walls are lined with cautionary posters, including an airplane being struck by lightning with the tag line, "This could happen to you." The joke isn't on Truman, who doesn't understand his importance, but on the viewers, who have stopped living their own lives in order to be part of his. Truman, trapped like a fish in a bowl, doesn't have a choice. So it's emotionally satisfying to watch Truman catch on and decide to do something about his situation.
To that point, we the audience become just as immersed as the television viewers, rooting for Truman to break free. There's a plethora of messages being sent out in "The Truman Show," and that's what makes it so inviting. Can someone so sweet and simple exist in a perfect world void of passion? On some levels, we are all actors in real life, putting on a show for our friends and loved ones. How do we know that our existence is real, and not some cosmic television show? Audience's will appreciate "The Truman Show" because it's smart. Niccol's screenplay explores human issues with intelligence, and proves that a film with a PG rating can be adult.
COMPLETE CHECK-UP
VISION: [ X ] 20/20 [ ] Good [ ] Cataracts [ ] Blind
Superior transfer in the film's original 1.66:1 widescreen ratio. A pristine master helps deliver sharp, fluid images that are crisp and clean. The color saturation is outstanding, perfectly capturing the make- believe world of Truman Burbank. The pastels are exemplary, while the blacks and whites are industrial strength. I didn't notice any compression artifacts or pixelation. The flesh tones were especially pleasing, to the point of being lifelike. Excellent digital transfer.
HEARING: [ X ] Excellent [ ] Minor Hearing Loss [ ] Needs Hearing Aid [ ] Deaf
Highly expressive 5.1 Dolby Digital Surround track features a strong dialogue mix that never gets lost in the soundtrack's exceptional ambient noise and sweeping score by Burkhard Dallwitz. The quality of the digital mix is pure and sweet. The basses are strong and forward, while the high ends caress the room with an impressive clarity. Stereo separation is precise, while the ambient noise is so realistic you'll swear you're in the picture. No noticeable hiss or distortion, even during the thundering moments. The DVD also features Dolby Surround tracks in English and French language.
ORAL: [ ] Excellent [ X ] Good [ ] Poor
Closed captions in English for the hard of hearing.
COORDINATION: [ ] Excellent [ X ] Good [ ] Clumsy [ ] Weak
Outstanding animated menus make the DVD experience even more fun. A lot of time and effort went into the menus, and I just marveled at how advanced and interactive they are. There's also two theatrical trailers.
PROGNOSIS: [ X ] Excellent [ ] Fit [ ] Will Live [ ] Resuscitate [ ] Terminal
I constantly read on other DVD web sites about prices being too high, or the DVD isn't enhanced at 16:9. Boo hoo. Get over it (I wanted a full head of hair instead of being bald)! Consider "The Truman Show" DVD. Not only is it $75 cheaper than the video version, it's letterbox and 5.1 Dolby Digital Surround. That means for around $25, you get a picture that's twice as good, the best sound possible, and a widescreen version of the film. Top it off with the fact that "The Truman Show" is one of the best films of 1998, and you have a problem with that?
VITALS: $29.99/Rated PG/103 Minutes/Color/24 Chapter Stops/Keepcase/#331127
ATTENDING RESIDENT: John Larsen
PATIENT: THE TRUMAN SHOW
BIRTH DATE: 1998
HMO: Paramount Home Video