Tremors
"Tremors" is director Ron Underwood's giddy throwback to the great monster movies of the 1950s. Working from a funny and exciting script by Brent Maddox and S.S. Wilson, Underwood has fashioned a solid piece of escapist entertainment. Fred Ward and Kevin Bacon are excellent as the two small desert town dwelling buddies who will seemingly do anything for money, including pumping out septic tanks.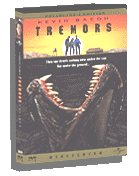 When a pretty seismologist arrives in town to check out some strange underground activity, Val (Bacon) and Earl (Ward) put their best foot forward. They better watch where they step, because giant carnivorous worms are turning their little Oasis into a feeding ground. With the help of well-armed survivalists Michael Gross and Reba McEntire, Val and Earl more than earn their money when they do battle with the wicked worms.
Great special effects, lots of tongue-in-cheek humor and likeable characters make "Tremors" a monster movie for the ages.
COMPLETE CHECK-UP
VISION: [ X ] EXCELLENT [ ] GOOD [ ] RESUSCITATE [ ] D.O.A.
Big worms deserve widescreen, and "Tremors" is presented in its original 1.85:1 aspect ratio. Terrific transfer, without any noticeable noise or dropouts. Excellent flesh tones and vivid colors capture the negative's original brilliance. The dual-layer disc doesn't contain the full frame version, but then, with a film like "Tremors," anything less than widescreen is a crime.
HEARING: [ X ] EXCELLENT [ ] GOOD [ ] RESUSCITATE [ ] D.O.A.
Hold on to your seats, kiddies. The 5.1 Dolby Digital surround track will put you right in the middle of the action. Superb mix separates the dialogue and sound with perfection, creating a true stereo blast. Ernest Troost's dynamic score gets a good work out thanks to booming basses and crystal clear trebles. I had to close my windows to keep the neighbors from thinking they were under attack. The Dolby Surround tracks in Spanish and French are just as impressive.
ORAL: [ X ] EXCELLENT [ ] GOOD [ ] RESUSCITATE [ ] D.O.A.
Closed-captioned in English, and subtitled in Spanish.
COORDINATION: [ ] EXCELLENT [ X ] GOOD [ ] RESUSCITATE [ ] D.O.A.
Finally, a great B-monster movie that gets grade "A" treatment on DVD. This Collector's Edition of "Tremors" has it all. Not only do you get a great movie, you get some pretty great extras. First and foremost is the informative and entertaining "The Making of Tremors" documentary that goes into great detail about how Underwood and his crew pulled off such a feat on a rather modest budget. The writers discuss their affection for the genre, while the special effects crews take you behind the scenes to explain the process of making killer worms look and act real. It's like having a front row seat in special effects shop. The bonus features include outtakes (now we're talking) and the film's original ending, plus extra footage on the making of the creatures. Throw in theatrical trailers, production bios and photographs, and you have a DVD that's packed to the gills.
PROGNOSIS: [ ] EXCELLENT [ X ] GOOD [ ] RESUSCITATE [ ] D.O.A.
As Dr. Frankenstein once proclaimed, "It's Alive!"
VITALS: $34.95/Rated PG-13/95 Min./Color/39 Chapters/Keepcase/#20218ATTENDING RESIDENT: John Larsen
PATIENT: TREMORS: COLLECTOR'S EDITION
BIRTH DATE: 1989
HMO: Universal Studios Home Video