Titanica
While I'm writing this review of "Titanica" on DVD, I'm listening to one of those flashback CD's. The song currently playing is "50 Ways to Leave Your Lover" by Paul Simon. Great song, but what if the CD label decided to chop the song in half. No real reason. Just "Slip out the back Jack" and then nada.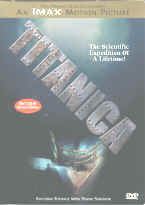 It would suck. If you were me, you would return the CD. If that's not a defect, then I don't know what is. That's the problem I had with "Titanica." Oh sure, the DVD looks great (I betcha that dark blue ocean floor was a tough nut to crack during the digital transfer), but you're not getting the whole picture. You see, "Titanica" was one of IMAX's first full-length features. Oh you know IMAX, those bigger-than-a- bread box theaters you usually find next to museums or at amusement parks that show movies on screens bigger than Kenneth Starr's ego.
When "Titanica" played on IMAX screens, it ran 94 minutes. The DVD, which includes "exclusive footage" with Titanic survivors Eva Hart and Frank Goldsmith, only clocks in at 67 minutes. That means 30 minutes of the film are missing. So what you end up with is a film with almost a third of it left on the cutting room floor. As Marlon Brando would say in "Apocalypse Now," "The Horror!" The images captured by director Stephen Low, American Ralph White and Russian scientist Anatoly Sagalevitch are fascinating and intriguing.
Using high powered underwater lights (kept at a distance from the submersible because if one exploded due to the pressure it would blow up the mini-sub) and special IMAX cameras, the crew captures haunting images of the sunken ship and it's ghostly belongings. I appreciated the human element of the crew in this ultimate underwater graveyard, arguing whether or not to bring up souvenirs in the name of science.
The awesome underwater footage is supplemented by historical photographs, film and narration by actor Leonard Nimoy. All of the basics are here, but one wonders why the film was trimmed for this presentation.
COMPLETE CHECK-UP
VISION: [ ] EXCELLENT [ x ] GOOD [ ] RESUSCITATE [ ] D.O.A.
Sharp, visually exciting images survive the digital compression intact. Nice, penetrating blues and blacks frame the earthy browns and tans that lines the ocean floor and deck of the Titanic.
HEARING: [ ] EXCELLENT [ ] GOOD [ x ] RESUSCITATE [ ] D.O.A.
Even though it's presented in 5.1 Dolby Digital Surround, I found the back channels lacking. There was the occasional echo of bubbles or pings, but unlike being at an IMAX theater, you never felt fully enveloped by the sound. It's functional but no big deal.
ORAL: [ ] EXCELLENT [ ] GOOD [ x ] RESUSCITATE [ ] D.O.A.
Closed captioned in English for the hard of hearing.
COORDINATION: [ ] EXCELLENT [ ] GOOD [ ] RESUSCITATE [ x ] D.O.A.
Move along. There's nothing to see here.
PROGNOSIS: [ ] EXCELLENT [ X ] GOOD [ ] RESUSCITATE [ ] D.O.A.
The kind of DVD that looks good on your shelf when guests come over, but you never watch it.
VITALS: $29.99/Not Rated/67 Min./Color-B&W/13 Chapter Stops/Keepcase/#14892
ATTENDING RESIDENT: John Larsen
PATIENT: TITANICA
BIRTH DATE: 1992
HMO: Miramax Home Entertainment