Three Kings DVD
Somewhere in the middle of the Iraqi Desert, four American soldiers have taken leave from the Gulf War in a quest to find Saddam Hussein's private stash of stolen Kuwait gold. Their plan seems foolproof. A quick in and out and they can give up their day jobs after the war.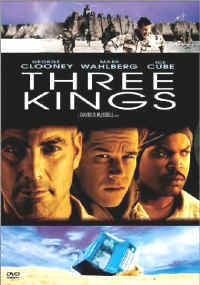 Nothing is as easy as it seems in director David O. Russell's "Three Kings," an anti-war film that ranks up there with the best of them. Shot by Newton Thomas Sigel on a bleached-out, grainy film stock that works well for the film, "Three Kings" emerges as an polished gem that shines bright.
Like Robert Altman's "M*A*S*H," Russell's film mixes black comedy with gritty, realistic war scenes. This unexpected blend of comedy and carnage constantly catches you by surprise, creating a visceral experience that is hard to beat. One moment you are laughing, the next you are gripping your seat cushion for comfort.
It is always a pleasure to watch talented filmmakers mature. Since his audacious debut with "Spanking the Monkey," David O. Russell has proven himself a master of finding humor in the most unexpected places. His edgy style works because his characters are so well drawn and executed that you're willing to follow them anywhere.
At its most preposterous, "Flirting with Disaster" remained a raucous romp because Russell and his cast were capable of grounding the material. Most people would walk out of a film details the summer relationship between a son and his mother, yet "Spanking the Monkey" was so powerful and mesmerizing you couldn't leave your seat.
Even with those credentials, nothing in Russell's resume could prepare us for "Three Kings." Russell turns an epic tale of fortune seekers into something more personal. Working from his bright, literate script (based on a story by John Ridley), Russell delivers a character study that doubles as an action film.
There's plenty of action in "Three Kings," but there is also a great story about four GI's who go for the gold and wind up becoming unwitting heroes. George Clooney, Mark Wahlberg, Ice Cube and Spike Jonze play the soldiers who stumble across a treasure map in the most unusual place. Once they confirm that the gold is there for the taking, they set out on a simple morning mission to steal it.
Their quest to become war time millionaires is sidelined when they decide to help a group of Iraqi refugees safely reach the border. What started off as a mission for money becomes a mission of mercy, with the GI's and the refugees caught between Iraq and a hard place.
As a screenwriter, Russell uses the mission to explore America's involvement in the Gulf War. Fortunately he doesn't stand on a soapbox, but he does give several Arab characters a voice seldom heard in mainstream films. How refreshing to experience an American film that treats all characters with equal respect.
"Three Kings" reminded me of a modern version of "Kelly's Heroes," director Brian G. Hutton's starry 1970 war caper. In that film a group of American soldiers (including Clint Eastwood and Donald Sutherland) attempt to steal Nazi treasures during the war.
The tone of the two film is distinctly different. "Kelly's Heroes" was more of a romp, and even though "Three Kings" has some lighthearted moments, the emphasis is on human emotion. Some of the scenes are painful to watch (a refugee is shot to death in front of her little daughter), while others are just plain gripping.
Russell bathes the film in a look reminiscent of a documentary. The grainy images actually enhance the film's realistic tone. The filmmaker also utilizes camera tricks that in less talented hands would look showy. In Russell's hands, these moments become part of the landscape. One of the films most daring moments comes when Russell shows us how a bullet does damage inside the body.
Clooney has finally found a role that fits him like a glove. There isn't a false note in his performance. Like a fine wine, Mark Wahlberg just gets better with time. There is an honesty in his role as a new father who will do whatever it takes to make it back home.
Ice Cube also amazes me. At first I thought his foray into film was just a gimmick, yet the rapper has proven time and again how vital he can be in front of a camera. His performance in "Three Kings" is accomplished.
All great war films require interesting background players, and "Three Kings" is no exception. Spike Jonze lends excellent support as the fourth member of Clooney's team, while Nora Dunn delivers a brassy performance as a cable news correspondent looking for a story.
The film benefits from Carter Burwell's exciting music and Robert K. Lambert's tricky editing.
In only his third time at bat, director Russell hits a home run. "Three Kings" could have easily been just another mindless action film, yet under Russell's smart direction, it becomes something much more. With characters you can root for and a story that is both engaging and honest, "Three Kings" goes for the gold and comes out a winner.
COMPLETE CHECK-UP
VISION: 20/20

2.35:1 Widescreen

16:9 Enhanced

RSDL
The tricky cinematography of "Three Kings" would normally be a digital transfer nightmare, yet the film looks even better than it did in theaters. The images are absolutely striking, with gorgeous color that is never too warm or too cold (except when the film process makes them so) and excellent saturation that never bleeds or causes soft edges. Flesh tones are extremely human and lifelike, while the bleached desert shots show great detail. Blacks are strong, while a pristine print provides for pure whites and grays. Depth of field is amazing considering that most of the action takes place in the desert. No noticeable compression artifacts or noise.
HEARING: Excellent

Dolby Digital 5.1 Surround
Powerful 5.1 Dolby Digital soundtrack that literally puts you dead center in all of the action and mayhem. Stereo effects constantly surround you, creating all sorts of tricky audio cues that constantly catch you off guard. Rear speakers do more than feed additional musical and ambient noise cues. They play an integral part in surrounding you with dialogue, surround effects and more. Stereo split is excellent, both the front stage and the front-to-rear spatial separation. Basses are booming, always rocking the Casbah, while middle and high ends are clean. Dialogue mix is aces. Excellent job.
ORAL: Good

Closed Captions in English for the Hard of Hearing Subtitles in French
COORDINATION: Excellent

Two full-length audio commentaries:

The first features director David O. Russell, the second producers Charles Roven and Edward L. McDonnell. Your first inclination is to listen to the director track, but Roven and McDonnell share a different perspective on making the film. Russell tends to be a little more technical in his delivery, while the producers share stories and vital information about how the film got made.
Three documentaries:

Under The Bunker: On The Set Of Three Kings, a nifty collection of images form the film, interviews with the cast and crew, and behind-the-scenes footage that show how much fun and work war can be.

On The Set of Three Kings: A Guided Tour, led by production designer Catherine Hardwicke, who clues us in on her tricks of the trade, and how she was able to turn a barren desert into the film's many locales.

The Cinematography of Three Kings, a fascinating interview with director of cinematography Newton Thomas Sigel, who relates how he achieved the film's unique look.

David O. Russell's Video Journal, possibly one of the most engaging video journals ever included on a DVD. I read that Russell was taking steps to insure that the DVD would be special, and the inclusion of his personal video journal is more than one could hope for. Most of the time, a director's vision is actually the vision of several people, including production designers, lighting technicians and director's of photography. The journal is pure Russell, a unique perspective that could only come from his eyes and mind.

Four deleted scenes with audio commentary by Russell.

A hilarious mini-movie by Spike Jonze entitled "An Intimate Look Inside the Acting Process with Ice Cube." It's obvious these guys had fun making this movie.

Location photos courtesy of Jonze.

Animated main and scene access movies.

Cast & Crew bios and filmographies. In this section you will also find a Hidden Bunker with a code for the "Three Kings" on-line event.
PROGNOSIS: Excellent

War is hell, but this DVD is Heaven.
VITALS: $24.95/Rated R/115m/Color/31 Chapter Stops/Snapper Case
ATTENDING RESIDENT: John Larsen
PATIENT: THREE KINGS
BIRTH DATE: 1999
HMO: Warner Home Video