The Sweet Hereafter
Director-writer Atom Egoyan's somber drama about the meltdown of a small town after a tragic school bus accident was one of 1997's best films. Based on the novel by Russell Banks, Egoyan's screenplay is a bittersweet affair, but tackled with conviction and honesty, it emerges as a touching portrait of the human spirit.
Ian Holm is sensational as lawyer Mitchell Stephens, who descends on the small town immediately following the accident.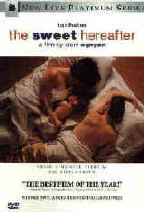 His presence and claims of retribution empower some while distancing others. Fighting demons of his own, Stephens slowly begins to realize that not everything is picture perfect in the little town. Bruce Greenwood is outstanding as the father of two children who died in the crash, desperately trying to get on with his life. Filled with exceptional performances and honest dialogue, "The Sweet Hereafter" touches your heart and your mind.
COMPLETE CHECK-UP
VISION: [ X ] EXCELLENT [ ] GOOD [ ] RESUSCITATE [ ] D.O.A.
The stark, white-washed winter scenes look as bleak and somber as they did on the big screen. Excellent transfer perfectly balances the warm flesh tones against the harsh brightness that betrays the dark secrets in the small town. You'll need a large screen television to funny appreciate the original 2.35:1 widescreen aspect ratio that is a real contrast to the full frame video tape. The widescreen transfer allows director of cinematography Paul Sarossy's perfectly framed snow-covered vistas to breathe, and has been enhanced for widescreen televisions. No noticeable flaws or noise on the dual-layered disc.
HEARING: [ X ] EXCELLENT [ ] GOOD [ ] RESUSCITATE [ ] D.O.A.
Sounds plays an integral part in "The Sweet Hereafter." There are moments you could hear a pin drop, and the Dolby Digital 5.1 Surround sound makes that point crystal clear. Superior sound mix pinpoints the dialogue while allowing Mychael Danna's melancholy score to shine through. There's also a French language 5.1 track, which makes sense, because the film was shot and takes place in Canada.
ORAL: [ X ] EXCELLENT [ ] GOOD [ ] RESUSCITATE [ ] D.O.A.
Subtitles in English, French and Spanish.
COORDINATION: [ X ] EXCELLENT [ ] GOOD [ ] RESUSCITATE [ ] D.O.A.
This New Line Platinum Series title is filled with the kind of extras that make DVD so attractive. Join director Egoyan and author Banks on an alternate audio track as they provide a running commentary on the film. They don't rock the house down, but they do provide a literate narrative. There's also a discussion of the book between the director and the writer called "Before and After The Sweet Hereafter," plus a "Charlie Rose Show" interview with the director. My favorites? Robert Browning's "The Pied Piper of Hamelin," with illustrations by Kate Greenaway. The poem is featured prominently in the film, and including it here in such a pleasant presentation is just a great idea. So is the decision to offer an isolated track of Danna's score. It's true. Music does speak volumes. There's also Q&A interviews with the cast, plus bios and filmographies, and the original U.S. and Canadian theatrical trailers. Just a dazzling package.
PROGNOSIS: [ X ] EXCELLENT [ ] GOOD [ ] RESUSCITATE [ ] D.O.A.
One of 1997's best films gets the treatment it deserves on this very special DVD.
VITALS: $24.95/Rated R/Color/112 Min./21 Chapters/Snapcase/#N4654ATTENDING RESIDENT: John Larsen
PATIENT: THE SWEET HEREAFTER
BIRTH DATE: 1997
HMO: New Line Home Video